The day after ISIS blew up the temple of Baalshamin, in the ancient ruins of Palmyra in Syria, the global population should stand up and join forces against terrorism. The episodes of the attack on Tunisia Bardo Museum and the Sousse resort tourists massacre shook the entire world, defense ministries, foreign affairs representatives and heads of state to an unbelievable and immeasurable human tragedy. In the name of ideologies. Adding to it, last week, Professor Khaled Asaad, a respected 82-year-old scholar who worked for 50 years as head of antiquities in Palmyra, was beheaded, seemingly after ISIS failed to extract information on the whereabouts of hidden artifacts.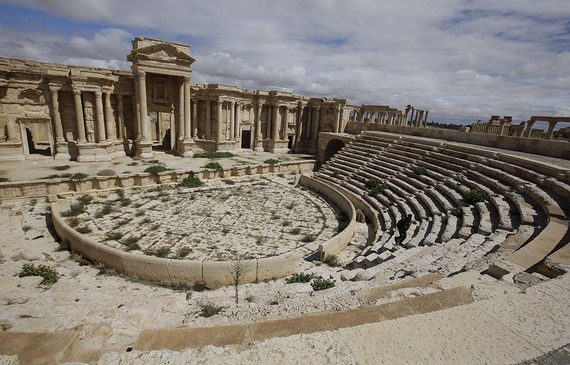 Roman theater in Palmyra
The entire city of Palmyra is a UNESCO World Heritage Site. From the Syrian Mesopotamian to the Roman and Byzantine era to the earliest traces of Christianity and Islam, Syria has among the greatest and most diverse cultural treasures in the world. Destroyed. History and Culture, two powerful weapons against ignorance, are threatened by the Islamic State, determined to establish a caliphate in Syria and Iraq.
The strategy behind ISIS's is the narrative of a "war on history." Relics, ruins and history are components of ISIS's strategy of imposing a "Year Zero" on the territory they have defined as a "caliphate."
UNESCO Director-General Irina Bokova strongly condemned the destruction of a cultural symbol embodying Syrian cultural diversity, which deprives the Syrian people of its knowledge, its identity and history.
We are talking about human and cultural loss. Centuries of history all in one place, all being destroyed at once. Killing of innocent people, both local and tourists, spreading fear on moving and traveling to witness historical sites, a humanity heritage.
A recent article by the Italian newspaper La Stampa shows an interesting map of how tourism routes have changed over the years, pointing in red the destinations "at risk" like Tunisia, Egypt, Syria and Libya, and off limits the beauties of Yemen and Iraq, Afghanistan, Pakistan, Horn of Africa and Congo. Countries where tourism as a tool for development, job creation and economic growth could rise and thrive, but where safe and security are low and conflicts hamper progress and human development.
Despite all, according to UNWTO, the United Nations specialized agency for responsible, sustainable and universally accessible tourism, tourist arrivals increased 4 percent worldwide, with destinations worldwide receiving some 332 million international tourists between January and April 2015. Tourism, one of the most resilient and strong economic sectors in the world, accounts for 10 percent of global GDP and can be a socio-economic tool for growth and development, especially in developing countries.
Human and Tourism Resilience, coupled with the desire of Culture and Knowledge, must push us to raise our voices and ask for a the creation of a Cultural and Tourism Peace Delegation, represented by cultural and tourist experts in the Middle East, to initiate peace negotiations and stop ISIS and the Syrian conflict. A deep mind revolution should be put in place, starting from the education system in Syria and Iraq for instance, where, according to the a joint report from UNESCO and UNICEF, 12.3 million children and young adolescents in Middle East and North Africa are out of school and according to recent calculations, over 6 million children are at risk of dropping out.
Wars are fought with history and philosophy books, with trained teachers who can be an inspirational examples for children raised in these countries. As strong advocates for History, which teaches us who we are and what we do in the world, we must protect the lands where culture and history were born.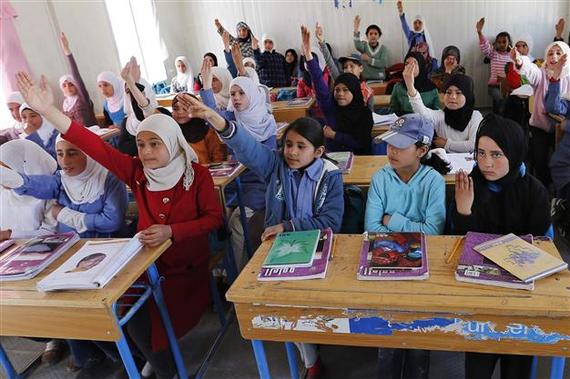 Photo credit: Reuters, Syrian children
If we erase history, we erase discoveries, inventions, the shape and the meaning of the places that surround us, leaving us in blank spaces where no one can be identified and where the richness of cultures turns black, meaningless, with no sharing of experiences, through books, stories, paintings, dance, music, art.
Culture is sharing differences and understanding one another.
We are rich because we are diverse, we can exchange and learn. By learning and traveling, we aim to discover the other, thus we develop a mutual cross-cultural understanding and we are more open-minded and tolerant. We respect more and we forget about wars, but we gather in peace by shaking hands and by embracing wide-opening intercultural encounters and dialogues.
As Marcus Gravey, a Jamaican political leader and journalist, once said "A People without knowledge of their past history, origin and culture, is like a tree without roots."
We need voices and more actions. Together and in Peace.
Calling all HuffPost superfans!
Sign up for membership to become a founding member and help shape HuffPost's next chapter