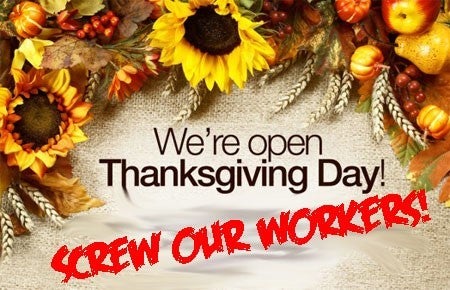 America loves to shop. And like the rest of the country, I love a good bargain. But do we have to be hunting for good deals on a national holiday – right in the middle of Thanksgiving dinner with the family?
How would you like to be the Kmart employee who is forced to open the store on Thanksgiving at 6 a.m.?
When did pulling people away from what should be Turkey Day preparations and family time so that they can work registers and sell a bunch of marked-down goods to shoppers who can't wait 24 hours become a good idea?
As they do every year, Jones-Dengler Marketing, the helpful folks at BestBlackFriday.com, published a list of stores that will be open on Thanksgiving and what time they will open. They also conducted a Thanksgiving Day shopping survey asking a section of Americans how they feel about stores keeping Thanksgiving hours.
This year, 57.5 percent of respondents said they felt stores should stay closed on Thanksgiving. Of those, 37 percent felt strongly that the stores should shutter. By contrast, 16 percent ofpeople surveyed believe that stores should be open, with 5.6 percent saying they felt strongly about it. A Thanksgiving Weekend shopping survey conducted by the National Retail Federation - expanded this year to include Thanksgiving and Cyber Monday -- estimates that 20 percent of those surveyed plan to shop on Thanksgiving Day. That's potentially 32 million people set to turn their holiday into a shopping day.
Wouldn't it be fabulous if the shopping hoards had nowhere to shop? There are many responsible companies that already do the right thing and remain closed on Thanksgiving. Places like Costco, Home Depot, IKEA, Office Max and Crate and Barrel are businesses that know that a holiday should be a holiday.
But there's also the Black Friday creepers, the big name operations like Walmart, Target, Sears, JCPenney, and, this year, the already embattled Toys R Us, as well as several other companies that want to squeeze as many shopping dollars out of customers as they possibly can.
Will the extra shopping day help the creepers' bottom line? Ironically, instead of boosting sales, the Thanksgiving activity largely moves around dollars that would be spent on Black Friday. Some of the retailers who have now chosen to reverse course and close on Thanksgiving have done so in part because they felt that the extra shopping day was "dimming some of Black Friday's gleam."
We take our own pulse of the "shop or not to shop on Thanksgiving" via a petition at Change.org through which we ask the CEOs of Walmart (scheduled to open at 6 p.m. on Nov. 23), Target (6 p.m.) and Toys R Us (5 p.m.) to do the right thing by changing course and giving their workers the holiday off. Our petition recently passed the 75,000 signature mark.
People may accuse me of being anti-retail. Some will argue that certain workers enjoy the Black Thursday mob scene, especially if it comes with a pay check of time and half or better. Fair enough. But on November 23, we'd still rather be relaxing with our family, watching football, stuffing a turkey or stuffing ourselves. We would rather do whatever it takes to keep Thanksgiving as the holiday that it should be.
Popular in the Community