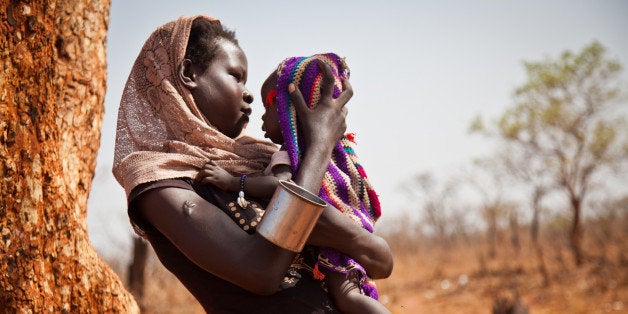 What would you do if disaster struck? What would be the first thing you would think about if you found out that your family had to flee from your home? What would be on your mind as you struggle to stay hidden amongst air raids and bombed streets?
If disaster struck today -- if a natural disaster swept away my entire community or if internal unrest escalated to a civil war -- I know that I would think about how to stay safe, how to ensure that my family and friends could stay safe and how to keep my unborn baby alive and healthy.
For expecting mothers around the globe, this happens daily. Disaster does hit and they remain pregnant, with a growing baby in their womb that needs care, rest and nutrition. Yet, when we speak of disasters and conflict, we speak about who is to blame, we talk about peace-keeping and humanitarian operations, or we debate asylum for refugees -- as a burden for the receiving countries.
What we often forget to speak about are the hundreds of thousands of women and girls who still need maternal health care. We forget to speak about the women and girls who risk giving birth in refugee camps, in evacuated villages or even on the road. Today marks the 500 Day milestone until the deadline to achieve the Millennium Development Goals, and unfortunately, mothers and newborns -- especially those in conflict and disaster -- have not yet seen the sufficient progress, especially with regard to MDGs 4 and 5, related to newborn and maternal health.
In 2014, an estimated 80 million people will be in need of humanitarian assistance due to conflict, persecution or natural disasters. The majority of these people are deeply impoverished and over three-quarters are women and children. Furthermore, for those who survive, their lives have been completely altered. Save the Children estimates that the average refugee situation lasts 17 years!
The civil war in Syria is now in its 4th year. It is estimated that 1,000 women and children have been killed in conflict every month. Yet, several hundreds (if not thousands) more have died due to food shortages and the lack of medical care. Women in Syria no longer have a reliable health-care system to access essential maternal, antenatal and neonatal services. Prior to the conflict, Syria was on track to meet the Millennium Development Goals related to maternal and child health, yet the conflict threatens to set back several decades of progress.
Around the world, mothers and their babies need us. The countries with the highest rates of maternal mortality are countries with internal conflict or other emergencies. Thus, we cannot discuss maternal, newborn and child health without speaking about peace and security.
As we discuss the situation in occupied Palestine, the horrific persecution of Christians in Northern Iraq, the on-going conflicts in the Democratic Republic of Congo and Somalia, and the heinous crimes of Boko Haram in Nigeria and beyond -- we must remember the mothers and the children who are hit the hardest.
The suffering will only end once we collectively speak up, make our voices heard and in solidarity chime in with their suffering to hold our leaders accountable.
Now is the time to ensure that global and national action is taken, not only to accelerate progress to meet the Millennium Development Goals that are due in exactly 500 days, but to ensure that the goals and targets that are set up in the post-2015 agenda include specific attention to the women and children in conflict settings.
Here are a few things you can do to make a difference:
Contact your government officials to see what your country is doing to support women and children in conflict and emergency settings
Foremost, raise your voice and let others know that you will not stay silent about the women and children affected by conflict and emergencies.
Related