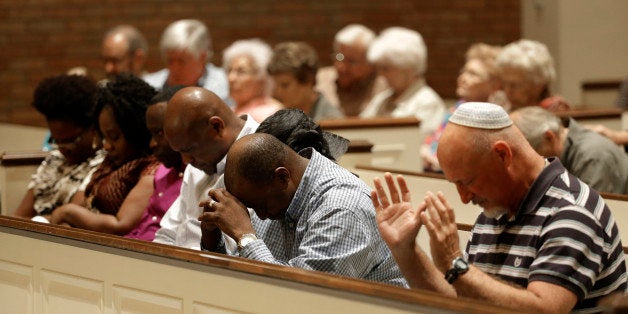 If Thomas Eric Duncan, for whatever reason, had not gotten on an airplane from Monrovia, Liberia, to Dallas, Texas, he would have become another nameless, faceless person who died of Ebola in Liberia. But because he did get on the plane -- unaware that he already was infected with the deadly disease -- he has put a face on a disease we Americans have tried hard to ignore.
Others can debate who knew what when or whether this gentle-hearted man should have been allowed on the plane or not. That's not mine to decide. What matters to me is that because he did board that plane, Eric Duncan entered my own life and the life of my church, even though none of us had the chance to meet him personally.
Eric Duncan -- the man who days before boarding that plane had selflessly aided a pregnant woman in medical distress, much like the Good Samaritan of the Gospels -- came to Dallas to marry a member of the congregation where I serve as senior pastor. He came to reunite with Louise Troh, who was baptized in our church earlier this year and is a regular participant in the life of the church.
After learning that Eric was connected to Louise and that Louise and her family were being placed in quarantine because he had fallen ill in her apartment, my first question was, "Could I visit her?" Somehow, instinctively, I sensed that in times like these, the role of a pastor is to be present. I wish I could say that I was intentionally following the example of Jesus, who said to his followers, "When I was in prison, you visited me; when I was sick, you comforted me." There was no time to stop and think of Bible verses and parables. This moment required fast thinking and hard decisions.
Looking back, perhaps those well-worn Bible stories did offer guidance because they had been hidden in my heart by godly parents and kind Christians from my childhood. And what I discovered along the way was that members of my own Dallas congregation apparently had internalized these biblical examples as well, because to a person the church has supported me in reaching out to Louise and her family. The only criticisms we have received have come from outside the church.
Ebola came to our church, even though no one was exposed to the virus inside our building. We encountered Ebola because one of our members came face-to-face with it. And to echo the words of the Apostle Paul, when one member of the body hurts, the entire body feels pain.
Apparently, this is an image that is shocking for much of America to see and hear. Few people expected a predominantly Anglo congregation in an affluent section of Dallas to stand by a Liberian immigrant forced to live in quarantine. But as those inside our congregation know, this is what we do. This is what it means to be a church.
Every day, each of us faces decisions about whether to exclude or include, whether to remove ourselves from other people or to draw closer to other people. How we make those decisions often turns on how we have been taught. Rodgers and Hammerstein got it right in their 1949 Broadway musical, "South Pacific," with the song, "You've Got to be Carefully Taught." Lieutenant Cable famously sings: "You've got to be taught to hate and fear. You've got to be taught from year to year. It's got to be drummed in your dear little ear. You've got to be carefully taught."
What we've learned in recent weeks is that there's a flip side to this truth as well: When we're carefully taught to love rather than hate, when we're carefully taught to care rather than shun, it shows up in our actions. And in times of crisis -- like when Ebola comes to church -- what we've been taught pops into full view.
We've seen this lived out in Dallas by our mayor, Mike Rawlings, and our top county official, Clay Jenkins. Both these elected officials spontaneously acted in ways that not only offered compassion but inspired others to be compassionate. They knew you've got to be carefully taught.
The lesson we all need to learn now is another biblical teaching: We are, in fact, our brother's keeper. Because Eric Duncan got on that plane and came to Dallas, we put a face and a name and a life story and hopes and dreams with the tragedy of Ebola. Because he came to Dallas, Ebola was no longer someone else's problem; it became our problem.
We need to be carefully taught, once again, the old African proverb: "I am because we are."
George Mason is senior pastor of Wilshire Baptist Church in Dallas, Texas. A New York native, he is a business school graduate of the University of Miami and earned both master of divinity and doctor of philosophy degrees from a Baptist seminary.
Related
Popular in the Community