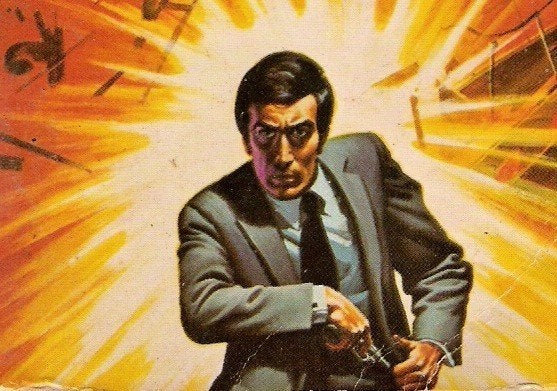 Do you hide your Elmore Leonard novels under the mattress? Is it your position at dinner parties that Jonathan Lethem or Colson Whitehead or John Banville would be so much better if he would stop all that genre stuff--while you secretly read all three writers' genre fiction on your e-reader so no one can find you out? Do you defend your taste for Samuel Delaney by saying you only like his work because he "transcends genre?" If so, Arthur Krystal's piece in the May 28 issue of The New Yorker should come as a great relief.
In his longish examination of why we read genre fiction, with the dismaying title "Guilty Pleasures Without Guilt," Krystal sounds a bit like the father of an adolescent boy who's just found the kid's stack of tattered Playboys at the back of his closet. ("Don't be ashamed, we all do it, but would you please let your sisters use the bathroom once in awhile?")
Krystal touches on science fiction and fantasy and romance, but he's mostly focused on crime fiction, and though he has some nice things to say about it, he has some confounding things to say as well. He professes to admire Raymond Chandler, but repeats this line from his 1996 American Scholar essay about Chandler's novels: "It's only as models of escape literature that they work as art."
Krystal must believe that or he wouldn't have repeated it, but you need only substitute another writer to see the problem with it. Imagine saying, "It's only as models of magical realism that Garcia-Marquez's novels work as art." That's nonsense, but we somehow buy it when it's genre fiction that's being discussed.
At New York's Center for Fiction where I'm director, we're known for our support of what is now somewhat strangely called literary fiction. We present nearly 100 writers a year--everyone from Philip Roth to Margaret Atwood to Christine Schutt to Ben Marcus. Gordon Lish teaches here. The Proust Society meets here, for God's sake.
But we also just created the country's only MFA-quality program devoted to crime fiction writing. It's directed by the novelist Jonathan Santlofer, who, among his many accolades, has won two NEA grants and serves on the board of Yaddo; its roster of master teachers includes Dennis Lehane, Lawrence Block, Meghan Abbott, Thomas Cook, Elmore Leonard, Joyce Carol Oates, Lee Child, and more. Students move from Lish to Cook and back again with ease.
They do this because writers recognize that great fiction is possible in all genres, as do astute readers. Just ask Peter Matthiessen, whose Shadow Country is a great American novel and great crime fiction.
As a way of illustrating that no one should feel any shame in reading genre fiction for pleasure, Krystal points out, "Everyone ought to get away with it once in awhile--especially if you're the President." He tells us how a writer for the National Review, on hearing about Obama's crime fiction purchases while the President was on vacation on Martha's Vineyard last August, wrote, "Not every Presidential reading selection is worth revealing... Bill Clinton used to love mysteries, but he didn't advertise the titles of what he once called "my little cheap thrills outlet.'" Krystal's point is that Obama should have some fun, too, and shouldn't have to hide the fact that he bought a trilogy of novels by crime writer Daniel Woodrell.
But wait, what's that now? The writer Obama shouldn't have to be ashamed of reading is Daniel Woodrell? The Daniel Woodrell who is one of our finest contemporary American writers, whose gorgeous and harrowing novels take us not just to the heart of the Ozarks but also to the heart of America's failures, that explore poverty and the underclass with such insight and artistry? Daniel Woodrell should be required reading for Obama and any other politician who wants to understand how desperate these times are for so many Americans.
And that sums up the problem when critics classify and judge work by genre, rather than by quality. Daniel Woodrell is one of our best writers, bar none. If you don't believe it, read The Death of Sweet Mister or Winter's Bone. And he's not an anomaly among genre writers. In crime fiction alone, there's Tana French (try The Likeness), Elmore Leonard (start with Swag or Killshot), Kate Atkinson (Case Histories), Ruth Rendell (Live Flesh), James Hoggs (Memoirs and Confessions of a Justified Sinner), and Richard Price's Clockers or Lush Life (or are we liking him so much now that we're saying he's "transcended genre?"), to name just a few.
And in science fiction? Try the brilliant Samuel R. Delaney's Dahlgren, Philip K. Dick's A Scanner Darkly, Ursula Le Guin's The Lathe of Heaven, or Alex Shakar's Luminarium, which recently won The Los Angeles Times Book Prize for Fiction.
I think most readers would agree that Krystal's right when he points out that there are at least two kinds of literature--the kind that contains, as Matthew Arnold said, "the best that has been thought and said in the world" and the kind that is written solely to entertain.
There's also an enormous amount that falls somewhere in between. Whether a novel is great literature has nothing to do with genre, and I wish we would all agree to stop saying it did and stop segregating genre work into special issues. The New Yorker doesn't need a science fiction issue or a crime fiction issue: It needs great stories of all kinds in every issue, regardless of genre.
Readers don't need yet another article that suggests that crime fiction is nothing more than entertainment written in "serviceable prose," even if it does reassure them that it's all right to read it anyway. There are entertaining books with so-so prose in every genre--The Help springs to mind--and Krystal is right, no one should be ashamed of wanting a purely pleasurable escapist read.
But let's all just be sure we know that we can find great, soul-stirring, beautifully written literature of the highest order in every genre.
Calling all HuffPost superfans!
Sign up for membership to become a founding member and help shape HuffPost's next chapter