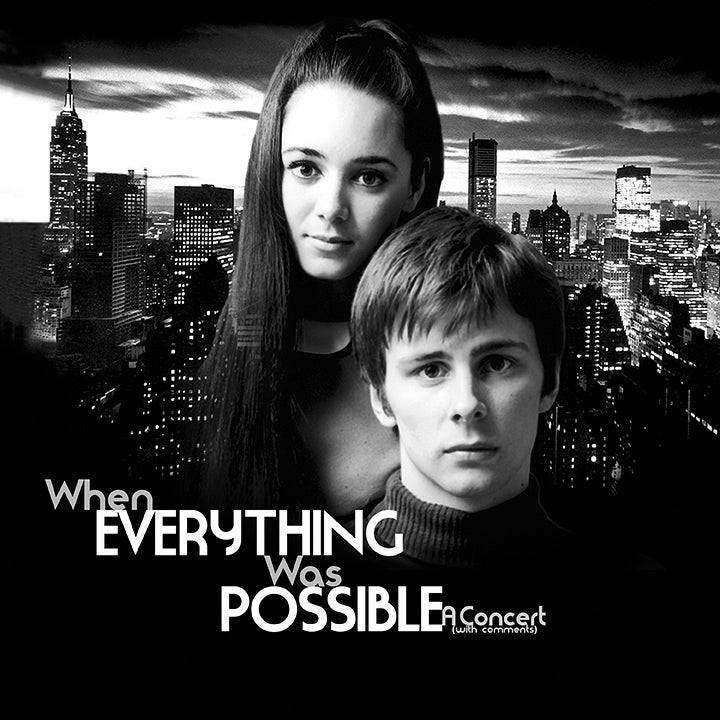 "All things beautiful must die," Stephen Sondheim wrote in Follies, his searingly timeless musical about memory, life and the theater. John McMartin, one of the last surviving lights of the original Follies cast, passed away one week ago today at the age of 86, just as I was collecting my thoughts about a new CD that recently turned up in my mailbox titled with yet another evocative Follies lyric quotation: When Everything Was Possible (from the song, "Waiting for the Girls Upstairs").
All lovers of musical theater have their own Golden Age that haunts them. (The idea that this moment right now is a new, young Hamilton generation's Golden Age fills me with wistful joy.) My Golden Age kind of commenced with John McMartin and Follies in 1971, but it really kicked in with A Little Night Music two years later, around stars like the luminous Victoria Mallory, who so indelibly played Night Music's dewy young wife, Anne. Ms. Mallory is the co-headliner of When Everything Was Possible, alongside Kurt Peterson, a performer of many parts, who, in 1973, on the Shubert Theatre stage set of A Little Night Music, produced the revelatory first (and still reigning finest ever) all-star Sondheim concert, Sondheim: A Musical Tribute; a seminal event that cemented my Golden Age (and that of many, many others) as the age of Stephen Sondheim.
Still with me? I hope so. The story of this CD is the saga of Ms. Mallory and Mr. Peterson, whose lives and careers are woven deeply into that golden Sondheim epoch. Both came to New York in 1966 as wide-eyed kids from elsewhere and connected on their first day of school at the American Musical and Dramatic Academy. Both quickly carved out careers in musical theater, beginning with snagging the starring roles, Maria and Tony, in Music Theater of Lincoln Center's 1968 revival of West Side Story, presided over by Leonard Bernstein and (as president and producing director) Richard Rodgers.
Quite a start! The further starry backstory on Mallory and Peterson is the subject of When Everything Was Possible, a two-person memory play created out of the musical theater strands of their eight year relationship as boyfriend and girlfriend on and off in the late-60s and early-1970s. The couple peaked professionally with their joint casting in the original production of Follies; Ms. Mallory as Young Heidi, the youthful spirit of the aged operetta diva "Heidi Schiller," with whom she duets on the exquisite "One More Kiss" (lyric source for the line: "All things beautiful must die"). Mr. Peterson played Young Ben, the young self of Benjamin Stone, the character inhabited by, and forever associated with – you guessed it – John McMartin.
The CD is way easier to enjoy than it is to explain. Recorded live at the first and only New York performance of When Everything Was Possible as a charity benefit at City Center on April 29, 2012, it features a 13-piece orchestra playing superbly redolent new orchestrations by Stephen Sondheim's most frequent orchestrator, the incomparable Jonathan Tunick, accompanying two of the loveliest voices ever heard on Broadway, as here burnished and frayed by time.
The recollections are frank (if lightly censored), the music is eloquently reflective and, at times, glorious. Above all else, though the proceedings are poignantly bittersweet. The couple broke up in 1975, when Mallory unexpectedly married her Night Music co-star, Mark Lambert. They did not see each other again for almost 35 years, not until Mallory phoned Peterson to ask that he meet and perhaps help her young daughter, who was coming to New York to make it in musical theater, as her mother had.
"Ours was quite an abrupt parting," Peterson laughingly reminded me recently. "Once I stopped shaking after hearing Vicky's voice for the first time in 35 years, I said to her, 'I certainly will Vicky, but don't you think you and I should sit down first and have a conversation?'
"So we did,'" continued Peterson. "We aired everything out and quickly became dearest of friends again. Our families became dearest of friends. Finally, I said to Vicky, 'I think it's time for us to try and sing together.'
"We both started writing down things we remembered from the past. It took quite a bit of time. At first, we tried making a book musical of our story but it became clear that people really wanted to hear us tell our own story and sing our own songs. We performed a full concert version up in Connecticut, another in Florida, and then one at Triad Stage in North Carolina. It took years before we finally presented it in 2012 at City Center. After that night, which was kind of triumphant, we had great plans to come back to New York for a limited run on Broadway or at Lincoln Center. We were going to make a full studio recording. We had touring opportunities. We looked at this as something we could do for the next fifteen years; a sort of lesson in history and hope.
Ms. Mallory was diagnosed with pancreatic cancer in June of 2014.
"And we lost her that same year at the end of August," added Peterson, bringing further conversation to a halt.
"Fortunately, someone at City Center had made an archival recording of our evening there," he finally went on. "Sort of an under-the-table thing that you're never supposed to do but they did. My co-producer, Stephenie Skyllas, and I took that tape to the unions and said, 'We're sorry someone did this but it exists. Now, can we make a deal?' And they did."
Crowd-funded and remastered, the recording was released on CD by Ghostlight Records this past May.
"The real message in it is for young people, I'd like to think," Kurt Peterson concludes. "That dream of yours? You can make it happen. We did. Of course, the CD is also a tribute to Vicky's memory. Something for everyone to remember her by. Which deepens our message to: Do it now."
Support HuffPost
The Stakes Have Never Been Higher
Related
Popular in the Community