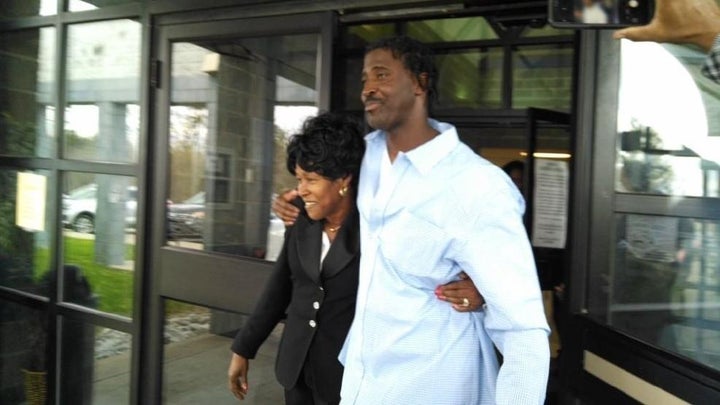 When Jimmie Gardner showed up in a Charleston, WV courtroom for what he expected to be a brief hearing in preparation for his court-ordered retrial, he got some stunning news. Prosecutors announced they were dismissing, with prejudice, all charges against the former minor league baseball pitcher. After serving 27 years of a 33 to 110 year sentence for a crime he has steadfastly maintained he didn't commit, Gardner was a free man. There would be no retrial.
Gardner had been convicted in 1990 of raping a Kanawha City woman and beating her 82-year-old grandmother, largely on the false testimony of former state police chief chemist Fred Zain, who rose from lowly lab chemist to become director of the serology department in the West Virginia Department of Public Safety.
The most compelling testimony at Gardner's trial came from Zain, whose testimony in hundreds of cases has since been discredited. Zain testified that the defendant could not be excluded as a suspect, even though he knew at the time that Gardner's blood type did not match the seminal fluid found at the crime scene. It was precisely this kind of "can do" attitude that made Zain a prosecutor's dream witness. He became so popular with District Attorneys that other states starting asking him to provide testimony and in 1989 he went to a better job as chief of physical evidence at the Bexar County, Texas medical examiner's office.
By the time Zain left, West Virginia authorities had begun to suspect that his "too good to be true" testimony and test results were indeed too good to be true. The clincher came in the case of Glen Woodall, convicted in 1987 of multiple felonies at the Huntington, WV Mall, including two counts of sexual assault. At Woodall's trial, Zain testified that, based upon his scientific analysis of semen recovered from the victims, the "assailant's blood types ... were identical to Mr. Woodall's." He was convicted and sentenced to a prison term of 203 to 335 years.
Woodall's conviction was affirmed on appeal, but DNA testing— the first ever admitted as evidence at the state level in the United States—established that Woodall could not have been the perpetrator. His conviction was overturned in 1992 and he was freed. Woodall sued the State of West Virginia for false imprisonment, and received $1 million in settlement. The state had ignored earlier warnings about Zain but paying out money for a wrongful conviction finally got the full attention of public officials. A team of special prosecutors was assigned to take a fresh look at all of Zain's cases. What they discovered was a criminal justice disaster— a tragedy of people wrongfully convicted and human lives wrecked by a man who was not only not qualified for the job, but willing to commit perjury to help prosecutors convict the innocent.
The investigators discovered that Zain had first gotten his job in the serology department of the state crime lab by claiming to have graduated from West Virginia State College with a major in biology and a minor in chemistry. The biology part was true but he had graduated with a C average, never minored in chemistry, and flunked or barely squeaked by the few chemistry courses he had taken. He had also flunked an FBI course in forensic science.
After a review of 189 of his cases, the special prosecutors concluded that the actual guilt of 134 people was substantively in doubt because the convictions were based on inculpatory reports and/or testimony by Zain. They warned that ''any testimony or documentary evidence offered by Zain at any time should be deemed invalid, unreliable and inadmissible.'' Nine men—10 if you count Jimmie Gardner—have been freed because the remaining evidence offered against them was insufficient for conviction. They were in jail because Fred Zain lied. The state has paid out $6.5 million in compensation to the wrongfully convicted. A subsequent investigation in Texas turned up 180 cases that were tainted by Zain's testimony and millions more have been paid to his victims there.
Zain died in 2001 of liver cancer without ever spending a day in jail. He has become the poster boy for the injustices and wrongful convictions that can occur when a smooth-talking, but unqualified and unscrupulous, con man becomes a key player in the criminal justice system. Unfortunately, the conditions that created him are still there in far too many courtrooms and crime labs around the country.
The most infuriating thing about the Jimmie Gardner case is how long it has taken him to find justice. He first began petitioning for an appeal in 1993. And although the state Supreme Court asked Kanawha County to hold hearings in 1995, 2002 and 2005, prosecutors resisted and it never happened. This pattern of prosecutors digging in their heels even in cases where the injustice is clear is also far too common. There have to be new laws that make prosecutors more accountable.
Gardner finally got his day in court in March of this year and prosecutors were given 60 days to retry him or cut him loose. He was released on bond to await their decision.
Today, he is a free man and, according to local newspaper accounts, enjoying his first months of liberty in nearly three decades. He has a lead on a job and has gotten engaged to a lady introduced to him by his court-appointed attorney. It probably doesn't make up for 27 years in prison for a crime he didn't commit. But, it's something.