Can clothes change the world?
That's the question that drew me to Noteably Nashville - an annual event in the Music City. Over five days, local and international fashion designers, musicians, visual artists and culinary arts are paired with different non-profits, for a chance to make a difference in the world.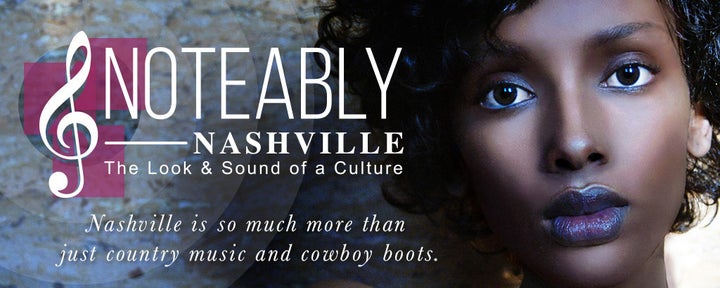 "Clothing design is where my talent lies. It's what I am good at. When I was in college studying next to my friends who were going to be medical doctors and save lives, I grappled with the question: I make costumes. How am I am ever going to ever change the world?" Caitlin Stolley, the creator of Lily Guilder Design, said to me in a phone interview.
Caitlin is one of Noteably Nashville's featured designers this year. Her show will benefit Youth Villages, a private nonprofit organization dedicated to helping emotionally and behaviorally troubled children and their families to live successfully.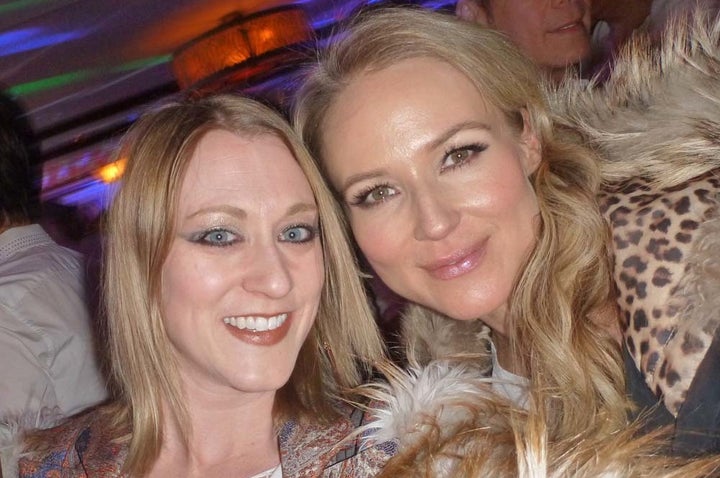 The day I spoke to Caitlin, I was on the way to the Tennessee state prison for women, where I volunteer by mentoring inmates. I thought about Caitlin's words as I walked through the prison yard. I remembered the stories of women I had talked to, who spoke of their childhood dreams - to be beauty queens, a Disney princess, or at least own a pretty dress or a smart looking suit - only to see those dreams cut short by rape, sexual abuse, trauma and drug addiction.
They say that "clothes make the man" but could wearing clothes made with love and dedication to emphasize the beauty of each individual make anyone feel good? Could it shift their pain and struggles to dignity and desire to transcend it?
I think back to the years I spent in Croatia during war time in the 1990s and how the women persistently put on their best clothes and heels, ran for shelters during air raids and walked through the rubble afterwards.
There is no doubt in my mind that fashion designers are making a huge difference in our world.
Caitlin signs her every email with "You are beautiful!" Even the name of her company has a layered meaning, all of which points to what drives her and inspires her: "To adorn something already beautiful."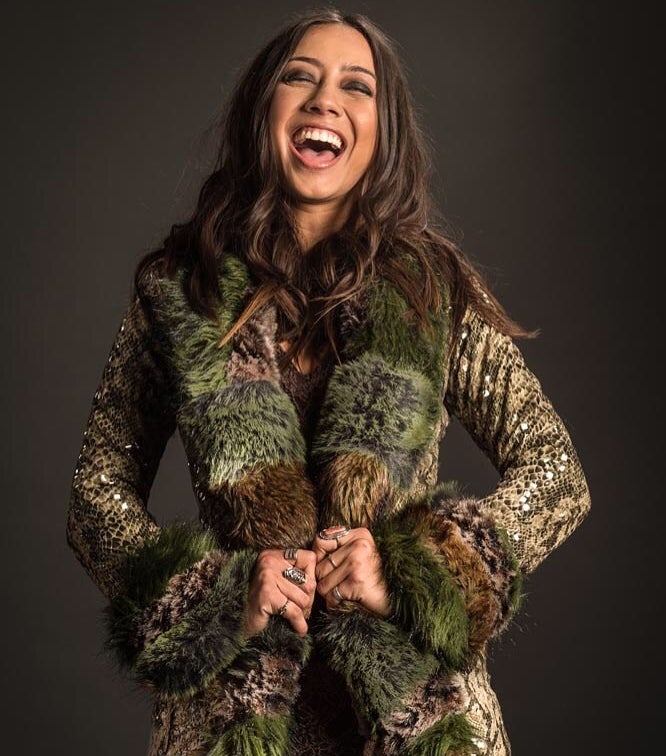 We talk about her New York clients and the desert festival costumes she loves to make for them; and about the musicians and dancers with whom she loves to collaborate.
I tell her about the New York fashion designer who is also participating at Noteably Nashville - Maestro Sylvio Kovacic. I had met Sylvio only a few months prior, but I had been a part of his life for several decades. He loved the music I sang and became famous for in our native Croatia in 1990s. When we first met at his NYC atelier, it was impossible to tell who was more star struck - him or me.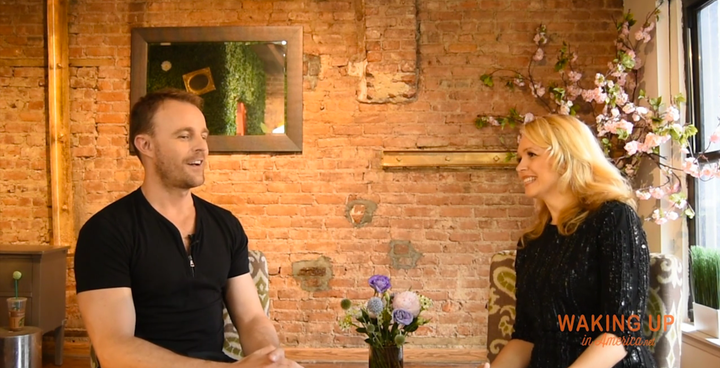 I spotted a stunning purple dress on a rack and wished I was size 0. The dress was glowing with something more than its thousands of hand stitched beads.
"It's a special dress," Sylvio said reading my mind. "I will never, ever sell it. I made it at a hard time in my life, and I want to donate it to someone for a very good cause."
"I know exactly where it needs to go," I responded telling him about Thistle Farms, a community that restores lives of women victims of sex trafficking, prostitution, addiction and abuse. I added how the women there are healed with love, dignity and respect and how many of them become game-changers themselves. Like Sheila Simpkins McClain who is now a director of survivor services for the anti-trafficking organization End Slavery Tennessee. Both non-profits are 2016 recipients of the Noteably Nashville event, and Sylvio is auctioning his $35K purple dress to benefit End Slavery.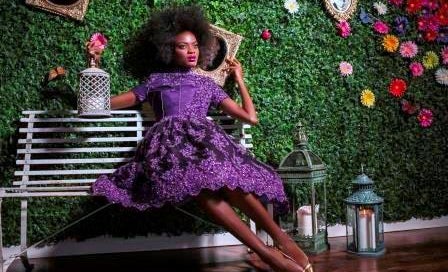 Sylvio overcame tremendous obstacles to make his childhood dream come true. His mom, who is a survivor of physical abuse herself, is his biggest inspiration. He's shown his collections all over the world, but the most important one for him will always be an event in Croatia where his mom got to be in the first row, and the afterparty was back at his childhood home eating his mom's home-made comfort food.
Which brings me back to Nashville, a city that's "so much more than country music and cowboy boots" as the tagline for Noteably Nashville states.
Like many new settlers in the Nashville area, I chose it for my home not only for its booming entertainment, TV and music industry, but because of its strong sense of community, hospitality and generosity. It's a place with so much beauty - both in nature and in the people who are passionate about restoring lives and bringing healing into the world. It's home - where ordinary moments are as precious as the high times that mark our lives.
And when it comes to big moments, I needed to talk to one more designer who is showing her wedding and red carpet couture dresses during the Noteably Nashville event.
Karen Hendrix greeted me at her atelier located at the historic St. Bernard Academy in the Hillsboro Village neighborhood. Hers is a luxury fashion brand. As I stand in front of her exquisite gowns, I feel as if the world around me has shifted into a much calmer, slower and entirely magical place.
Karen makes each dress from sketch to finish for one person, and such bespoke styling is the definition of a haute couture designer. However, she stresses her recognition that haute couture is protected by law and that it may not be used except by firms that meet certain well-defined standards.
What I find more valuable than the "official" stamp of quality is how her loving process - from sketch to finish - is woven into every inch of her creations. She talks about patience and time needed to learn a skill, develop a style and grow into a high fashion designer that can not only create out of fabric, but can also create the exact piece that will fit the personality and the spirit of its wearer. Karen's is a rare gift in today's world of fast consumerism and instant gratification.
I stand in front of the gowns and, even without putting them on, they change me. Each tells me a different story, a fantasy, a fairy tale that I might have forgotten by being rushed through my own life chaos as a mom, wife, and a career person. In the stillness, each dress awakens a dream that I had perhaps given up on…
Karen's show will benefit Governor's Books from the Birth Foundation. The connection amuses me. How else do we begin to dream about the limitless possibilities, imagine ourselves in most courageous adventures and learn to believe in miracles if not from our childhood books? Karen shares with me how it was through fashion magazines and Disney books that she dreamed her dream - which coupled with a successful career as a classical singer created her very own fairy tale.
I leave Karen and drive home. I notice a Facebook message from my friend Linda. I am instantly reminded that not all fairy tales look the same. Hers involved cowboy boots, skinny jeans and rhinestones tops, a happy marriage, race cars, puppies, music and loud gratitude each time she beat another cancer and got it out of her body. I think how a day after her surgery she was right back wearing her jeans and her bracelets.
I have no doubt that fashion saves lives.
Linda will love the fact that Noteably Nashville's designers will also have a chance to contribute to the Women Survivor Alliance, a non-profit created to promote the concept of cancer survivorship as it relates to women's issues beyond the completion of treatment. And for many of the survivors, how they embrace their bodies after their treatment is a part of their story and their healing.
At home, I listen to a recording of my conversation with Caitlin and I smile as I hear her say: "I love that I can participate in something that helps the world by doing benefit shows. But also, when people put my designs on they stand up straighter, they feel powerful and beautiful and confident as they actually are. That's a microscopic way of shifting the world."
"I disagree that it's microscopic," I reply with confidence. Because I believe in ripples. One by one expanding and becoming stronger as they do.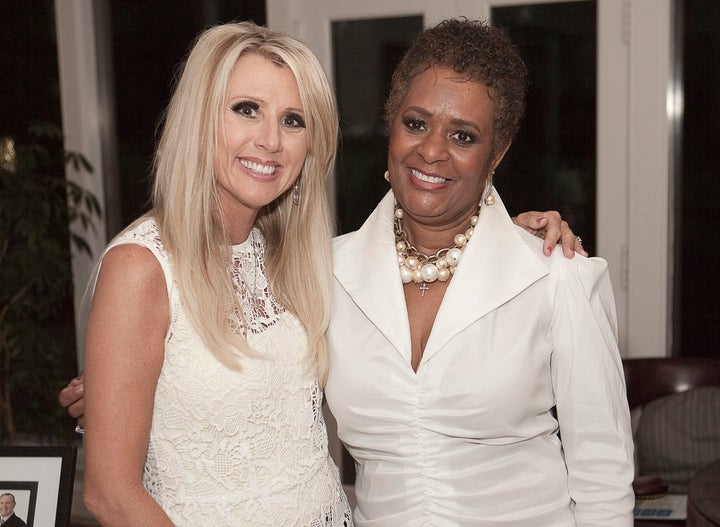 The powerful tide Noteably Nashville is raising - connecting and uplifting so many people - is proof of how one person causing one ripple makes a huge difference. Sonya Hairston, its founder and creator took on this enormous task armed with not much more than her faith, some great friends and awareness that each of us play a big part in bringing healing to our world.
How encouraging, reassuring but also urgently needed for our hurting world we live in today.
DISCLAIMER: I did not receive any compensation, products, services, discounts or reimbursements in the process of writing this article.
Popular in the Community