At a dinner party recently I was introduced to Leanne Mai-ly Hilgart, the founder of Vaute Couture. Vaute Couture, a play on "haute couture", the V is for vegan, is the first apparel line to focus on developing high style, high performance fashion with one major challenge: no animal-derived materials. The company also seeks to use state-of-the-art, eco-friendly materials. For example, the shell used on their coats is a textured Polartec that is made in the states and is, get this, recyclable.
The cruelty and wastefulness involved in fur production is obvious to most, but what about wool and leather? Wool may seem innocuous enough, but the reality is that millions of sheep are brutalized and mutilated for their coat every year. Leather, which is largely thought to be a by-product of the meat industry, is incredibly toxic to the environment because of the tanning process. In addition, much of the leather we wear in the US comes from China and India where animal welfare laws are pretty much non-existent.
I received my wool-free Vaute Couture pea coat around Halloween. The styling is beautiful and the cut is perfect. The outer material is something I'd never encountered before. It's light but very upscale and incredibly warm - for everyone who thinks they need to wear wool or fur to keep warm, the explorers in Antarctica (where it's -40 on a nice day) wear mostly synthetic fibers like Polartec. So if it's good enough for them, it's certainly good enough for us.
Quite impressed with Leanne and her vision, I decided to sit down with her and ask her a few questions about her company and where it's headed:
When did you first become aware of the animals being used for clothing?
When I was six, a girl down the street had gotten a rabbit fur coat for Christmas. I didn't know anything at the time about anal electrocution, fur farms, or any other of the details behind fur, I just knew that she had taken something that was not her's, and I couldn't understand why life could be taken for a silly little coat.

What inspired you to go into business and start your own line and which designers influenced you?
I've been coordinating campaigns for the animals since I was 8, when I graduated college and felt a bit lost on my career path, I thought about what I really loved to do and who the core of me is. Hands down, it was to speak up for animals and give others the tools to live a more compassionate life. It took me two years and an almost finished MBA to find exactly where I could be used best. It surprises me more than anyone that it turned out to be fashion, I've always been an artist, but this direction came from a look at where I needed to focus on creating more compassionate competitive alternatives, not from my desire to work with apparel. In the end (as it is in the beginning), I've always been an artist, and getting to do art (which I had lost from my life before) everyday is a gift.
Those who have inspired me tend to be other entrepreneurs- Anita Roddick of the Body Shop is one... how she tore up the rules and made a stand against animal testing, and taught herself the business of body care from scratch. I also adore Chip Conley, Seth Godin, and Audrey Hepburn.

What are some of the challenges/benefits of running an eco-minded, vegan business in the world of fashion?
Since I'm innovating in fabrics and construction at the same time as designing, there is a base inventor role to what I do in addition to designer. This adds a lot of time, money, and experimentation to my work- I did 8 months of fabric research before starting the first collection, and can't just pick up whatever fabrics I want that are already available to design from. Then, I'm using these fabrics in new ways, which is another additional level of research and development.
The benefit is to me, everything- I wouldn't be in fashion if not for the fact that what I do is my activism, by innovating in new fabrics that can be better in warmth and performance than animal based fabrics, and showing how beautiful & luxe a garment can be that is animal free. It's so important to know that caring is not a sacrifice, we do not need to wear or use animals, and the world is moving towards widening its circle of compassion to embrace all others- we are not separate entities, we are all interconnected and what is done to those we don't think about in places we don't think about, does affect us all.

What are some of the animal-free alternatives to wool?
It depends on the utility & look you're aiming for, but if you're going for the look but don't need the warmth, cotton moleskin is a great option. If you need warmth (as I always did in Chicago), high tech fabrics are needed-- Polartec is an excellent one that includes fabrics that are all recyclable, and often recycled. If you need sweaters, and cold weather accessories, it's easy to find cotton and acrylic hats, gloves, scarves, and sweaters, and I have a new line of hand knits made from the waste of soybean farming. I was looking for an option that was vegan, sustainable, and super luxe with the look of wool, and this was it.
What fashion icon would you most love to see sporting Vaute Couture down 5th Avenue?
To me, an icon is someone who is gorgeous inside and out and brings out the best in everyone, and hands down, Ellen DeGeneres is the woman that brings the sun everywhere she goes... it'd be an honor to keep her warm!

What is just down the road for Vaute Couture? What's next?
I just launched a small collection of Men's dress coats, Insulated Coats (the first ever eco and vegan insulated line), and soy hand knits... we're working on dressy vegan leather gloves & belts for next season.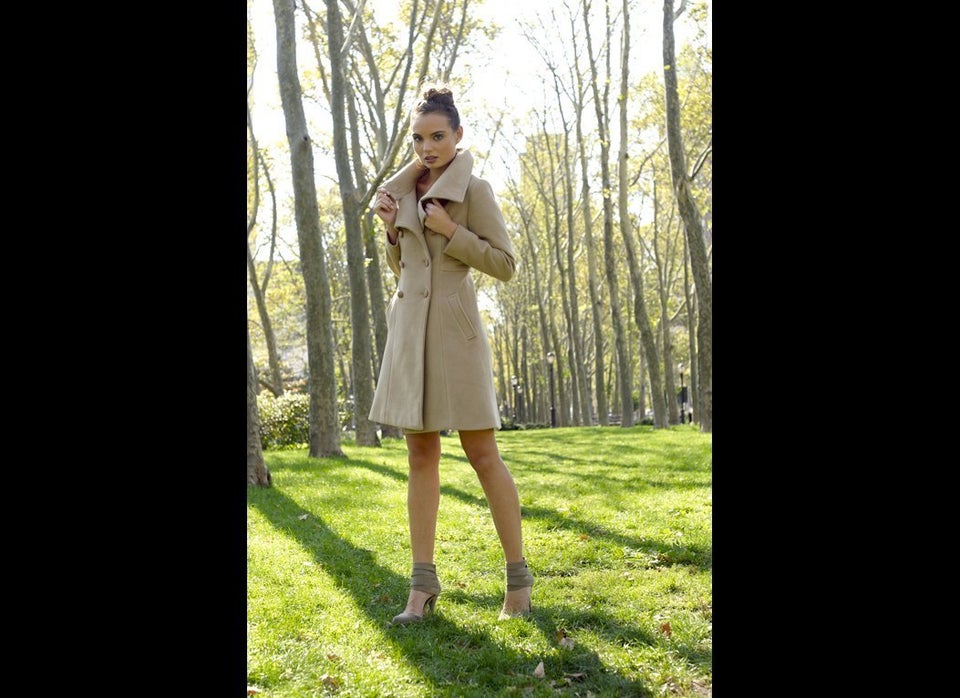 Vaute Couture; Sustainable & Ethical Designs by Leanne Mai-Ly Hilgart
Related