There is a common misconception that Instagram is a land of badly lit selfies or an unending parade of blue skies, blue waters and blue drinks. What one fails to observe is that Instagram is also a breeding ground of unique artists and creative trailblazers.
And, this is precisely what happened when I came across Meredith Wing aka @moomooi on Instagram. Before any selfies of her exploding my smartphone screen, I saw her beautiful one-of-a-kind creations of flowers morphed into these super stylish and chic women. Each post was infused with so much talent and passion that I could feel these flower women walking across my phone screen, swaying their rose petal skirt and adjusting their little bead earrings.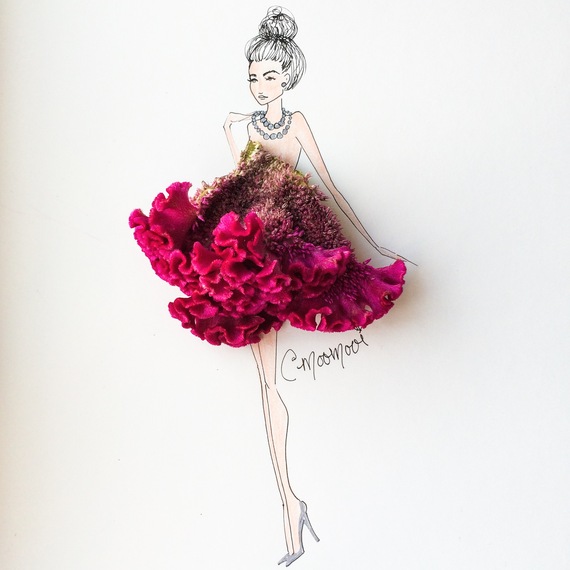 Ofcourse, I had to meet her.
So, I reached out to Meredith, who is based out of New York City and Sydney, and as luck would have it, she was still in New York City ready to fly out to the other side of the globe. Over a cozy cup of latte at an elegant French restaurant on the Upper West Side, we sat down and talked a bit about her background in design and architecture, her unique floral creations and how instagram has enabled artists to collaborate all over the world. I mean the fact that we both were sitting face to face was because of this powerful social media connection. After we spoke, we then did an impromptu photo session, and it was so easy to see that not only was Meredith an incredibly talented artist, but also a truly gorgeous woman with grace and elegance. Our time was limited as Meredith had to rush to the airport, so instead we caught up on a formal Q&A a few weeks later.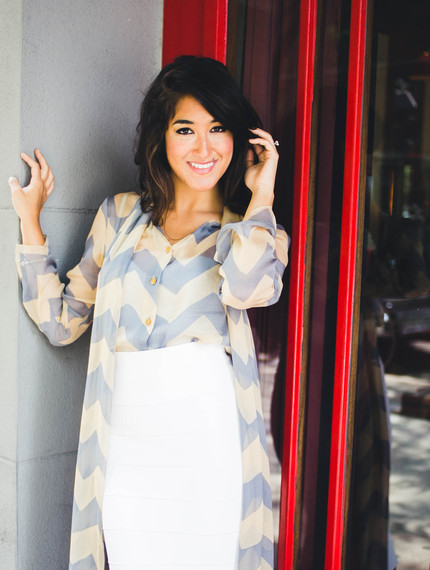 photo by SHHIVIKA CHAUHAN PHOTOGRAPHY
Q. Hey Meredith, as you know, I first came across your work on Instagram, and was instantly smitten with your beautiful creations. So, tell me the concept behind your art? And, how long have you been doing it for?
A. From the age of five I have been sketching and doodling whimsical ladies in fancy dress. Creativity has expressed itself in drawing, painting, photography, fashion design, architecture, interior design and creative writing among other pursuits!
Q. Who or what inspires you? Any mentors?
Anything whimsical, aesthetic and slightly haunting in its ephemerality is inspiring. Peonies and dusty millers, the photography of Sally Mann and Robert and Shana ParkHarrison, the deep shadows of a Tadao Aando space. In terms of illustrators, Garance Dore is so effortlessly chic with her work. I met her once and she was so modest and sweet too.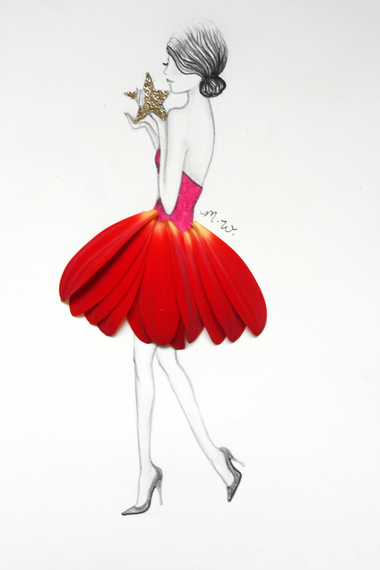 Q. Let's take a few minutes to learn a bit about your background.
A. Working for NYC Ready-to-Wear fashion houses like Cynthia Steffe and Sue Stemp as well as Lacoste in Paris honed my sensitivity to designing for the female body and exposed me to what quality garment construction looked like. Enrolling in Columbia's Architecture School for a Masters degree was a step towards a professional design education. Architecture school taught me to appreciate natural materials, composition, graphic representation and perspective.
Q. Based on your experience, who is your ideal client? Or, let's say which type of clients could benefit from your art?
A. Collaborating with Soho House in Coachella was amazing and facilitated drawings for Coach, Grey Goose and Patron that have proved equally rewarding. Doing work for ForeverMark (DeBeers) diamonds was also exciting. Basically any organization that has great energy or a beautiful product will result in an exciting collaboration.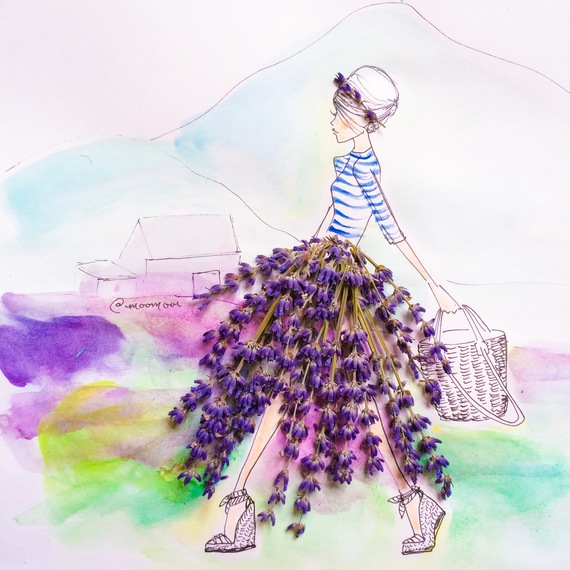 Q. So, what does future hold for Meredith Wing Designs? What's next? More collaborations?
A. Yes, I am working towards collaborations with lingerie labels, houseware brands, personal commissions and more. And, if anyone is interested in finding out how I can assist with their product/brand, please feel free to contact me.
To peruse more of Meredith's beautiful work, please visit her website www.meredithwing.com or on Instagram @moomooi.
All photographs of Meredith's beautiful work have been provided by the artist herself.
Popular in the Community