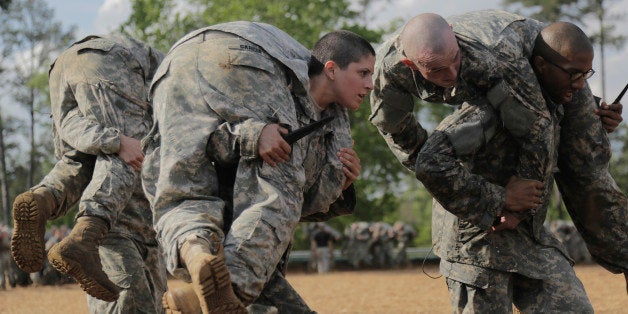 On Friday, at Fort Benning, Georgia, two West Point grads received the coveted Ranger tab after weeks of scaling mountains, navigating swamplands, and massive sleep and caloric deprivation. These two officers were just as worn out as all their comrades standing in the formation that day, but were different in one respect - both were women, and as such, represented the culmination of years of activism by women in and out of the military calling for all servicewomen to be afforded such an opportunity to attend the Ranger course.
Until Friday, no American servicewoman had ever graduated from the U.S. Army's Ranger Course. This was a direct result of no woman ever being afforded the opportunity. This seems like a very simple concept to comprehend. Unfortunately, for the many who were unaware of an antiquated Pentagon policy, the absence of women in many tactical occupations throughout the military led them to believe women had no interest or requisite ability for such positions. I can tell you, at least in my instance, this was never the case.
Prior to my joining the Air Force in 2002, I served as an open water lifeguard in my hometown on the Central Coast of California. Not many women served as beach lifeguards, however for those of us that applied, we were welcomed with open arms. I was a top water polo player and swimmer, so lifeguarding was a natural fit. I attended a rigorous training course that included jumping off 40 foot piers into 50 degree waters, running several miles down the beach barefoot, paddling through rough surf, and even towing a small stranded vessel via a rope tied around my waist. We also had to be CPR- and first aid certified and able to effectively communicate with a wide variety of beach patrons. There was one standard for becoming a lifeguard and I met that standard upon completing the training. Each summer, a regional lifeguarding competition was held and my beach's crew won both years I worked there. When I entered the military, I craved the same sort of environment: a service-oriented, physically and mentally demanding position centered on teamwork.
My first permanent duty assignment was Anchorage, Alaska, a literal playground for outdoor sports. Though I arrived in the dead of winter, I signed up for and started training for the marathon. Before heading to work for swing shifts, I would bundle up, strap on ice cleats, and head out for a run. Looking back now, I was quite tenacious to go running in the freezing conditions. I had a goal and did what I needed to meet it.
That spring, our squadron Chief sent out an email announcing that representatives for the Air Force's pararescue unit would hold a recruiting event. After a quick Internet search, I confirmed my suspicion that servicewomen were barred from applying to this careerfield. I responded to the Chief that I was very interested, but was of the understanding that I could not apply due to my sex. Though he was the senior non-commissioned officer of our squadron and therefore had a responsibility for all personnel issues, he was not very aware of the restrictions placed on servicewomen by the Combat Exclusion Policy. This instance, was just one of many that led to my eventual decision to leave the service after my initial enlistment. If military occupations were arbitrarily closed to me, than I was better off seeking other opportunity in the civilian sector. Since then, I have competed in numerous triathlons and completed both the Marine Corps half and full marathons. Though, even these athletic successes will never measure up to what I could have accomplished in service to our country if afforded the opportunity.
Though I received many honors and accolades during my service, I will always feel that I left something on the table, that I had more to give, but was not given the opportunity. I am so proud of CPT Kristen Griest and 1LT Shaye Haver, and am excited to watch their career progress. Though, to be honest, I am also a bit jealous. They were afforded an opportunity, gave it their all, and succeeded. It is not a complicated concept. Opportunity + preparation = success.
From this point forward, I want all servicewomen to have every opportunity for which they qualify. I dream of the day when young girls see women characters in films who are SEALs or Rangers and then proclaim, "I want to do that when I grow up!" My dream is that future generations of women veterans will be able to look back at their service, knowing that they were given full opportunity to serve their country and gave it their all.
Calling all HuffPost superfans!
Sign up for membership to become a founding member and help shape HuffPost's next chapter