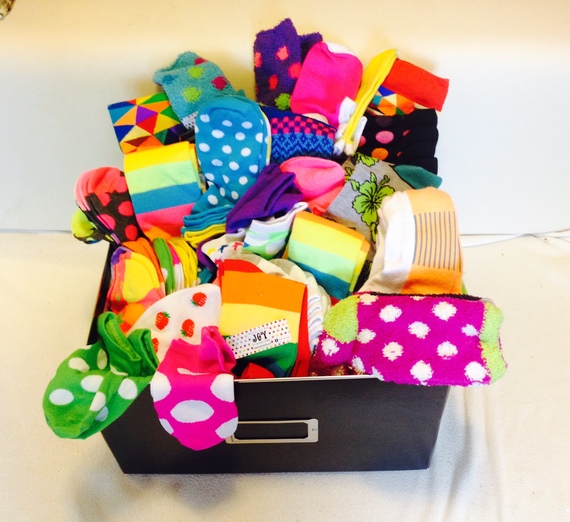 I love giving away fun socks to bring a smile to someone's face and put a spring in their steps. I call them Joy Socks.
I so strongly believe that joy is found in living a life of gratitude and seeing joy in the small moments. A year ago I found out I had 3 brain tumors, and it renewed my passion for honoring the gift of life. Joy Socks remind me to be grateful and not get too caught up in the serious side of things-even on the hard days.
In June my son had a large brain tumor removed for the condition we share. I wore Joy Socks each day of his hospital stay to remind me of the goodness of life, to keep me grounded and reminding me to choose joy. People would smile and make comments about the socks. I wanted to hand them out to everyone I saw. Even my son asked to put his on shortly after the surgery like they offered some sort of intentional super power in his struggle.
I've wanted to do more with the socks so I started a campaign called Sox in a Box (www.soxinabox.ca) where people collect new, fun socks or donate money to the gofundme page (http://www.gofundme.com/soxinabox) and I buy fun socks to give away.
A few weeks ago I had a dream that God asked me what I wanted and I said I wanted to spread more joy with fun socks and encourage people to have the courage to keep walking amidst whatever circumstances they found themselves in. He handed me a ticket and said -- "Here, take this ticket and do whatever you want."
The next day I decided to start the process to start a registered charity called The Joy Foundation -- where we will distribute fun Joy Socks to many charities, locally and abroad. I raised over $1,000 the day after the dream. I am in the process of launching the charity.
Since my dream I've donated over 500 pairs of Joy Socks to the Ronald McDonald houses across my province. The response has been overwhelming. Some people even cried when they got their pair of Joy Socks. Last week a large hospital contacted me asking if they could have some Joy Socks for their patients.
It's just starting out, but eventually I dream that we'd be able to help people to get an education where they otherwise might not, pay for health care bills for the less fortunate, give an entrepreneur a grant to launch a business, the list goes on.
In the meantime I trust the "ticket" and will do what I can to bring positivity and joy to the world in my own sock footed way.
Calling all HuffPost superfans!
Sign up for membership to become a founding member and help shape HuffPost's next chapter