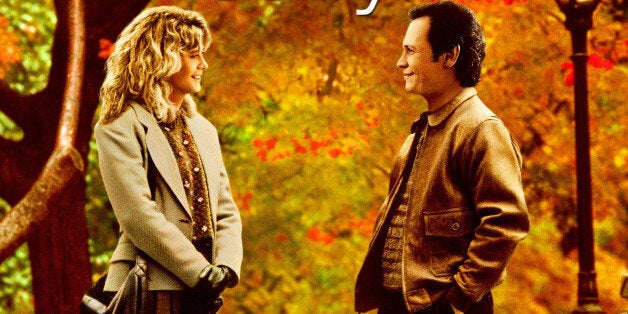 On July 14, 1989, baby fish mouth began sweeping the nation. That's the day when Rob Reiner's "When Harry Met Sally" opened in limited release.
Written by Nora Ephron and starring Billy Crystal and Meg Ryan, "When Harry Met Sally" would go on to become the 11th highest grossing film of the year, earning $92,823,546 million in ticket sales (more than "The Little Mermaid" and also "Turner & Hooch," among other films; 1989 was awesome). More than the financial windfall, however, was a legacy: "When Harry Met Sally" is regarded as one of the greatest romantic comedies of all time. It turned Nora Ephron into an icon, helped Meg Ryan become America's Sweetheart and provided film critics with a new way to discuss Woody Allen. As it turns out, if reviewers didn't cite Allen's oeuvre while writing about "When Harry Met Sally," they were maybe fined by their editors? We're unsure, but here are 11 reviews of "When Harry Met Sally" that all mention Allen in one form or another.
1. "Our Flick of the Week is Rob Reiner's genial romantic comedy, 'When Harry Met Sally,' a pale imitation of Woody Allen's 'Annie Hall.'" -- Gene Siskel, Chicago Tribune
2. "As directed by Reiner from a script by Nora Ephron ('Heartburn'), 'When Harry Met Sally' announces its debt to Woody Allen with its opening credits: pristine white type on a black background, as a piano rendition of a pop standard ('It Had to Be You') is heard on the soundtrack. The casting suggests a road company version of 'Annie Hall': Billy Crystal as Harry Burns, a wound-up, wisecracking New Yorker, and Meg Ryan as Sally Albright, a ditzy, lovably repressed Midwesterner." -- Dave Kehr, Chicago Tribune
4. "Woody Allen ought to get a credit for most of what variation there is. The heavy references to 'Casablanca' -- with clips from that 1942 film -- recall Allen's infinitely superior 'Play It Again, Sam.' And the interjection of brief documentary-style comments from elderly couples describing their romantic history seems a variation on the device Allen used in 'Take the Money and Run' and 'Zelig.' (It also seems a cheat that the couples are unrelated; their little tales are so banal they ought to have truth going for them at least.)" -- Ralph Novak, People
5. "The opening credits feature Woody Allen's trademark white letters on a black background, with a jaunty version of 'It Had to Be You' on the soundtrack. The score is rich with Gershwin, the camera infatuated with Manhattan, the dialogue obsessed with love, sex and death. Altogether, Rob Reiner's 'When Harry Met Sally' is the most blatant bow from one director to another since Mr. Allen imitated Ingmar Bergman in 'Interiors.'" -- Caryn James, New York Times
6. "It's about two people who could be characters in a Woody Allen movie, if they weren't so sunny, and about how it takes them 12 years to fall in love. We're with them, or maybe a little ahead of them, every step of the way." -- Roger Ebert, Chicago Sun-Times
7. "Reiner's Woody Allen-ish comedy is, for all its up-front discussion of matters sexual, disarmingly old-fashioned." -- Geoff Andrew, Time Out
8. "Harry is an abrasive pain who believes men and women cannot sustain a friendship because sex ruins everything. A cross between Don Juan and 'Annie Hall's' acerbic Alvy Singer, Harry is driven by angst and bewildered by the women who 'meow' in his bed. He believes in the worst, always reading the last page of a book first for fear of dying before he gets to the end." -- Rita Kempley, Washington Post
9. "Everything from the background music to the jogging dialogue strains to create the atmosphere of an 'Annie Hall' or a 'Manhattan,' with Meg Ryan in the Diane Keaton part." -- Jonathan Rosenbaum, Chicago Reader
10. "I can't swear that director Rob Reiner ('The Princess Bride,' 'Stand by Me'), screenwriter Nora Ephron ('Silkwood,' 'Heartburn') and the cast knew what they were doing. But from where I sit, 'When Harry Met Sally' (which opens locally today) looks like a deliberate attempt to synthesize a Woody Allen comedy without the participation of Woody Allen." -- Jay Boyar, Orlando Sentinel
11. "No one will miss the fact that this Manhattan-based talkfest, with Gershwin on the sound track and upscale, self-scrutinizing New Yorkers on the menu, has a distinct Woody Allen flavor. Agreed. However, 'Harry/Sally' has an irresistible, crackling rhythm that is Reiner's own. And is it necessarily bad if a film shares Allen's territory and even some of his attitudes? Sheesh!" -- Sheila Benson, Los Angeles Times
Calling all HuffPost superfans!
Sign up for membership to become a founding member and help shape HuffPost's next chapter