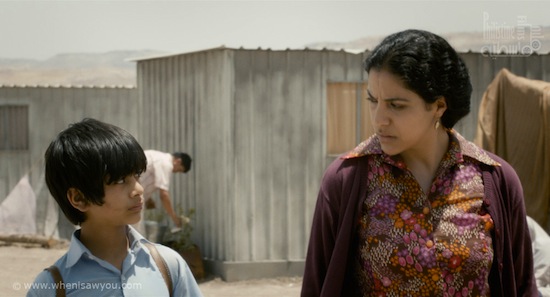 There are two dates that are crucial to all Palestinians. The first is 1948, when the Arab-Israeli War displaced the first wave of perpetual refugees during a time known as the Nakba -- "the disaster." The second is 1967, when those Palestinians living in the West Bank and Gaza were also unsettled by the Six-Day War, families were forever separated and a new Palestinian exodus surged.
But there may be a third date to add to Palestinian history, this time a positive marker of great things to come. In 2013 the Palestinian state may acquire non-member "observer state" status at the UN which would mark a day when, in the words of veteran Palestinian negotiator Saeb Erekat, "life will not be the same." This coming year could also see the first Palestinian entry on an Oscar short list and quite possibly an Academy Award for Best Foreign Film going to Annemarie Jacir's When I Saw You. Yes, her film is just that good and with Iran withdrawing, the members of the Academy should be looking for a new milestone.
If it sounds like I'm gushing about Jacir's film, don't be mistaken, I am. I've been a huge fan of her work since watching her first feature two year ago. Salt of this Sea was beautiful cinema, with a strong, angry and perfectly right to be so heroine. But her latest, When I Saw You, is cinematic poetry, the perfect blend of stunning cinematography, humanly portrayed characters and a story that hits you with an immediate gut reaction, yet colors your dreams and inhabits your thoughts for days to come.
Perhaps my deep-rooted love of Jacir's work stems from the fact I believe that as individuals, all we really want in our heart is to belong and to be understood. While most filmmakers explore this basic human craving with stories about lovers and romance, Annemarie Jacir has always hit closer to home for me, journeying through the plight of the displaced. And anyone who has ever left their home behind, for however long or by whatever reasons, cannot be left unmoved by Jacir's films.
Both of Jacir's feature films, she confesses, are personal. While Salt of this Sea presented a more political character in Soraya, Jacir admits When I Saw You came out of "such a different place." She continues, "it came out of the depression after being denied entry [into Palestine] and searching in my own life for hope, for hopefulness." The film is an ode of remembrance to a time when Palestinians felt hopeful and Jacir explains the choice of a specific date to open When I Saw You:
"I think 1948 is the year that is important for all Palestinians, it's the year that we lost Palestine, became refugees and I think everybody is affected by that year. But 1967 is more personal to my family because we are from the West Bank, my parents are from Bethlehem and that was the year they lost the rest of their country. Those who stayed behind lived under military occupation, those who were outside could not return and all my life I grew up hearing '1967,' all their casual conversations were 'before 1967,' it was always the point of reference -- life before 1967 and life after 1967. So I wanted to do something with that time period, that I also had not seen on screen before."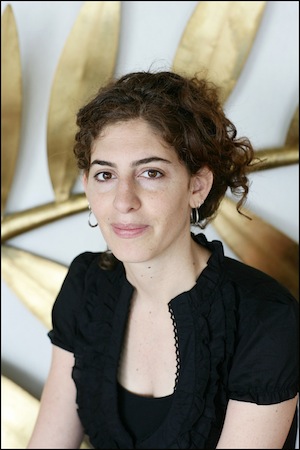 Out of the magic that turned out to be this year's Abu Dhabi Film Festival, I was asked to moderate a talk with Jacir for an afternoon "in conversation with" this brilliant filmmaking voice from the Arab world. I had heard Jacir talk before, I knew there was still much left unsaid and so much I wanted to ask her. The depth of her films seem to point to a woman way beyond her 30-something years (although she jokes that somewhere on the internet there is a rumor she was born in 1948) and a person who, despite her struggles, has retained a powerfully positive spirit and outlook.
Before Salt of this Sea, "I had the privilege of Palestine" Jacir says during our talk and continues, "then I was denied entry and could no longer return." Finding herself in the position of Tarek -- the 11-year-old protagonist of When I Saw You who longs for home, refusing the boundaries set by those around him -- and many Palestinian refugees "who can just see their homeland across the valley and can no longer reach it," Jacir felt depressed. Yet through the film, four years and a wedding later "to get personal, I was split up from a loved one, who's now my husband," Jacir's situation changed and more recently she's managed to return to Palestine three times, the earliest with filmmaker Ken Loach on his first visit to the country.
When I Saw You, to someone who watches cinema for its impact beyond sheer entertainment, is a revolutionary film. Funded in pre-production by SANAD (the Development and Post-Production Fund of ADFF), it marks important milestones all around for cinema from MENA. Jacir admits, "they supported the film in development, so did the Dubai Film Connection and that's also new for us, for Arab cinema because historically we've had to look towards Europe for financing, we don't get it from our own countries." Jacir calls SANAD "a filmmaker's dream come true" because "they were there, they chose the project" and basically said "go ahead, we trust you and your producers to do the right thing." Then in post-production "SANAD came on board again along with the Thessaloniki Film Festival" and Jacir jokes, "this broke film was saved by a broke country, Greece, in the most generous way." Also noteworthy, there were private investors from the region who loved Salt of this Sea and wanted to be involved in Jacir's next project.
When I ask Jacir what she means with her title, she explains, "When you see something or someone that you've seen maybe a million times but you really see it for the first time because you understand something then that perhaps you didn't understand before." She also gives another explanation as in "seeing Palestine from Jordan, you recognize it over the valley, you see cities at night, the lights... It's so far away and yet so stupidly close."
Jacir is the first to admit that her film could not have existed without her magnificent cast, Mahmoud Asfa and Ruba Blal, along with the divinely sultry Saleh Bakri and the ensemble cast of freedom fighters -- some the sons and daughters of the original, real life Fedayeen. Playing the role of Tarek, the poised and touchingly mature beyond his years Asfa is clearly a darling of the audience in Abu Dhabi and murmurs of "Where's Tarek?" can be overheard on closing night, when the cast and crew accept their well-deserved award for Best Film from the Arab World in the New Horizons category. Asfa is a boy-man who, in Jacir's own words when "not smiling is so heartbreaking, and then when he smiles is like the sun." The stunning Ruba Blal is so wonderfully real in person, when I meet her I have a hard time remembering I'm in the presence of a Palestinian acting legend, albeit a very young one with a great sense of humor.
But ultimately, the triumph of a film lies within the impact it has on the audience, beyond what critics may write or what awards it collects. When I Saw You comes from the collective spirit of a cast and crew who celebrated their win in Abu Dhabi with humble pride, a filmmaker whose vision can easily include realistic portrayals of the games played by an 11-year-old child who doesn't understand labels and the stubbornness of a woman looking for restitution, at any cost.
While Jacir's film pushes us to find the humanity beyond the labels the world imposes on us, there are three I'd personally like to apply to When I Saw You: Beautiful, groundbreaking and deeply, deeply moving.
The film screens next on Nov. 4th at the American Film Market in Los Angeles.
Still from When I Saw You and photo of Annemarie Jacir courtesy of the Abu Dhabi Film Festival, used with permission
Support HuffPost
The Stakes Have Never Been Higher
Popular in the Community