ICE is loose over those streets. We never know when it will be our turn. They cry, the children cry at the doorway, They cry when they see that their mother will not come back. (La Santa Cecilia, "ICE, El Hielo, ")
Immigration and Customs Enforcement (ICE) has finally pierced the walls of the Ivy League. In so doing, they shattered a family and jeopardized the future of Viviana Andazola Marquez, a senior at Yale University. They also incurred the wrath of hundreds of student activists who have joined the struggle against an out of control enforcement machinery.
For years, Viviana's father, Melecio Andazola Morales, has sought to regularize his immigration status as he settled in Denver, started a family and raised his four US citizen children. Two weeks ago, ICE tricked Melecio and Viviana into believing that the purpose of a scheduled appointment at the Denver office of the US Citizens and Immigration Services (USCIS) was to grant him legal residency. While in the meeting room, officers ordered Viviana to leave the room, then handcuffed Melecio and whisked him away to a detention center, where he now awaits deportation.
ICE surely knew of Melecio's background and history before detaining him. They were aware that he has been living in the U.S. for 19 years, trying to regularize his status since 2001. That earlier in the year, Viviana, a US citizen, had filed yet another petition with USCIS so that her father would no longer be undocumented. And that Melecio had zero interactions with law enforcement.
ICE might not have known then – but know now that Melecio has earned a steady living as a construction worker, supporting his mother and children. That the young woman that they ordered out of the room that afternoon is a student at one of the nation's most prestigious universities. That in the course of an afternoon, they ripped apart a family that has followed the rules and tried everything to get right with immigration laws.
Yet ICE does not honor the values of fairness, justice and the exercise of discretion.
Under this administration, ICE has become a rogue agency that knows no bounds. Our families, neighbors and friends who are working hard for themselves and their families are the targets. The agency's focus is now to carry out as many deportations as possible, by any means necessary. Their tactics shock the conscience and often violate our laws.
They roam courthouses, snatching immigrants waiting for their day in court, a practice which makes it less likely for women facing domestic abuse to seek restraining orders, for tenants to seek redress for living in squalor, or for victims of crime to testify. They have followed parents taking their children to school, detaining them after drop-off and leaving children with no one to greet them at home. They wait outside of churches, arresting people after service. They pretend to be local police. They have even stopped wearing uniforms: Just last week, they entered a private home in plain clothes without a warrant and arrested a man, releasing him hours later without explanation. They have detained U.S. citizens in clear cases of racial profiling.
Melecio is part of a growing number of people detained without any criminal history. Between January and September, ICE arrested 98,482 immigrants, a 43% increase from the prior year. Of those, 28,011 had no criminal record, an increase of 179% from 2016. This is not a mistake – it's a strategy.
What ICE did not anticipate when they detained Viviana's father is that his arrest would mobilize students and professors more than 2,000 miles away, many of whom had been untouched by the rogue nature of immigration enforcement. Viviana's predicament has brought home not just the impact that ICE is having on one of their peers, but also the way that it is systematically breaking apart immigrant families and shattering communities even within the hallowed community of Yale. At a rally last week at Yale supporting Viviana's family, community speakers discussed Marco Lopez, an immigrant who had taken sanctuary in a church one block from the Yale campus. His case is strikingly similar to Melecio's.
Students in campuses around the country have joined the fight for Melecio – not just at Yale, but also at MIT, the University of California Santa Cruz, Tufts University, Oberlin College and others. They have circulated a petition that has generated tens of thousands of signatures. They have flooded ICE offices with calls. They have held rallies. They have mobilized public officials. And by doing so, they have begun to examine what is happening in their communities –detentions and deportations that until now barely caught their attention.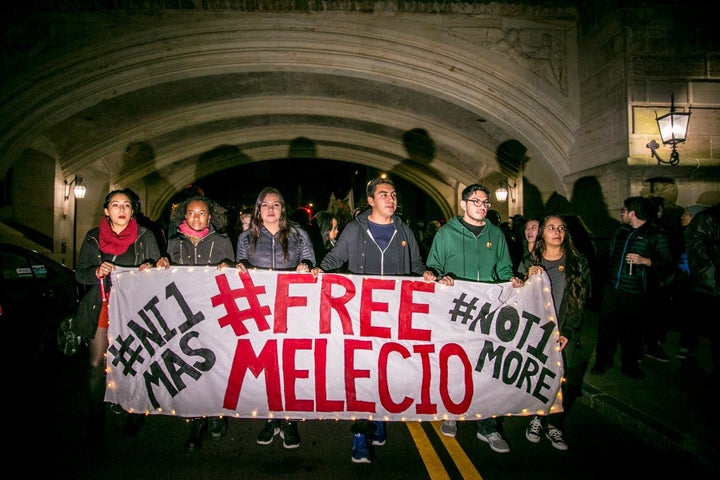 What is needed now is concerted resistance. Resistance from students, professors, lawmakers, lawyers, advocates, construction workers, farmers, school teachers – any of us and all of us who care about fairness and protecting our democracy.
We must resist not just for Melecio Morales, but also for the thousands of others whose lives are being ruined by an agency funded by our dollars and acting in our name.
Kica Matos is the director of immigrant rights and racial justice at the Center for Community Change Action.
Calling all HuffPost superfans!
Sign up for membership to become a founding member and help shape HuffPost's next chapter