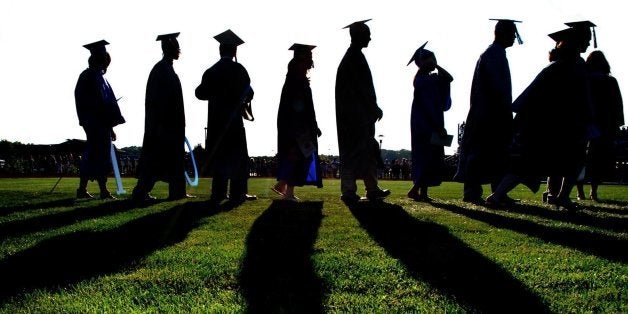 As a recent college graduate, I am eternally grateful for attending a four-year university in the nation's capital and for the experiences I walk away with. What I am not grateful for is the lessons I memorized only to forget them immediately after taking the test. All too often, I memorized pieces of South Asian Art or French grammar tenses simply so I was able to regurgitate them onto a page on the day of the final exam.
Where this rigorous memorization benefited me, besides obtaining an A in a class and boosting my GPA by 1/10th of a percentile, I am not entirely certain. These grades reinforced the idea that I had a good brain, a solid brain that could retain the information it needed and obtain a letter grade that validated my desire to be an intelligent, thereby, worthy person. My brain served me well in college and I was always grateful for it, with the exception of the day my OCD began and the months following May 21, 2014.
At a recent commencement ceremony, Sheryl Sandberg spoke of the importance of gratitude, particularly during times of grief and sadness. It is these times, when our loss, our grief, our thoughts consume us to the point we cannot interact with the outside world, that we most need to open our hands with gratitude. I have always considered myself to be apt at doing this, expressing gratitude in the midst of my struggles. But only recently did I realize that these declarations of gratitude came long after the struggle, after I could look back and appreciate life backhanding me to ground and mocking me for believing I knew its trajectory for me.
What spurned this realization was my arrival back home after my college graduation. Prior to summer of 2014, I had a fondness for home unrivaled by any other location. But after my first obsessive thought, I projected all unhappiness and blame upon my house. None of this would have occurred had I not been seated in that chair at my dining room table around 1:45 PM, and had that first thought that fundamentally changed who I am as a person. That summer was miserable, a special state of anxiety that forced me to be hypersensitive to everything, including the thoughts that ran through my own head. It was not until nearly a year later, that I could appreciate the change OCD had forced upon my life.
I was grateful for the route it had forced me to take, for the experience it had given me, for the resilience it engrained in me. Because I believed that medicating each day with 70 milligrams of Prozac would take care of it. Because I believed the worst was over. Because I believed it was something of the past. Because I believed it was a card that I could tuck into my wallet and refer to later on, to claim that I was indeed, a survivor. But as the day I was flying home approached, I couldn't help but become more anxious, aware and sensitive to the thoughts in my head. After all, home was where the first thought occurred, where I spent summers unable to sleep because I was scared if I did I would wake up insane. And just like that, OCD slipped into my life again.
It's a slippery slope to fall down, as I'm sure anyone with OCD will tell you. One second, you're living your life, completely unaware of irrational thoughts and fears running through your head. The next, you cannot focus on the book you're reading because you're too busy trying to understand why you had a thought that resembled a schizophrenic's. Probably because you're slowly becoming schizophrenic and it won't be long before you destroy your family, commit yourself to an institution, lose your savings, live on the streets of DC, and beg outside of Whole Foods to a workforce you once thought would include yourself.
After that first summer, I returned to an ordinary state of being and resumed the art of apathy, desensitized to the things around me. I was able to flash through notecards and retain the information written on them. I graduated Magna Cum Lauda with a Bachelor's of Arts in International Affairs. I was fixed and blessed with a normal, functioning brain. Except that I wasn't. It wasn't until I returned home a few days ago that I came to understand that this whole OCD thing was not limited to Summer 2014. It was an everyday thing and despite the fact that society told me my brain was 'good', it wasn't. Some days would be worse than others, and sometimes weeks and months would go by where I will question why I take that white pill every morning.
On those days, it would be important for me to be grateful, especially for that little white pill. But on the days that my brain felt broken, that I couldn't focus or receive that external validation telling me what a wonderful and successful person I was, those were the days gratitude was needed most.
Receiving a degree told me that I was capable of memorizing and retaining information just long enough to pass a test. It awarded me with society's approval that I was a bright and intelligent person because my number was above average. It validated the long hours I spent in the library memorizing economic theories. But living with an illness that makes you question every essence of your being, whether you want to be alive or not, is a feat that cannot even be measured by that diploma. That illness has given me proof that I can indeed find the strength to rise up. It taught me that, despite the brokenness that comes along with it, my brain can still perform to society's limited standards, and beyond. It would be silly not to say thank you to it, especially when it's in full force, testing this thing I call resilience.