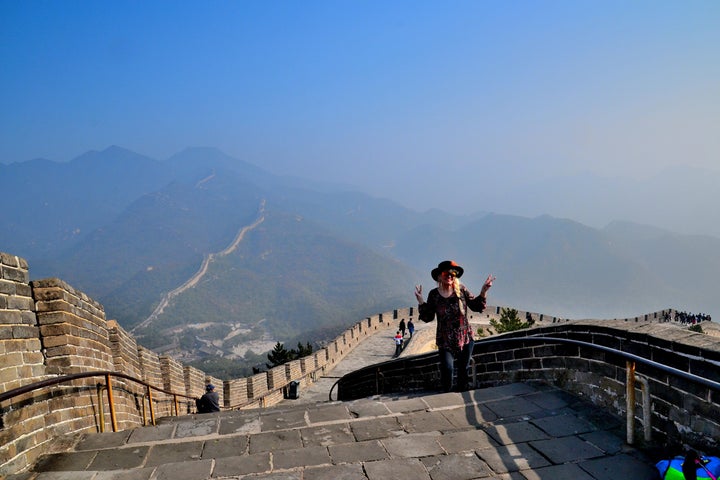 Ask a random sampling of people about their bucket list destinations, and virtually all of them will mention the Great Wall of China, probably near or at the top.
"He Who Has Never Been to the Great Wall Is Not a True Man"
A quote from Mao Zadong says "不到长城非好汉" which means "not arrive Great Wall, not good man" and has been accepted as Chinese folklore.
First, a little history…
Contrary to popular belief, the Great Wall is not one continuous 13,000 mile structure, but a series of fortifications and other barriers such as mountains, trenches, and rivers. The materials used in construction include stones, compacted earth, lime, and brick and rambles east-to-west, originally to protect the country from nomadic assailants.
Rudimentary erection of the wall began as early as 7th century BC and was added to century-by-century. The first Emperor of China, Qin Shi Huang, added a portion of the wall in 220-206 BC, but most of what exists now was built in the Ming Dynasty (1368-1644).
Legend has it that the wall was built as a serpentine structure not because of terrain or military priority, but because Chinese mythology says that demons can only travel in a straight line!
Entering at Badaling
With only a day to spend at the Great Wall, we headed to the Badaling entrance, a 2.3 mile section about 50 miles from Beijing and the most magnificent section. This section was constructed by General Qi Jiguang and completed in 1515 during the Ming Dynasty. This section of the wall has been restored and it was the first section to be open to tourists in 1957. The highest point of Badaling is 3,330 feet above sea level, with spectacular 360 degree views.
Joshua, our Chinese tour guide from Viking River Cruises, was adamant that we get to the entry point around 20 minutes before it opened. After the gate opened, we were on our own to explore the wall, with instructions and time to meet back in the same spot. Alison, my travel companion, and I climbed the first set of stairs, only to be faced with a dilemma at the top – the path forked.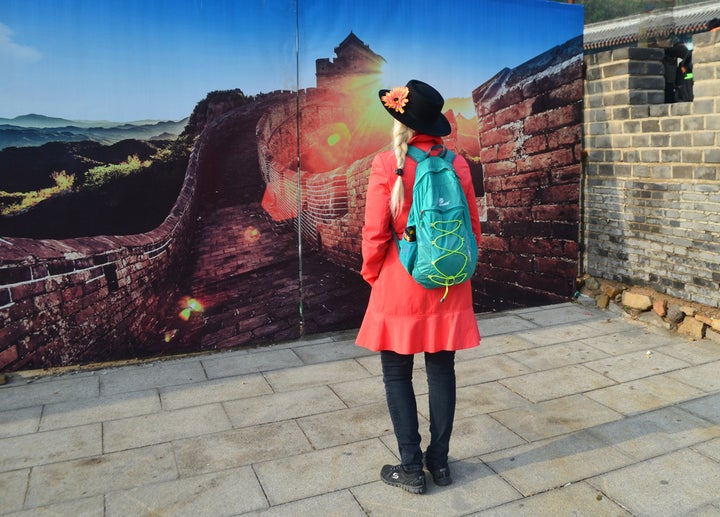 Luckily, we recalled advice we'd been given prior to the trip: "Go left. While the path is steeper and more difficult, most people will take the easier right side and you're efforts will be rewarded. You will avoid getting caught in the crushing horde."
And so we took the path less traveled and walked on the slightly inclining path for about 15 minutes, arriving at the first watch tower. There were arched openings in the fortification with amazing views. The ancient parapets were not put there for sightseers, but for protection. The towers are spaced so guards could survey the area and their arrows would reach any would-be intruder in between, as well as signal to other towers.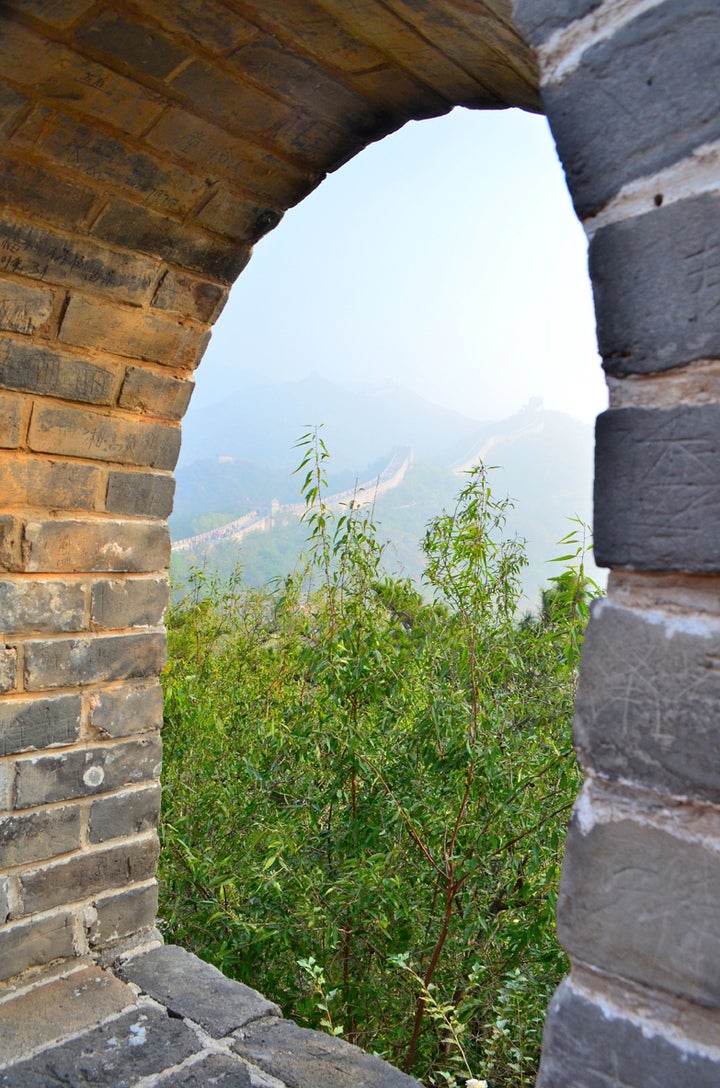 The path began to get steeper. I removed my jacket and drank some water. This was taking more energy than I'd expected. We had a plan, though. Way off in the distance, we could see a tower that was the highest point in the wall. That was our goal.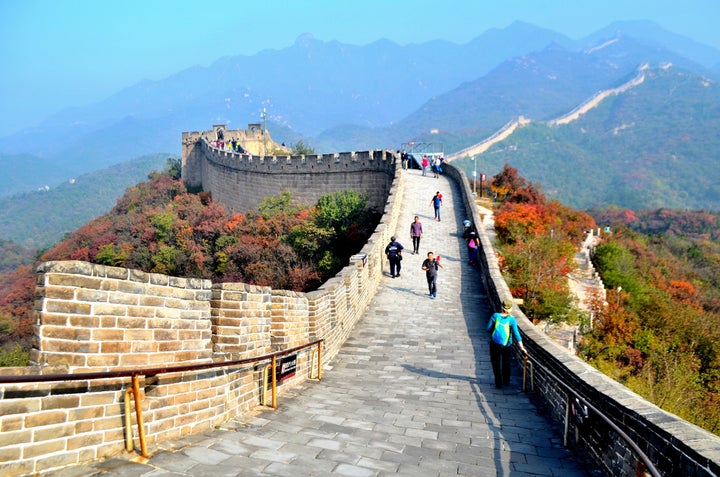 The incline became almost impossible. I felt like I was leaning so far forward I might topple over. Handrails had been installed into the sides of the narrow path, but they were curiously low. I'm just a 5'4" woman and the only use they were to me was if I wanted to ease myself down to sit on the ground for a rest.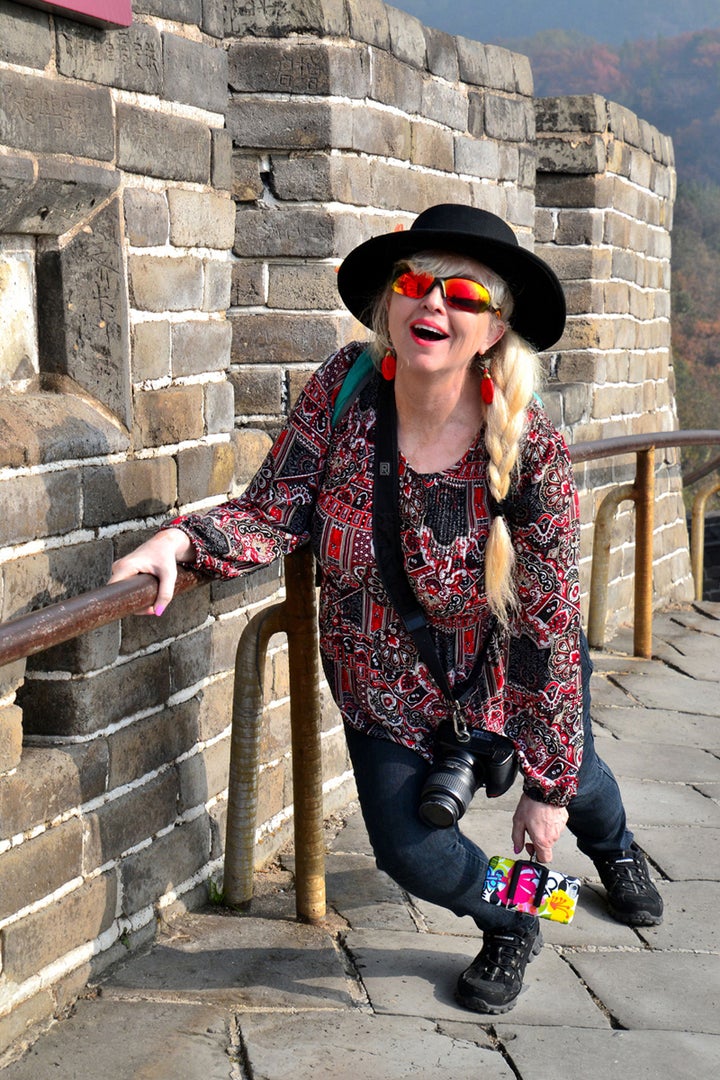 We came to a section of the footpath that I swear I've seen in a nightmare. An almost sheer vertical set of granite slabs, uneven in both texture and height, crumbling in their state of disrepair. Some were narrow, some were wide, so it was impossible to get into any kind of stride. They went on for infinity. My thighs were burning, and at times I climbed hand-over-fist. We ran into a few people who did not make it all the way up, but had turned back and were coming down, some of them on their butts the way a small child comes down a staircase.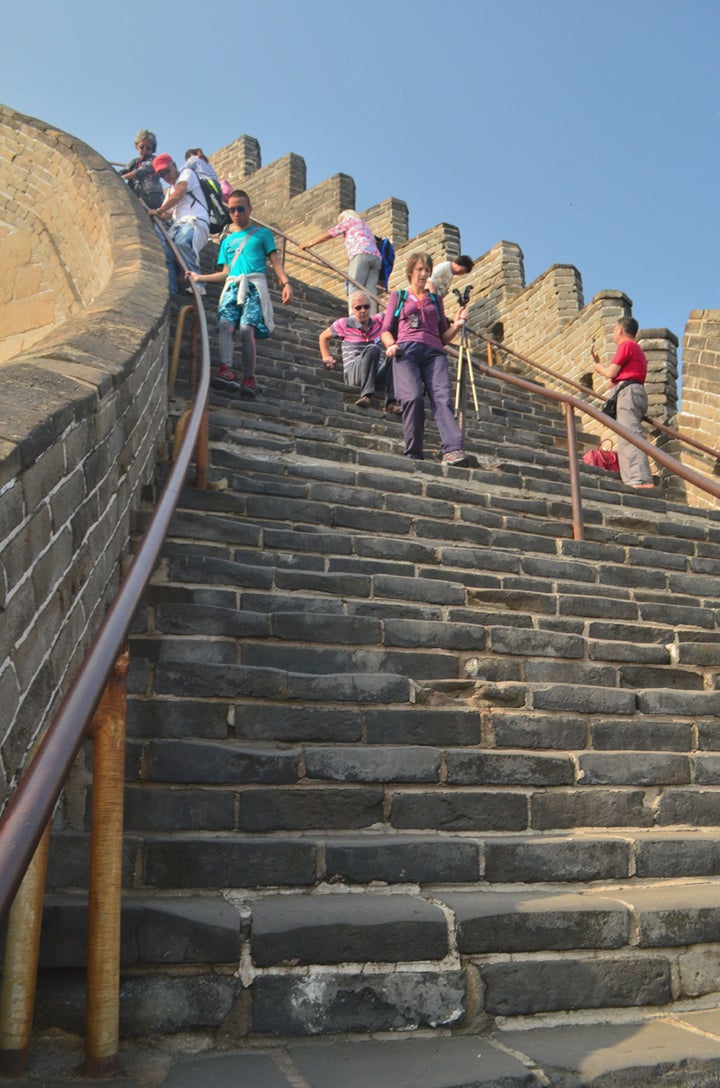 Gradually we arrived at a less steep section and when I turned and looked back down, I was surprised but pleased to see that there were much fewer people making the climb now.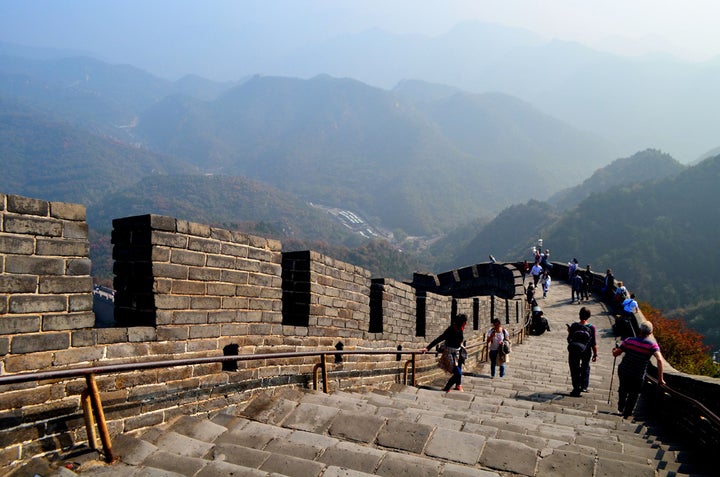 We continued, quite a bit slower now. I took a few breaks for "selfies." The true purpose may or may not have been to catch my breath.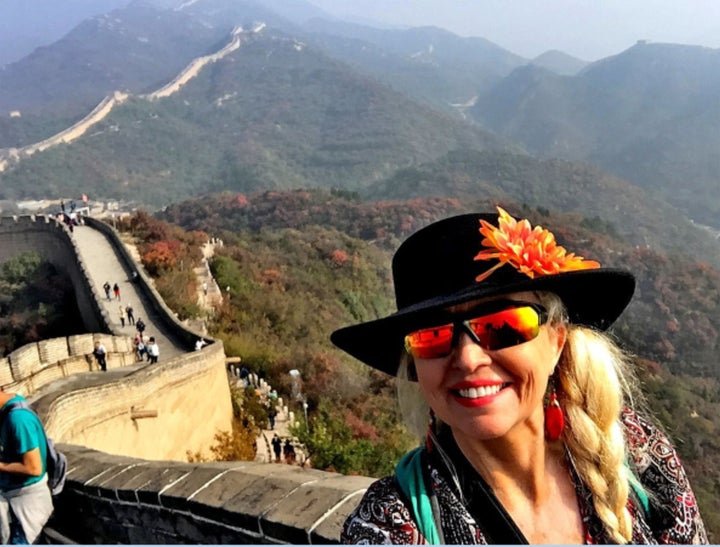 By the time we got to that watchtower that we'd spotted what seemed like ages ago, there were not more than a handful of other people within eyeshot, and none of them close to us.
The advice had been spot on. Once inside that watchtower, the other exit was almost a 90 degree turn, giving an entirely different and equally spectacular view, and best of all, we were nearly alone. We spent quite a bit of time in that general area, taking advantage of the unique opportunity to get photos on and of the Great Wall with no one else in the background.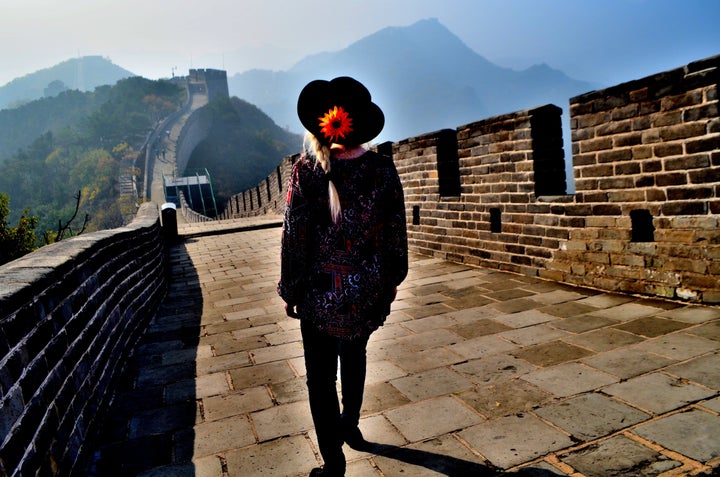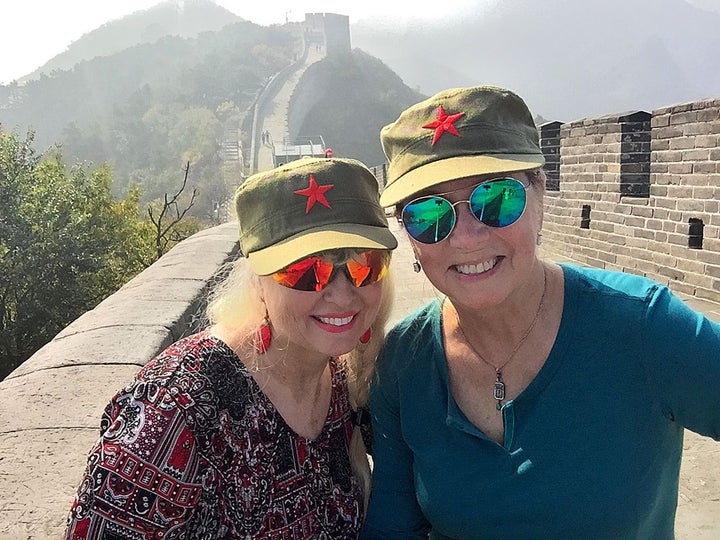 The descent can be a challenge because it's back over those steep, uneven sections, and the gorgeous, dramatic panorama is distracting.
About ¾ of the way down, I understood why it was so important that we had arrived so early in the morning. Waves of school-aged teenagers were coming up. I felt like a fish swimming upstream as they pressed past me.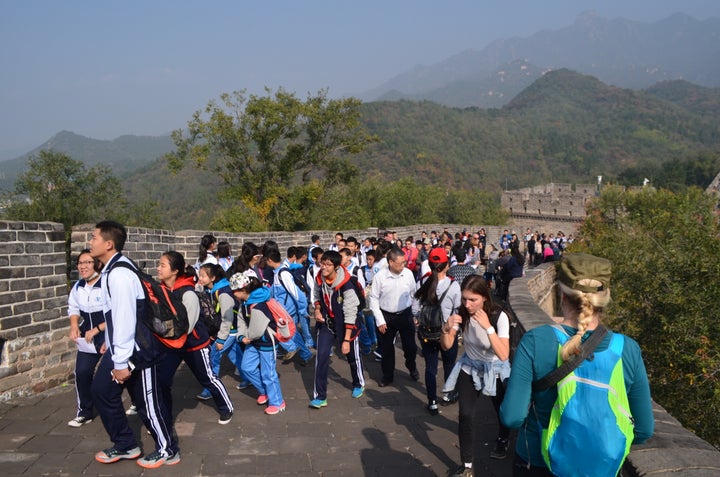 Is the wall visible from space?
We've all heard the theory that the undulating vastness of the Great Wall can be seen from space. This concept originated from two sources:
"This mighty wall of four score miles in length is only exceeded by the Chinese Wall, which makes a considerable figure upon the terrestrial globe, and may be discerned at the Moon." ~William Stukeley, English antiquarian, 1754.
Of course, at the time of those statements man had not yet journeyed into space, and those philosophies have been debunked. No astronaut has ever claimed to see the wall. It would be like seeing a single hair from 2,940 yards away. Even so, the romantic notion still has a firm grip in pop culture.
When to Go
My visit to the wall was in the fall, which is the best time to go. While snow-covered views would be dramatic, winter would be too cold, slippery and treacherous. Spring and summer are jammed with tourists. Temperature in the fall is comfortably cool and the sky is deep periwinkle blue – the perfect contrast to the colorful foliage of gold, red, and rusty brown that blankets the mountains. This allows for superb photos of the serpentine structure juxtaposed against the foliage and sky, especially during morning (when I was there) and sunset.
Just as important as the best time to go, is when not to go. Weekends, high season (May through August), and holidays like Chinese New Year (February) are not recommended due to the mobs. Mid-day on any day should be avoided; I wasn't happy when my alarm woke me up in the wee hours of the morning, but getting there early really paid off.
Logistics
Dress in layers – it's cool at the entrance, but the uphill hike will take its toll and heat you up. Wear good hiking footwear with non-skid soles for the steep hike back down. A hat is also a good idea. Water, snacks and sunscreen are also advised.
Disclosure: The author was honored to be the guest of Viking River Cruises during her stay in China, but as always, the opinions, reviews and experiences are her own.
Popular in the Community