An older woman in the art scene once told me, "How we experience art is as important as the art itself." After witnessing high ceilings and transformative décor in one of the most traditional areas of New York City, I had quite an experience indeed.
With many artists today finding ways to display their work far from the confines of a gallery, it seems fitting that an art installation in a lavish townhouse is creating a buzz in the art and design community. If you're tired of looking at art on white walls or in brightly lit showrooms, you'll be pleased to know that on the Upper East Side, nestled near the Henry Clay Frick House, hides something that is as innovative as it is luxurious. Be My Guest: The Art of Interiors -- curated by No Longer Empty Founder and Chief Curator Manon Slome and Galerie Arts Editor Michael Steinberg, with decorative items curated by Galerie Founder and Editorial Director Lisa Cohen -- is a treat for the mind and soul.
In the grand foyer, one immediately notices that art and interior design work together to create a diverse home. In each room, a different artist stirs varying emotions that we experience in the privacy of our own space. To my left, I saw a series of photographs by Mickalene Thomas, featuring her mother and longtime muse, Sandra Bush. One is immediately immersed in feelings of female beauty, empowerment, race and identity.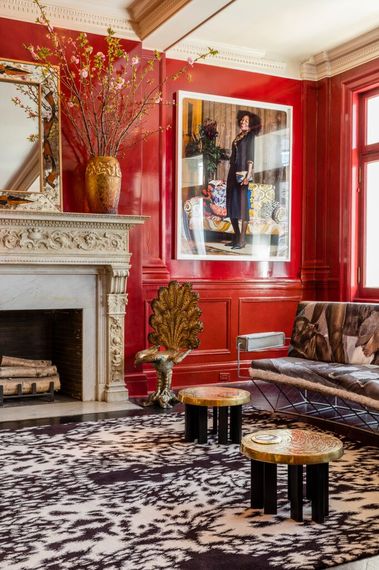 In the passageway are two interesting and playful mirrors, where artist Misha Kahn evokes children's playfulness with a touch of nostalgia. It is pleasing to see something so nontraditional against the backdrop of such a regal space. Sharing the corridor is a fascinating tree of flatware. Jean Shin uses something as simple as forks, spoons and knives to allude to the commonalities of the home.
As I moved into the dining room, I was distracted by walls covered in bright colored paper that I couldn't quite make out at first. China, flowers, vases and pictures were made of the same material. It was only upon closer inspection that I realized it was lottery tickets. Ghost of a Dream, the collaboration of husband and wife artists Adam Eckstrom and Lauren Was, has created a breathtaking installation titled Dream Home. Viewers are surrounded by Hermès china in a grand dining room, covered in $70,000 of discarded lottery tickets from the United States, England, France, and Germany - which unused were destined for the trash.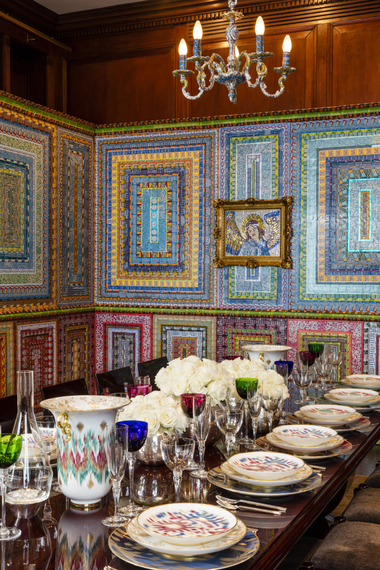 Just when I started feeling that I knew what to expect, I came across a transforming installation of sound and video in the master bedroom. I was surrounded by 60 floor-to-ceiling hand-crocheted translucent panels. With the sounds and projections of birds in slow motion, Teresa Diehl creates a feeling of security and peace. As Diehl says, "What is a bedroom but a physical space where we could feel safe to fly away?"
I then turned a corner into a music room, where Barbara Bloom captures an educated upper class upbringing with her photographs, rugs and music stands. I was blown away by multifunctional sofas created by Ena Swansea, and an enormous jewel box that Jean Shin titled Rapture; made up of more than 300 necklaces, which spoke to the consumer in me.
The exhibit finishes with a moving display of artwork by children from the Hetrick-Martin Institute's Youth Arts and Culture program. The artworks reflecting the students' personal experiences reminded me how wise and insightful children can be. The New York-based organization No Longer Empty offers educational workshops designed to train young people in the art of curating. I was glad to hear that proceeds from the sale of the different works will benefit the Hetrick-Martin Institute.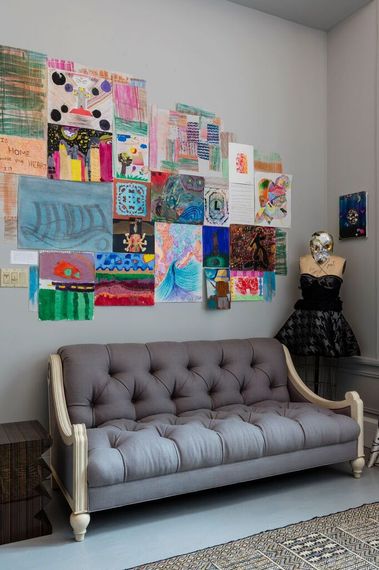 Now through May 10, you can make an appointment to meander through this unique art and design installation without the distraction of crowds. I recommend taking your time and allowing yourself to be immersed in all the things that make us feel like we're home.
For reservations, contact 212-675-4140 or bmg@fremontblueevents.com
Popular in the Community