Humor is a great stress reliever and coping mechanism. I should know. I spent three years posting humorous musings on Facebook as I learned to navigate Alzheimer's with my late mother. But how would I feel this morning if I woke up and heard Will Ferrell was producing and starring in a movie making fun of Mom?
That's exactly what has happened to Patti Davis, daughter of Ronald Reagan. Ferrell has announced he is making a comedy about Reagan's last few years in office and the onset of his dementia. Davis has gone so far as to write an open letter to the comedian asking him to stop this project.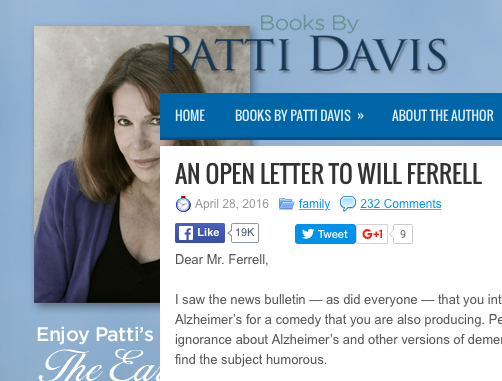 So, when it is okay to make fun of Alzheimer's and where do you draw the line? As the caregiver, it was my story, my way of coping, my sense of humor. It was my release. "MY" being the keyword here. When I wasn't laughing, I was crying. It's okay when it is your story. This isn't Will Ferrell's story, or anyone else's for that matter, to tell or make fun of. This is the Reagan family's story and they are the only ones who can decide whether to laugh or cry.
Someone else's story is not fair game. "We can't claim to be anti-bullying when we make fun of those that are completely incapable of defending themselves, whether its Autism, Down Syndrome or Alzheimer's," says entertainment publicist Stacia Pratt. Pratt added, "Alzheimer's is a death sentence for both the patient and their families. Nothing funny about it to those of us whose have family members or loved ones are enslaved or been lost to this horrifying disease."
Alzheimer's is never funny to the people affected by this crazy-ass disease. It is devastating, not only to the patient but to the family as well. It destroys people and relationships slowly and brutally. Caregivers and patients (while they can) must resort to dark comedy or even character comedy as a form of acceptance. Cringe comedy or, worse, a mockumentary by a stranger will only inflict more pain.
Though I haven't seen a script, I can't imagine this would be a good thing. Or a funny one.
Calling all HuffPost superfans!
Sign up for membership to become a founding member and help shape HuffPost's next chapter