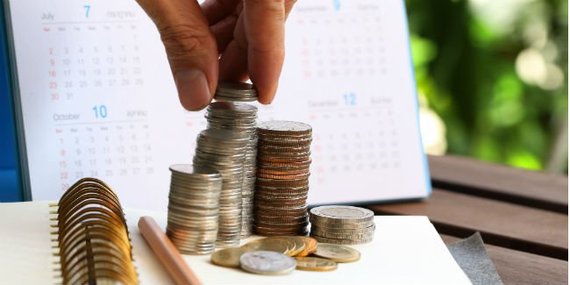 As any business owner knows well, no two small businesses are alike.
Small businesses across the U.S. operate in very different industries, serve very different customers, and have very different ways of operating their business smoothly.
That's why there is no one time to start your search for a small business loan. The best time to hunt for business financing totally depends on the type of business you run and the kind of customers and clients you serve.
So, you might be asking yourself: "When should I look for a business loan?"
Well, we're here to help you answer that question. If you're in one of these 8 popular small business industries, then here's the best time to forge ahead on your small business loan search.
1. The Healthcare Industry
Anyone outside the healthcare industry might not think there's a busy or slow time for businesses in healthcare--everyone needs healthcare services all year round, right?
Well, for certain types of doctors and healthcare practitioners, there are those few months where every patient tries to squeeze in their routine visits.
For doctors and dentists alike, the rush of new and regular patients into their practices happens in August.
It's that back-to-school rush. Parents are trying to squeeze in visits before their kids get to school, and everyone's trying to get back into the swing of things after a summer vacation.
For healthcare businesses--like all businesses--the increase in patient traffic is a welcome one! After the peak in August, business tends to slow back down for the healthcare industry until the holiday season.
But the August rush can put a strain on your business. Maybe you need to hire temporary receptionists to deal with the patient influx, update your equipment to accommodate increased usage, or stock up on inventory to keep office visits running smoothly.
For the healthcare industry, one of the best times to take out a small business loan is right before this back-to-school rush in August and September. These businesses could use a working capital loan to cover any business-related expenses, pursue inventory financing to stock up before the patient influx, equipment financing to revamp the offices, or even a business line of credit to cover increased payroll for temporary staffers.
This list of business loans that a business in the healthcare industry could need varies. But one thing is for sure: For doctors, dentists, and therapists alike, start your loan search before patients come rushing through your doors in the late summer and early fall.
2. The Construction Industry
If you've ever gone through a major construction project--whether on your home, apartment, or business--then you might have realized that the biggest projects take place in the summer.
Well, think about it--would you want to be outside building in the winter? For the sake of construction workers' safety and productivity, it just doesn't make sense to do construction during the colder months. Inclement weather can keep workers at home or make working dangerous--delaying projects for much longer than they would take if they were done in the summer.
So for construction businesses and contractors, the busy season peaks in the spring and summer, and the lull comes during the winter.
If you run a construction or contracting business, be fully prepared to take on the bulk of the year's projects before the summer season rolls in. That means that the best time to start your loan search is the early spring. If you need new pieces of equipment to get more construction jobs done, then start comparing your options for equipment financing. Or if you're planning on hiring more workers to tackle an especially large project, the spring could be a great time to set a business line of credit in place.
And on the flipside, business funding could come in handy when your construction or contracting business suffers from the lull in the winter season. With little to no revenue coming into your business during the off-months, cash flow issues could come up. The slow season is another prime time for the construction industry to use a business line of credit to keep cash flow stable until things get busy. You'll still have to pay your regular business expenses--like rent and payroll--after all, and a small business loan can help you stay on top of expenses.
So in order to avoid the struggle of getting through the winter season, businesses in the construction industry might want to start their business loan search in the fall.
For retail businesses, the best time to start your business loan search shouldn't come as a surprise: right before the peak holiday season.
With the rise of Black Friday, Small Business Saturday, and Cyber Monday, online and brick-and-mortar retail stores see more and more holiday shopping traffic to their businesses each year.
There's a lot of planning that goes into a retail business's preparation for a successful holiday season. Maybe you need to hire more workers in-store, revamp your ecommerce site for the rush of business, or stock up your inventory for your brick-and-mortar store.
Whatever the reason, the best time for a retail business to start a loan search is before shoppers come into stock up for the holidays. The right business financing for you could be a short-term loan in November--especially if you know that your sales in November will easily make up for your loan payments and then some. Or, the late fall could be a great time to secure a line of credit that you can tap into whenever you need extra funds during the craziness of the holiday season. If your best-selling item goes out of stock early on in the season, be happy that you can quickly tap into a pool of funds to restock in inventory.
The uptick in traffic and sales for retail businesses during the holidays is the perfect reason to start your loan search before the season comes around. To fully prepare for your business loan application, take a look at holiday trends for your business in the past years. That way, you'll have a good sense of the kind and amount of business financing you need.
4. The Financial Services Industry: Accounting, Tax Preparation, and Bookkeeping
For accountants, bookkeepers, and business owners in the financial services industry, the busy season heralds in long hours of grueling accounting work.
Starting around mid-January and lasting all the way until April 15th, accountants and auditors work a minimum of 60 hour work weeks to meet tight deadlines during tax season.
Surviving tax season might be a little easier with a small business loan. Extra funds could help small business accountants and bookkeepers bring in more workers to sort and file paperwork, or invoice financing could help stabilize cash flow while they wait for a client's payment.
Whatever the financing you see fit, the best time to start a loan search as an accountant, bookkeeper, or tax preparer is before the busy tax season. Take the time in December or January to outline exactly what you need in financing to get through tax season. That way, you won't be strapped for cash to cover payroll or stabilize cash flow right in the middle of the peak season.
5. The Restaurant Industry
Although you might not expect it, the restaurant industry suffers from consistent seasonality. In fact, 61% of restaurants notice a dip in business during a seasonal holiday or a major event--and that decline in business can be as much as 20% fewer patrons.
When you think about it, it makes sense that the holiday season is a slow one for the restaurant industry: When people are celebrating the holidays, they're often enjoying home-cooked meals and dining out less often. But with fewer people coming into your business, cash flow will be tight. You still have to keep your inventory stocked, pay cooks and waiters, and pay commercial real estate rent to keep your restaurant doors open.
So as a restaurant owner, the best time to search for restaurant loans to make it through the slow season is in the fall. Cash flow will be strong from a busy summer season, but you need to anticipate the lull of the winter before you're completely strapped for cash. Working capital loans are a great catch-all source of financing to help you cover your expenses and keep your restaurant operating smoothly. Or, having a business line of credit could come in handy to cover rent and payroll expenses while business is slow.
On the other hand, restaurants are bustling during the busy summer season. With tourism at its peak and summer vacations underway, all restaurant businesses see a spike in traffic during the summer. To ensure all systems are a go for the summer season, restaurants should start their loan search before the summer comes around.
You need to start ramping up your operation from the lull of the winter season--hire new waiters, stock up on inventory, purchase new restaurant equipment, etc. So the month before your busy summer season is a great time to look for a line of credit, inventory financing, or equipment financing. Plus, if you can be confident that you'll bring in the dough during the busy season, you'll have an easy time covering your loan payments from the spike in cash flow.
6. The Hospitality Industry
It's no surprise that businesses in the hospitality industry are busiest during certain months of the year. If you're running a hotel, resort, or bed and breakfast in a popular vacation destination, you need to line up your loan search with your peak season.
As a hospitality-oriented business, the best time to start your loan search actually depends on your location and your target customer.
Say you operate in the Caribbean. You might find that your prime customers are people looking to retreat from the winter in the U.S. If so, the months of October, November, and December are the right time to start gearing up to apply for a business loan.
Whether you need a short-term loan, a business line of credit, or inventory financing, a business loan can help you cover payroll for more staffers, keep your restaurant stocked with food, or take care of additional upkeep costs you need to keep your hotel in tip-top shape.
7. The Recreation & Entertainment Industries
Small businesses in the recreation industry follow obvious seasonal trends, just as the hospitality industry does.
Say, for instance, you operate a ski hill in New England. Your peak season will roll around each winter when skiers travel up north to hit the slopes. If you think you need a business loan to cover the demands of the busy season, the late fall is a great time to start your loan search.
But most importantly, recreational businesses--think snow sports, water parks, outdoor activities stores, and so on--need to prepare for the lull of the off-season. If you only do about two or three months of solid business with strong inflows of cash, the time to apply for a business loan is right after the busy season when cash flow is strong. That way, you're prepared for the coming slow months and can avoid a disaster when your cash cushion runs out down the line.
Just as recreational businesses need to be aware of cash flow during the busy season, businesses in the entertainment industry should know exactly when to start their loan search.
If you're in the event industry and run an event space, for instance, you should know exactly when and how your target customers use your space, and prepare for the spike in business. If your event space hosts wedding receptions, then we're willing to bet that May to October is your bustling season.
The time to start your business loan search would be before your space is lined up for events all summer. Cover your renovation projects, additional facility upkeep, or payroll increase for additional staffers with extra business funding before you're in the swing of things.
Once people are through with the rest and relaxation--and oftentimes indulgence--of the holiday season, New Year's resolutions kick in.
And for businesses in the fitness industry, the start of the New Year is a prime time to take advantage of ambitious New Year's resolutions to get fit for the summer.
If you run a CrossFit box, a yoga studio, or another boutique fitness studio, the winter season inevitably has the most foot traffic in your fitness facilities.
January to March is the perfect time to offer new membership discounts, increase your personal training staff, offer more fitness classes, or show off your state-of-the-art workout equipment.
But taking advantage of gym season costs these business owners money, of course. So if you run a business in the fitness industry, the time to start your loan search is in November and December. Maybe you need to pursue equipment financing to cover the price tag on your new gym equipment, or you just need a business line of credit to afford those new personal trainers. A small business loan can help bring your fitness studio to the next level for gym-goers in the new year.
Making the most of the winter gym season is an easy win for businesses in the fitness industry, but make sure you have the business funding you need on hand to actually make it happen.
The Bottom Line on Starting Your Search for a Small Business Loan
When you look at the best time to start the search for a business loan industry by industry, do you notice that one common theme keeps coming up?
That's right--no matter the business you run, the best time to hunt down a small business loan is before your business really needs it. That could be before the peak season of business or before the slow season comes around.
The key to knowing when you need business financing is knowing the ins-and-outs of your business and its industry. Take a look at trends in the past years--does all your business consistently come in during July and August? Then that could be a good indicator that you need to take steps to ramp up your business in June.
The time you need to start your loan search also depends on the type of small business loan your company needs. If you're looking for shorter-term financing, the loan approval process will happen much more quickly than say, a SBA loan or medium-term loan process would.
The key to knowing when to start your loan search is two-fold:
First, you'll get the timing right if you know the yearly trends of your business like the back of your hand. Get a pulse on exactly what your customers wants and when they'll want it. You can gauge your busiest times and your slowest times from there.
After that, it's all about preparation. The best time to start your loan search is when you're prepared to do so. That means that you've not only prepared the business loan requirements you need to apply, but you also know what kind of financing you need, how much you're looking for, and when you need it by.
This article was originally published on the Fundera Ledger on December 21, 2016.
Popular in the Community