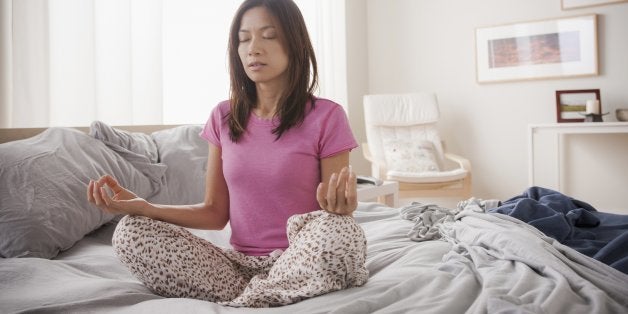 How stressful is your life? Your job? Your relationships? Our lives are filled with so much distraction, chaos, disruption, and uncertainty whether your job is a stay-at-home parent, a mail carrier or the CEO of a bank. If there's a common thread among our lives it's stress! Meditation can help us respond to stress constructively instead of acting out conditioned patterns of response such as reactive, angry, argumentative behavior; emotionally shutting down; withdrawing; or escaping into isolation or certain addictions.
Locking in a daily practice is often the most important -- and most difficult -- task for new meditators. I used to say to myself, I'll meditate at 10 o'clock every morning. But 10 never comes. You know what it's like: The phone rings. The dog needs attention. You're suddenly greeted with information that requires a response. You spend more time than you thought sending an e-mail, going to the store, or dealing with a challenge. And then it's noon, and you have a lunch meeting. You plan for 3 o'clock, but then you get pulled away, so you promise yourself that you will meditate as soon as you get home. But a friend calls and asks you out to dinner. And then you go to a movie, and then to a club for dancing, and before you know it, it's midnight ... and you haven't meditated.
The secret is to ritualize your practice so that it will just flow without thought. You rarely skip brushing your teeth because the phone rings, right? We create and maintain our behaviors by ritualizing them. The easiest way to lock in your daily meditation practice -- and, most important, your morning meditation -- is to make it part of a series of activities that you do based on each one flowing into the next, rather than what time it is while you're performing them.
For example, when you wake up each morning, you look at the clock--then you pee. You don't say to yourself, "It's 6:30 -- time to pee!" That activity happens as a natural part of your morning ritual. Most of us pretty much do the same things in the same order every day. We have between 8 and 15 morning rituals that we deploy in a certain sequence upon waking. Sometimes we have a different ritual for the weekends than for the weekdays. These evolve over time, but each of us has this autopilot string of rituals we perform like clockwork. It starts when you wake up and orient yourself, in the same ritualistic order you always do, your morning activities are a choreographed dance on autopilot.
To solve the difficulty most meditators have ensuring they get in that first meditation of the day, I developed a ritual that has helped thousands effortlessly lock down their practice. It's known as RPM, which stands for Rise, Pee, Meditate.
It's pretty normal that within a few minutes of waking, you're going to pee. Now, the very next thing you do is find a comfortable spot to meditate. It can be on the couch, in a plush chair, sitting upright in bed or on the floor. The place you meditate isn't as important as your comfort level while meditating. If you're not in a cozy spot, then you'll stray from your meditation practice.
Start with just 20 minutes of meditation and gradually work your way up. You can use a meditation timer or a guided meditation to help you keep track. Just think of it: within minutes of opening your eyes in the morning, you'll have a half-hour of stillness and silence inside you to greet every moment as you move throughout the rest of your day. You'll have created a trajectory of destressifying that is expressed by your being less reactive, more reflective, more creative, more intuitive, more compassionate, more understanding, and more purposeful in your thoughts, words, and actions.
In the first few minutes after you wake up, you have the least amount of active thoughts. But the flow of making meaning out of each moment as you get further into the day quickly accelerates your mind's activity as your needs, emotions, and thoughts of the past and future start to rush into you. If instead the first thing you do when you wake up is meditate, then logically there will be fewer distractions to interfere with your practice.
Couldn't you take one minute from each of your morning rituals and wake up 15 minutes earlier? Then you'd have that sweet, unhurried space of meditation to start your day. If the answer is no, then revisit what time you go to bed, and try going to sleep 15 minutes earlier for a few weeks in a row. RPM will suddenly be a part of who you are.