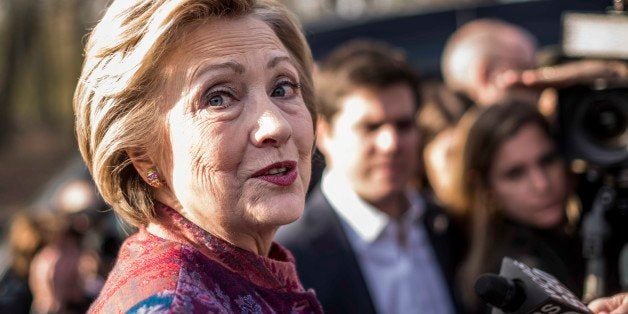 I am a soccer coach for my children's recreational team. Until this season, I was the only woman coach. Often when I walk onto the field before the game to shake the other coach's hand, he looks past me inquiring about when the coach for the other team will arrive. "It's me, I'm the coach." Although I respond calmly, I'm fuming on the inside. In that moment, I vow to kick kiddie soccer ass. For me, like Hillary Clinton's win in New York, it becomes personal.
What's behind the seemingly innocuous inquiry of "where's the coach?" is the notion that I don't belong on the field or that I'm doing a man's job. For some, soccer moms should be behind scenes tending to knee scrapes and organizing snacks, not calling the shots.
When we won game after game, I was reported to the League for excessive scoring and told by one coach that the field was slanted making it easier for us to make goals. In truth, they had underestimated me. The same is true for Hillary Clinton.
Clinton has received more votes than any of her competitors in the race so far, 10.4 million compared to just over 7 million for Bernie Sanders and 8.7 million for Donald Trump. In her home state of New York, she received more votes than any of the other candidates.
She's also winning big among women, Blacks and Latinos and across states, not just in the South. In New York, 75 percent of American-Americans and 63 percent of Latinos voted for her. And with the exception of white men, according to exit polls, she also won decisively in every other demographic.
But how can this be? She's unlikable, the polls and the media continue to say even as Clinton slays in the popular vote and pledged delegates. It's hot air and simply untrue. More than 10 million people don't take off work, wake up at the crack of dawn, or stand in long lines to cast a ballot for someone they don't like.
Hillary Clinton is winning because she is smart, strategic, qualified and has a great team around her. She's also been responsive to criticism and has demonstrated flexibility on issues that she may have faltered on in the past.
As the primary season wears on, I am looking forward to more pointed discussions around poverty, reproductive rights, education and criminal justice reform, and police brutality -- all issues that have taken a backseat to wall street reform and petty spats about qualifications.
This soccer season, there are at least five more women coaches. I'd like to think I had a hand in that just as Hillary Clinton, whether she wins the highest office of the land or not, has had a hand in shifting the way we think about power, electability and leadership in this country.
REAL LIFE. REAL NEWS. REAL VOICES.
Help us tell more of the stories that matter from voices that too often remain unheard.