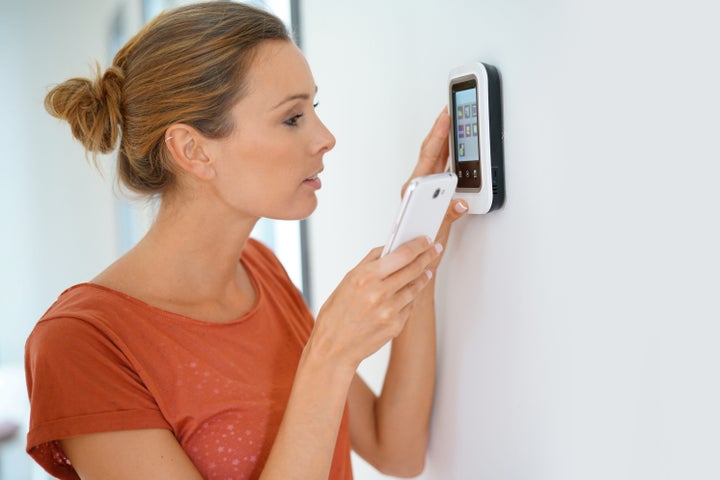 by Dan DiClerico, HomeAdvisor Smart Home Strategist and Home Expert
Smart home hub or stand-alone devices? It's the million-dollar question on consumer's minds when it comes to smart home technology.
As with most things smart home-related, the answer is: It depends. For some homeowners, the convenience and versatility of a hub makes it the clear winner. Others just need to get their feet wet, in which case an a-la-carte approach is best.
Complicating matters further, the latest digital assistants, from the likes of Amazon and Google, now offer a third option that, in time, just might make the whole conversation moot.
Here are the three best options to consider when transforming your house into a smart home.
Option 1. Start Small with a Stand-Alone Smart Device
If a homeowner knows nothing about smart home technology — and they're a bit averse to technology to boot — take the baby-step approach. It's a way to get comfortable with smart home technology, including the experience of controlling devices remotely via a smart phone app.
One of the best smart home starter products is the doorbell camera. It's relatively inexpensive, especially since one camera usually does the job. Plus, the cameras are easy to install and their benefits, which include convenience and security (think: communicating remotely with FedEx to help prevent packages from going missing) are apparent from day one.
There are now more than a dozen doorbell cameras to choose from, mostly in the $100 to $300 range.
Here are a few good ones to consider:
· Ring Video Doorbell, $180. Well-priced, full-featured and battery-powered, making it a good choice for renters and homeowners alike.
· Skybell HD, $200. High-quality 1080p video and full night vision are a cut above the competition. The camera can be integrated with Honeywell's Total Connect 2.0 app, which allows users to control multiple parts of their smart home, from climate to security; through HomeAdvisor's partnership with Honeywell, users of the app can also find service pros.
Option 2: Build a Complete Smart Home Around a Hub
If a homeowner is planning to bring more than a handful of connected devices into the home, controlling them individually can get tedious and time consuming. A smart hub streamlines the process into a single smart phone app, and most hubs also make it possible to program devices so that they'll work without you having to lift a finger. For example, you can set the hub to turn lights on automatically as soon as the front door is unlocked.
Here are a few hubs to consider:
· Samsung SmartThings, $80. Highly rated by several review sites, Samsung's hub is easy to set up and compatible with a wide array of devices. The app is powerful, though its complexity means you'll need to be tech savvy to master it completely.
· Wink Hub, $70. Wink connects to your home's internet by WiFi, instead of cable, allowing the hub to be placed anywhere in the home. The app brings a lot of added functionality, including the ability to track your home's energy use.
Option 3: Let Your Digital Assistant Handle the Smart Home Controls
When digital assistants burst onto the scene a couple of years ago, led by Alexa, they were more like wireless speakers that could handle other helpful tasks, like setting a timer for your soft-boiled egg or reading out the morning headlines.
But their functionality continues to increase, along with their appeal to consumers—according to a 2017 report by Mintel, sales of digital assistants are projected to surge 36 percent this year, to $608 million. The latest versions perform the same basic functions, while also serving as a control hub for all your smart home devices.
Take the Echo Plus, $150: Once the device is connected to the internet, homeowners can simply ask Alexa to discover other connected devices in the home, from lights to locks to sprinkler systems. Amazon already has more than 100 partners whose products are compatible, including GE, Yale and Philips; the Echo Plus even ships with a Philips Hue bulb to get you started with smart-home lighting.
The Google Home voice-controlled speaker also doubles as a smart home hub. Amazon had a head start in terms of integrations, but Google is catching up fast; it already works with Philips Hue smart lights and the Nest Learning Thermostat, with more integrations coming every day. Plus, Google remains the dominant search engine, so you'll have a highly knowledgeable digital assistant managing your smart home.
One thing to note: Because digital assistants weren't designed explicitly to control your smart home, their compatibility with connected devices and overall ease of use isn't quite to the level of a dedicated smart home hub.
Smart home technology is evolving fast -- and that includes the way we control it. In my opinion, the smart home hub will eventually be remembered as a stop-gap technology, but that day is still several years out. Whether you're a homeowner exploring smart technology or a service professional expanding into the space, a hub is your best entry point for the time being.
Related
Popular in the Community