Earlier this month Jeffrey J. Selingo wrote a piece for the Washington Post about how a college's location matters when it comes to opportunities available to students. Selingo had one thing right--experiential learning, including research, off-campus study, and internships, is key to a college education today. But location may not matter. Cornell College faculty lead classes and our students hold internships around the globe every month of the academic year. We are located in Mount Vernon, Iowa, a town of about 4,600 residents. How do we do it?
At the heart of the matter is not location, but our One Course At A Time curriculum. Students at Cornell College take one course for three and a half weeks, immersing themselves in one subject. After a four day break, they begin a new course. With One Course, Cornell faculty and students have the ability to spend a whole block--or part of one--studying a topic in the ideal location.
Where else to study Dante's The Divine Comedy, for example, but his native Florence, Italy, the city that first inspired, then exiled him? Cornell College students in that course integrated travel, study, and the digital liberal arts. They reflected on their experiences through regular blog posts, compared the topography and architecture of Dante's Hell and Purgatory to those of the Tuscan landscape, and engaged in creative final projects that were presented on the course website.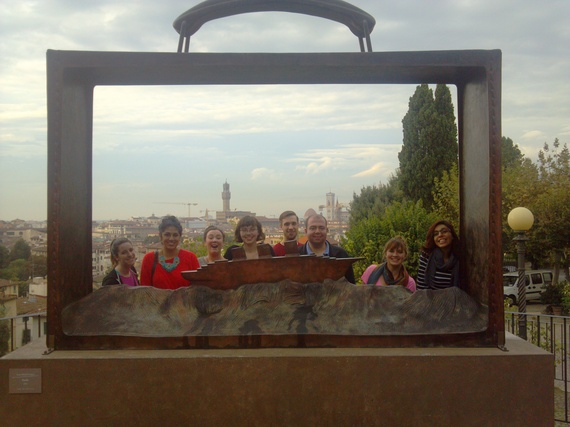 Research opportunities abound, as well. A collaboration between a Cornell College chemistry professor and scientists at Oak Ridge National Laboratory meant that a student was able to work alongside lab scientists for a full summer of research at Oak Ridge, followed by a block of full-time research on campus.
Our curriculum also means internships can happen any month of the year (not just during the competitive summer internship season), and students are able to work eight hours a day, five days a week like a full-time job.
Selingo rightly points out that educational value is increasingly coming from off-campus experiences. But he is mistaken that the institution must be in a metropolitan area. From its setting in Iowa, Cornell College can offer students as many or more experiential learning opportunities than they would have in a large city. Our distinctive curriculum means that students have access to amazing experiential learning anywhere in the world in a way that virtually no other school, no matter where it is located, can offer.
Calling all HuffPost superfans!
Sign up for membership to become a founding member and help shape HuffPost's next chapter