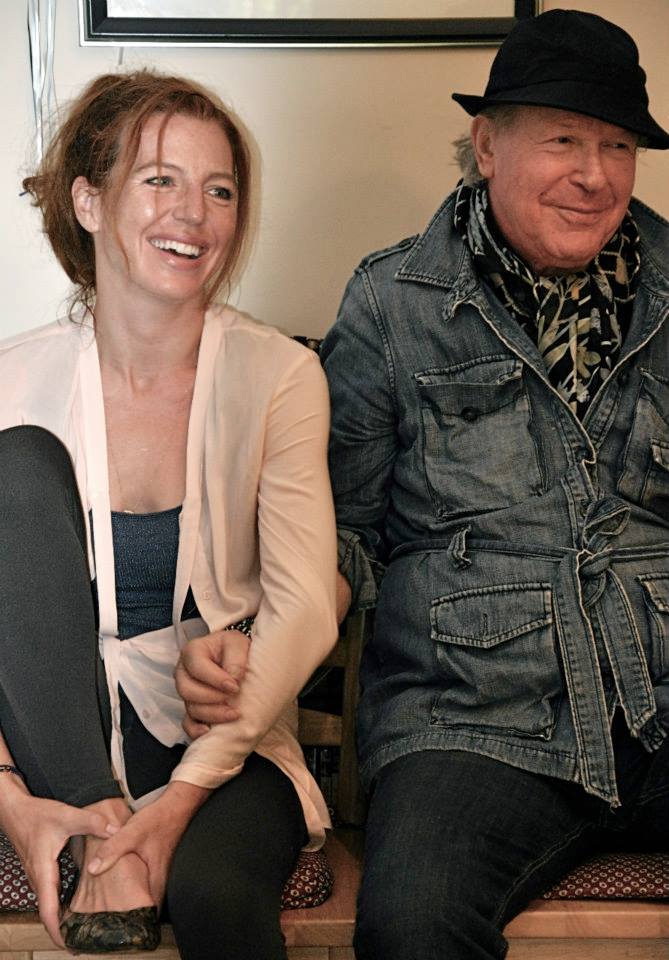 I've been a bit mesmerized by redheads ever since giving birth to one 20 years ago. We knew we were having a girl, so no surprises there. We wondered if she'd be blond and blue-eyed like her older brother, who favors me, or a hazel-eyed brunette like her dad. We had quite the shock — a very pleasant one, at that — when out popped sweet, little, ginger-haired baby Hannah.
It crept up on me, but eventually I realized I was drawn to all things redhead. I probably forced Ludwig Bemelmans' fictional Madeline on Hannah, but I think she adored her as much as I did. I already loved Molly Ringwald and Ron Howard (who doesn't?) and immediately took notice in more recent years when the likes of Kate Walsh and Christina Hendricks turned up on TV.
I've got paintings of redheads on my walls and seek out gifts and cards with photos and drawings of those luscious locks. So naturally, I took notice when I saw the ad on the back of an LA city bus — a fetching, red-haired woman named Tanna Frederick was starring in a play called The Rainmaker.
Little did I know, I'd soon find myself in the same living room with this lovely actress and her partner, the film director, writer and actor Henry Jaglom. It's possible he's a ginger, too, but who's to say? He was wearing a hat, which, along with the scarf around his neck, appears to be his custom.
The two are the latest phenoms to grace the podium at Vicki Abelson's Women Who Write. Jaglom and Fredericks captivated a crowd of us, mostly women, as they read an audition scene from their first film together, Hollywood Dreams. To say merely that they read, though, would be a dreadful understatement. We're used to people reading, although we NEVER tire of it. Authors, really famous ones, read to us monthly from novels and memoirs at Abelson's renowned, celebrity-driven salon. In May, we had Valerie Harper, for Pete's sake! (You can read about that, here.)
Jaglom and Frederick acted out a scene from Hollywood Dreams like their lives depended on it. We were spellbound. And misty and sniffly, as Frederick's anguished character, Margie Chizek, struggled through an audition for a part. Then, no diva this one, she figuratively exited stage left leaving Jaglom center stage to discuss his upcoming book (with Peter Biskind), My Lunches with Orson: Conversations Between Henry Jaglom and Orson Welles.
And that's when things got really interesting...
I felt like a voyeur, gazing into the intimacy of this pair's personal and professional union. As many women do, myself included, Frederick nudged her partner to tell this story or that, to read the part about Rita Hayworth, a redhead for whom Frederick has an affinity. He indulged her, and us, with accounts of Minnelli, Taylor and Burton—stars of the old school. Like us, Frederick hung on his every word. You could tell by the blush of her cheek, the shine of her eye; she clearly adores him. As he does her, so obvious as he ever so briefly, nearly invisibly, reached over to stroke her chin with his hand.
He said, "I don't go backstage." She said, "Yes, you do." And then to us, "He goes backstage in his cute scarves..."
We were in on it now. Just as smitten with them as they are with each other.
I've already told you, I'm partial... that those strawberry tresses rarely escape my notice. (Just now, in the Coffee Bean, a redhead walks in, as if on cue, as I sit here pondering the auburn allure.)
I have to wonder, would Jaglom and Frederick be just as captivating if she were a blonde? A Marilyn instead of a Rita? No question, her acting chops have nothing to do with hair color, but I've got to believe that the red is part of the enchantment.
Related
Popular in the Community