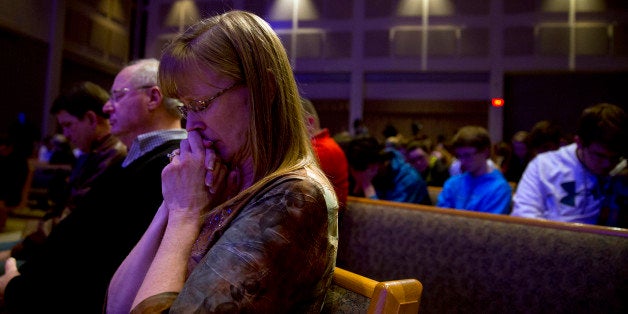 We had a party on Saturday night. Thirteen adults and 11 children gathered in our home in Kalamazoo county to eat dinner and hang out. We ate well and sat around our long table as the kids yelled and played in the background.
The evening ended rather early when the happy chaos was interrupted by whiney voices and tired cries. I put our boys to bed. And when I came out at 9:30 p.m., everyone had left.
I went to bed early, and my husband stayed up to watch the recorded Ohio State game. We didn't turn on the news or look at our phones. We were exhausted and invigorated from a great night with some of our best friends.
Sunday morning, I opened Facebook where I read two ominous posts about loss and unity. Neither mentioned Kalamazoo. A third post asked about a press conference. I feared the worst. Another bombing? It was Sunday -- a church shooting? What was going on? My husband had gone to church -- was he safe?
It took less than 30 seconds to find out. The trending new story on Facebook was the shooting "rampage" that had happened the night before in Kalamazoo. My city. It happened here.
As our friends placed their dishes for our potluck on the table, a Kalamazoo man shot a random woman in front of her three children. As we were enjoying our company, the Uber driver was allegedly cruising Kalamazoo with a gun, possibly picking up unaware passengers and delivering them to their destinations.

"Kalamazoo is a place with a funny name and a rich history, and one man with a gun will not change that."

As I settled into my bed after a long day, this man, who neighbors described as "a nice guy," shot and killed a father and son, then reportedly picked up another group of people, dropped them off at a hotel, and drove next door to the Cracker Barrel where he emptied his weapon, shooting and killing four women. The hows and whys are baffling. The timeline makes no sense.
I was born in Kalamazoo. I've lived my entire life in and around the city. I drive my kids 15 minutes from our home in Portage into the Kalamazoo city limits for school Monday through Friday. I wondered if I knew any of the victims. In a town with 75,000 people, it seems I have some sort of connection to so many residents. How could I not be connected, in some way, to the eight who were shot?
As I watched the press conference, the locations mentioned flashed through my thoughts. I knew all of them well. I could drive to each one without thinking. I imagined the shooter approaching the father and son as they looked at cars at the auto dealership. Was the teen excited? Were his parents going to buy a car for him? Or were they looking for a family car? Was the trip to the dealership planned or was it a spur of the moment decision? Did their family know they were there? So many questions without answers.
My thoughts drifted to the women who died at Cracker Barrel. Not long ago I'd had the same night out they'd had, in the same city. Going to a show at Miller Auditorium, the venue at Western Michigan University, followed by dessert or drinks, or even breakfast food was a great night out in Kalamazoo.
I'd done it so many times and I'd never feared for my life. Would that change now? Would people in our town be weary of leaving the house? When I leave my kids with a sitter for date night will I hug them tighter because just going out seems a little more dangerous now?
I avoid the news. I always have. The tragedies reported either leave me jaded and unfeeling or broken down and unable to function. In the past, I've chosen to harden myself to the shootings. I try not to think about the children, college students and co-workers who died huddled under desks or clinging to one another in fear. When the stories of heroics emerge, I say a prayer and scroll past to keep myself from the shaking and the stomach aches that come with empathy for their family and friends.

But not today.
Today I let myself feel the pain all over my city. I cried with a local radio host this morning as he talked about the 14-year-old girl who was shot. She was pronounced dead, but then she squeezed her mom's hand. Now she is in the pediatric intensive care unit at Bronson Methodist Hospital. I lived in that P.I.C.U. for 10 days when my son was little. I know each room in that unit. I can almost see her family, bent over her, unable to breathe, wondering if this is the way she will die. Imagining a future with and without her, uncertain of how they will go on either way.
Today, I grieve with my city and honor the victims. Today, I will turn off the noise all over the world about gun control, mental health and other mass shootings. I choose to believe that Kalamazoo will not be defined by this event. Kalamazoo is not -- and will never be -- synonymous with senseless violence.
Kalamazoo is a vibrant, cool city with a creative community, a promise of college to our youth, and neighbors who support one another. Kalamazoo is a place with a funny name and a rich history, and one man with a gun will not change that.
Popular in the Community