Who would pay a pretty penny for extra perks on top of an already costly flight ticket? You would -- assuming you want benefits like in-flight Wi-Fi and priority boarding access. Such costs, known as ancillary fees, translate to billions of dollars in annual revenue for airlines, leaving fliers questioning whether this fee-driven model ultimately creates added value and benefits for consumers or simply enables the industry to reap a rich profit.
"Consumers have acclimated themselves to this new fee-for-all environment," said Tim Winship, editor and publisher of FrequentFlier.com. And with a rising number of travelers willing to pay unanticipated charges, "the airlines can only be expected to invent new fees." Whether or not the trend will spark even more industry fees is up for debate, but one thing is clear: Some extra costs are simply not worth splurging on. To help you navigate which fees are worth investing in, U.S. News asked top industry experts to weigh in on the fees to pay and which ones to skip.
What to splurge on
Premium-economy seating
"If you're going to pay for something, pay for extra legroom," said Scott Mackenzie, the creator of the travel advice blog Travel Codex. Though a cushier seat may not be essential for a quick domestic flight, if you're going to be stuck in that seat on a cross-country or international route, experts agree it's worth springing for a premium-economy seat (seats that typically offer a few extra inches of legroom). When purchased in advance, these seats typically cost around 85 percent more than standard economy-class tickets.
According to Mackenzie, United and Delta offer compelling economy-class products, especially for those who hold elite status in their respective frequent flier programs. For example, Economy Plus seating on United is a complimentary elite status perk for members with Premier Silver status or higher, and can be booked at check-in. Meanwhile, Comfort+ on Delta flights is free for members with Silver Medallion status or above and offers other perks, such as in-flight snacks, Wi-Fi access and priority boarding.
Rather than paying for 24-hour in-flight Wi-Fi access on major carriers like American ($16) and Delta ($16), Mackenzie suggests investing in a few inexpensive one-hour in-air Wi-Fi passes from service provider Gogo before you fly. Doing so allows you to cut back on in-flight Internet costs if you only want to scan emails and surf the Web for a limited time while in flight. "I buy a couple of $5 passes at the beginning of each month," Mackenzie explained. Such 60-minute Internet passes are available for all Gogo-equipped flights and last for 30 days from the purchase date. For the road warriors who need to be connected at all times, Mackenzie recommended picking up a monthly pass for $59.95, which grants unlimited Internet access on all Gogo-enabled flights.
Another factor to consider when deciding whether or not to pay for in-air Wi-Fi is the number of passengers who will be using the service. Because the bandwidth offered by providers like Gogo are sourced from ground-based towers that direct signals to aircraft antennas, the more passengers accessing the Internet per flight, the slower your connection speed will be.
There's an "arms race among airlines to improve Wi-Fi" explained Jeff Klee, CEO of CheapAir.com. Yet Klee cautions that "there are times when you can't be productive because it's so slow." To maximize your potential in-air productivity, Mackenzie and Klee suggested investing in Wi-Fi during the weekends and off-peak travel times, such as red-eye flights, which often carry fewer passengers, yielding more bandwidth and faster and more reliable connections.
Seat upgrades

If you want to fly in first class -- without bursting your budget -- your best bet might be to look for the upgrade option at check-in. "Almost always you can save at least 50 percent off the full-fare first-class price" Klee explained. "It's usually a really good deal," he added, pointing to Virgin America as an example of a carrier that does not give all free upgrades to elite frequent flier members as a complimentary perk, and can offer upgrades to passengers who do not participate in its rewards program.
According to Mackenzie, scoring a flight upgrade for an inexpensive price also depends on when you choose to fly. For instance, if you decide to fly over the weekend, during the summer or Thanksgiving, you're going to see a downtick in business travelers. You'll still have to pay, but if it's only a 50 percent fare difference (rather than a 100 percent difference) for a better seat, it can be worthwhile.
What to skip
Airport lounge access
For short flights with no layovers, experts agree one-day lounge passes (typically around $50) aren't worth the high price tag. "It really depends on who you're flying with, what kinds of routes you're flying, and thinking about the benefits that you actually need," Mackenzie explained, emphasizing that as a frequent flier, an airport lounge offers added value since it provides a place to relax and recharge. He recommended using resources like the LoungeBuddy smartphone app to determine which lounges you have free access to according to your frequent flier status. The app also features photos and reviews from fellow fliers.
"You should never have to pay for a checked bag," Mackenzie said, attributing the inconvenience and hassle-prone process as top reasons to avoid checking a bag. One way to circumvent this fee is by flying with carriers that provide the service for free, such as Southwest and JetBlue. Alternatively, you can dodge baggage fees by gaining elite status with a frequent flier program -- programs often grant members a complimentary checked bag. Another option if you're on the fence about joining a frequent flier program: Invest in an airline-backed travel rewards credit card, such as the Gold Delta SkyMiles American Express Card or the United MileagePlus Explorer card, which allow members at least one complimentary checked bag per flight.
Still, there are some scenarios where it is "cheaper to check the bag," said Klee, referencing low-cost carriers like Spirit, Allegiant and Frontier, which charge both carry-on and checked baggage fees. In fact, some low-cost airlines, such as Spirit, charge more for a carry-on bag ($35) than a checked suitcase ($30), and bag fees increase if you don't pay for luggage at the time of booking. Though you have to pay the fee, you can still score a great flight deal on those airlines, he explained.
You don't need to pay an extra $9 to $30 fee to skip the line. Yes, there's an added level of comfort knowing you'll have plenty of overhead space for your bag, but with a little research and proactivity you can avoid paying this unnecessary fee. For instance, if you upgrade to an economy-plus seat on United, you'll be rewarded with priority check-in and expedited security. Plus, Delta, United and American offer perks like a complimentary checked bag and early boarding for investing in their affiliated credit cards.
On the other hand, if you're flying on Southwest, Klee suggests paying the EarlyBird check-in fee ($12.50). With this benefit, "You can pretty much guarantee that you'll be in that 'A' boarding group," he said. With the carrier's free-for-all boarding process, it makes sense to pay for the chance to check in 36 hours ahead of your departure to better your odds of securing a preferred seat.
About the author: Liz Weiss is an editor for the Travel section at U.S. News. You can follow her on Twitter, connect with her on LinkedIn, circle her on Google+ or email her at eweiss@usnews.com.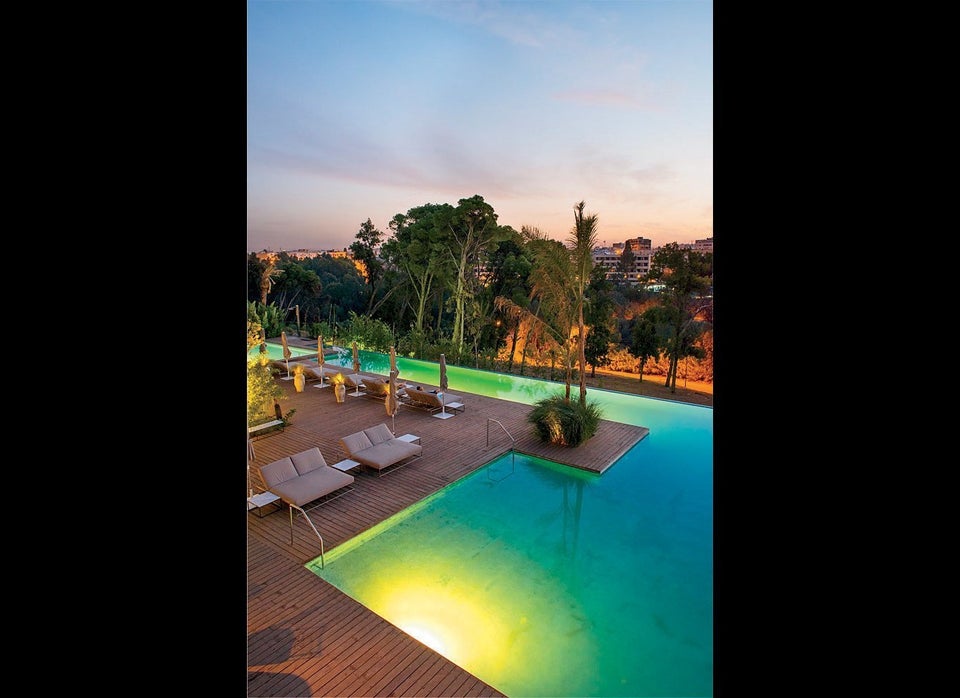 Best Places To Travel In 2015
Popular in the Community