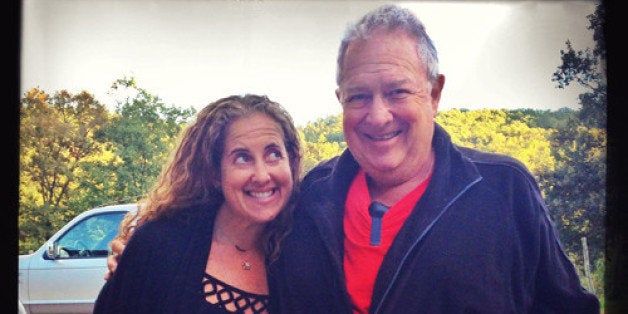 On the first of April, 1964, Jerry Lerner met Barbara Joan Fried at a singles dance at the Trump Village Apartments in Coney Island. I've lived in many apartment complexes before; I can assure you, they never threw singles dances. Who does this? I could barely get the super to unclog a drain. But in the same year that The Beatles and The World's Fair came to the city, singles dances were apparently a big thing on the Coney Island Boardwalk. I guess it's what people did before J-Date.
Barbara had just moved to the neighborhood and was reluctant to attend what I'd like to call the "Kosher Social." But her grandmother persuaded Barbara to go. And it was a good thing too, because as Jerry would say countless times throughout his life, "She lit up the room that night." Legend has it that every young Jewish man within 11 blocks of the Trump Village Apartments asked for Barbara's number. And that night, perhaps more than any other night in Jerry's life, his ship came in-- April Fool's Day, 1964.
Barbara would also claim love at first site. Let's face it with Jewish ladies, it's always about a little more than love. Jerry had potential. He worked tirelessly all through his time at Baruch College, so much so, he didn't get the chance to finish. Jerry came from a solid Brighton Beach family. He graduated from Abraham Lincoln High School, where he was part of the Rifle Club, which is a real head scratcher if you knew Jerry Lerner. Lincoln High's list of alumni reads like a "who's who of Jewish Americans." Many luminaries walked the halls of Lincoln including Neil Diamond, Harvey Keitel, and Arthur Miller. The school also claims three Nobel Prize-winning laureates, numerous scientists, engineers, doctors and lawyers, making their Jewish mothers very, very proud. My father was just as brilliant.
Like the lead character in Mr. Miller's greatest work, my father was a salesman most of his life. His early career began selling women's shoes at The Shoe Box, and then he moved up to headwear, and eventually bought his own business in Florida. His last gig was extolling the virtues of LexisNexis. Shoes seem so much more romantic.
Jerry had a terrific career, and provided a wonderful life for us. But that's not what made him so brilliant. What made him brilliant is unlike so many of his contemporaries in the sales force, Jerry didn't become Willy Loman-- and that's quite a triumph given the economic, social and personal highs and lows of the past fifty years.
Jerry Lerner was patient and kind and generous and thoughtful--words typically not associated with salesmen, or Hollywood publicists for that matter. He absolutely loved to laugh. The angriest I saw him is when they cancelled JAG. He kvetched about it for years. Around 2009, I finally had it, I said, "Honestly, Dad, enough already with the JAG."
Then there was the food. Jerry Lerner never met a deli plate he didn't love. He was quite the chef himself... Chinese mostly, like an amateur Mr. Chow. Later in life he would prepare lighter fare to help my mom cope with her diabetes, and help them both with their waistlines. He and I took a father/daughter cooking trip to Italy and at one point, Jerry took over and started teaching the Italians how to cook. Bellissimo, Signore Jerry...
When he was younger, Jerry played softball with his guy friends. When he was older, softball became rounds of golf near the condo. And in the winter, there was always his NY Giants. When I was a kid, after his softball games, Jerry and his friends would take me to their victory celebration at the bar, just like one of the guys. I was the only six-year old who could spell Drambuie.
Jerry understood women as much as any man I knew. Maybe it was from all those years selling shoes? As my career began to take off, he was my champion. When a client would leave or work became too overwhelming, he was my rock. The confidence I now have in working with shall we say, high-strung, type-A Hollywood personalities, was fostered entirely by Jerry Lerner.
And that moment fifty years ago at the singles dance where he met my mother... lived in Jerry's heart until he died two months ago, two weeks shy of his 71st birthday. I once asked him what the secret was to a lasting marriage, and Jerry said, "Selective hearing." But if you pressed him further, he would compare his relationship with Barbara to the love story South Pacific. The two were even known to sing "Some Enchanted Evening" to one another. This duet was kind of weird when I was a kid; funnier when I got older; and in the final days of his life, magical.
In Billy Crystal's hilarious and heartbreaking one-man show, 700 Sundays, Billy talks about the boulder that showed up in his life after his father died. That boulder just rolled up to my doorstep. I had a lot more than 700 Sundays with my Dad, so I guess I'm lucky. One of my last memories with Jerry was watching a Dodger game a couple of weeks back before the cancer got the best of him. That night, he put on a Dodger cap just to make me smile.
Losing my father is painful enough. So many things seem to be lost with his death: Chinese food and deli plates, shoe salesmen, small children going into bars, gentlemen who see stars when ladies walk into a room, couples who stay together for 50 years, selective hearing, the soundtrack to South Pacific... my rock, and Barbara's heart.
When I was very young I asked my Dad where babies come from and Jerry said, "Well, BeBe, God took a blue crayon and started drawing a sky..." This Father's Day, I am praying he was right, and that God has a 64 pack of Crayola.
REAL LIFE. REAL NEWS. REAL VOICES.
Help us tell more of the stories that matter from voices that too often remain unheard.