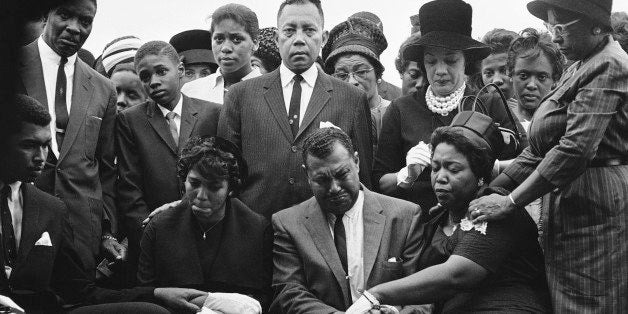 In the midst of my writing I have been blessed by those who have reached out to me. One of the people who connected to me is Sarah Collins Rudolph.
I imagine that you don't know her name. I did know the name... and confess that I thought it must have been someone who was pretending to be her. It felt like a ghost who reached out from decades past. Sarah was the little girl who was with her sister and friends in the women's lounge in Sixteenth Street Baptist Church in a town with so much bombing that it earned the name "Bombingham."
Before I tell more about Sarah and her sister Addie I'd like you to wonder with me -- what happens when justice forgets? We pretend that justice is a principle that exists and is exacted effortlessly because, of course, everyone seeks and wants justice. But justice can't happen without others agreeing that justice must be pursued.
Think of the precious Syrian little boy's body who washed up on a Mediterranean beach. More than a few commentators spoke of the child's body -- and identified with the little shoes and shorts that echoes with the observer's memories of their own child. But if that child was clothed in other clothes or the child's skin had a different color, history has shown that identifying with that child would be lessened.
This brings us back to Mrs. Rudolph. When the blast obliterated her sister and friends and when the bomb took her eye and her peace of mind, America responded with fleeting sympathy, but not much substance. The sympathy was not so much because of our empathy for five children in a restroom -- but because we could understand the horror of having one of "our" (white) churches bombed. But even just a few months later -- how many of us think about the 12 at Mother Emanuel AME Church?
This bombing happened only a few weeks after the March on Washington for Jobs and Freedom. The fear around the March closed down the city of Washington, D.C. because white leadership incorrectly presumed that a majority black gathering would not be peaceful. Even now, five decades later, people so easily quote Dr. King's "I Have a Dream" -- but we fail to remember Dr. King's words earlier in his homiletical speech when he said, "America has given the Negro people a bad check, a check which has come back marked 'insufficient funds.'"
Justice has forgotten Sarah and her sister Addie Mae. While Addie Mae now has a tombstone, Addie Mae's remains are not there. They have been moved or lost or stolen -- but they are not underneath the tombstone.
Sarah is blind in one eye. She has present-day health challenges from that blast so many years ago... and our nation has let her pick up the tab. Justice has forgotten Sarah...
I'm in the process of speaking with others who have tried to make it right and will report back here. But this September, I'm wondering if you could take a moment to think of four girls who never fully welcomed adolescence, who never knew the love of another, who never got to see tomorrow. And as you ponder... wonder in our nation... to whom else has justice been denied? Just four months prior to the bomb blast, Dr. King wrote:
We know through painful experience that freedom is never voluntarily given by the oppressor; it must be demanded by the oppressed. Frankly, I have yet to engage in a direct action campaign that was "well timed" in the view of those who have not suffered unduly from the disease of segregation. For years now I have heard the word "Wait!" It rings in the ear of every Negro with piercing familiarity. This "Wait" has almost always meant "Never." We must come to see, with one of our distinguished jurists, that "justice too long delayed is justice denied."
At the funeral for the four girls, Dr. King challenged his listeners:
They are the martyred heroines of a holy crusade for freedom and human dignity. And so this afternoon in a real sense they have something to say to each of us in their death... They say to us that we must be concerned not merely about who murdered them, but about the system, the way of life, the philosophy which produced the murderers. Their death says to us that we must work passionately and unrelentingly for the realization of the American dream.
In this election year, as so many tout the "American Dream" and as we remember on September 15, please pause to know that for many, justice forgot. Maybe this year -- especially this year -- we can work to change the philosophy that is still at work in our nation that produces hate and murder.
Popular in the Community