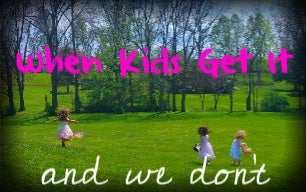 Over Easter weekend, I heard some real horror stories about adults at Easter Egg hunts. Two people I know actually witnessed an adult take an Easter Egg from a small child! A parent told me disgustedly about a woman at a big local event who hoarded eggs on behalf of her toddler, and was then visibly angry when her child, having "collected" the most eggs, was only awarded the same "participation prize" that all the other (obviously less savvy) toddlers received. People were walking away from these events completely disheartened, surprised that fights hadn't broken out! Needless to say, I went into the weekend a little leery and nervous. You see, this year was the first year that my own daughter, age 4, had expressed any interest in Easter Egg hunting. And let me tell you, she's been all about it! So, even though we didn't plan to go to any of the big public events, I was still concerned about how egg hunting might go just between her and her friends. I didn't want the experience to be negative, for the kids or for the adults.
For our first hunt, we went to a friend's house who has a 3 year old boy. We did the old fashioned egg dye, and then she and I hid the 2 dozen freshly colored eggs in their back yard for the kids to find. Simple fun. The laid back hunt threatened intensity, however, when the early on, the two kids went for the same egg at the same time! We both cringed when her son's face showed the classic signs of being crushed, as my daughter got to the egg a moment before he did! But what happened next changed the course of the entire weekend for me. Her son bounced back from his temporary setback pretty quickly and went for another egg. But rather than grab and keep running, he stopped. And called out my daughter's name. He pointed the egg out to her and wanted her to have it! All the damn feels! This kid single-handedly turned the egg hunt from a Hunger Games style competition into a share fest. The kids hunted the eggs together, then when they found them all, they insisted on hiding them together for my friend and I to find. How did it change my weekend, you ask? Because the same thing happened the next day. We went to another friend's house and hid probably 100 eggs in their yard for our 3 girls to find. Only this time there were plastic eggs filled with toys, candy and coins. The stakes were higher! After one potential confrontation over an egg, though, the girls started hunting together, calling each other for the eggs they had found. When all was said and done, the girls ended up with about the same number of eggs. And better yet? They opened them all together and shared what they found inside.
I walked away from Easter weekend feeling completely renewed in my hope for the future, if these kids have anything to do with it. I was so proud of our kids, and convinced for once that we might be doing something right. These kids get it! Even when we sometimes don't. I took the following away from these little darlings, which I share with you now:
Disappointment is not the end of the world. Sometimes it's just the beginning of an even better story. Think of all the things you never thought you'd make it through. Yet here you are, making it through. If we never experienced disappointment, then our sense of appreciation would be so diminished, and we would have so much less opportunity to experience empathy and growth.
Caring for others is sometimes the best way to care for ourselves. Sure, we all have crappy things happen to us all the time. But so does everyone else. We can make it all about us, or we can see an opportunity to do something nice for someone else. Even when we don't necessarily have everything we want. Sometimes that ends up being the thing that makes it better for all of us, ourselves included.
Pay it Forward. What if we only got what we deserved? I'm not sure I would have much! But I have been the recipient of the grace of God and others on more occasions than I can count. So, anytime we can gift that grace to someone else, we're only increasing the presence of goodness in our world. So, when you see, receive, or love something awesome, share it. Make it bigger, because good should grow.
Have you learned any important life lessons from a child? Share you story in the comments