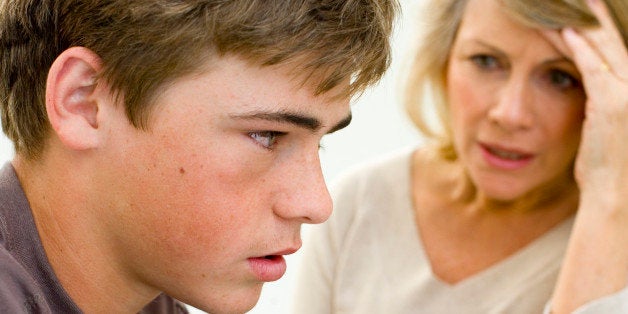 All kids dabble in stretching the truth or outright lying, and of course it's to their benefit to learn that lies have consequences. To be clear, all kids lie at one point or another. I know you may be thinking yours has never lied to you, but if so you're in La-la-land. Once you've come to grips with this truth keep reading.
Experimentation with lying begins at a very young age. Sometimes we even encourage it with our own lies or exaggerations right before their very eyes. They witness this in our own efforts to protect the feelings of others, to simply be nice, or to avoid lengthy conversations or conflict. We call those kinds of lies, white lies. Nevertheless, they are still lies. So sometimes kids lie because parents have modeled lying. Other times they just lie, even when it doesn't make sense. It may even be that telling the truth would have been easier all along, but they still chose to lie.
One important thing for parents to consider is there are often deeper reasons kids choose to lie rather than tell the truth. Avoidance of the truth is an indicator of any number of issues or warning signs. Avoidance can also denote a fear of consequence. While fear of consequence as a reason for lying or withholding the full truth sounds like a no-brainer when it comes to children and adolescents. All kids worry about getting into trouble with their parents. If however, we take that notion a little deeper, the idea that our kids are fearful to share truth with us as parents should give us pause.
As parents we should consider what we are doing or what we could do, to make telling the truth easier or possibly to reward truth, or offer a sense of immunity when the truth is proactively shared. That doesn't mean to eliminate consequences related to poor choices. But as parents we have to make sure we're relaying the truth of our love and compassion to our kids in meaningful ways that will encourage them trust us enough to tell us the truth. We also want them to be safe, and to make good choices. Telling the truth is a good choice. Open doors, open ears, open hearts, open dialogue and a bit of grace even in the midst of unavoidable consequences can change the dynamic of character and honesty in a home, and strengthen families.
Open doors. Proactively create opportunities within your family to discuss issues related to honesty and character. Watching movies, listening to audio books, or playing games together with these themes can be helpful making a discussion about character and lying seem less forced.
Open ears. Don't just listen to your kids when they're talking to you. Pay attention as your kids interact with others and listen to the circumstances and environment around you. Your kids need to know you will always listen and that no topic of discussion is off limits. Many family conflicts could be avoided if young people truly felt they could talk about anything with their parents without fear of retribution.
Open hearts: Make sure your kids know they can talk to you. Communicate to your kids that there is no limit to your unconditional love for them, and make yourself available in a variety of ways. You may think it's unnecessary to tell them they can call you at work if they need to talk, or to Skype you when you're away, but the point is ensuring they know the door to your heart and ears is always open, no matter the topic, no matter the subject.