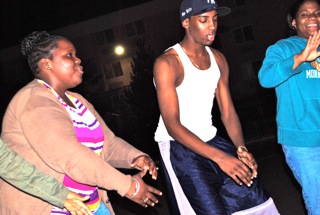 "What do we love?" asks 17-year-old senior Tiffany McLarty, her face shining under the florescent lights in the parking lot.
The eleven teenagers surrounding her reply in unison:
It's 10:30 p.m. on a Friday night. Three fellow teachers and I are standing with the Bronx Prep Speech Team outside our hotel in Wallingford, Connecticut, a short car ride from Yale University -- and a whole world away from the gritty South Bronx neighborhood we all left in a rented van this morning. Tomorrow the kids will be dressed in suits, crisscrossing the gothic campus to compete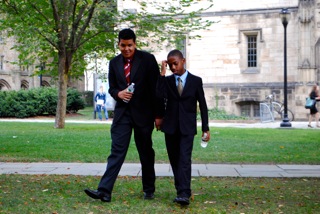 with hundreds of student actors and orators from across the nation. Now they're dressed in sweatshirts, pajama pants, and flip-flops. And they're chanting.
"What do we speak?" Tiff continues.
"We speak our truth," her teammates answer.
Tiffany helped create this call-and-response chant when she and two recent Bronx Prep graduates, Chris Moncrief and Tayshawn Layton, coached our first-ever Speech Boot Camp at school over the summer. The camp was their idea. It marked the initial step in a shift toward a model of student leadership that is transforming our whole speech and theater program, and with it, my ideas about who owns -- and should own -- education.
When I first started teaching at Bronx Prep, I spent the bulk of my energy trying to keep my students from beating each other up. Back then, the idea of transferring my hard-won power back to the kids would have seemed at best unwise and at worst unsafe. It took seven years of painstaking relationship building, failed experiments in student leadership and tons of reflection to reach the moment last summer when my colleague Andrew Simon and I decided we were ready to radically restructure our program -- by taking ourselves out of the driver's seat.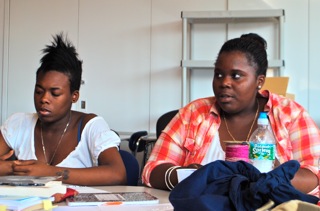 Step one: for eight days in the middle of August, Chris, Tiffany and Tayshawn ran the show, working with fifteen other kids to write speeches and bring difficult texts to life. Andrew and I took on supporting roles, handling logistics and meeting daily with the student leaders to debrief, reflect and plan together.
It was during one of our first planning meetings that the idea of the chant was born. The kids were drafting a mission statement. Chris -- who had just come home from Kansas City after placing fifth in the nation in Original Oratory -- said he wanted the new recruits to understand that participating in speech means more than just bringing home trophies.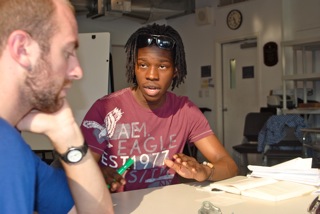 Tiffany and Tayshawn added that the kids should see the team not just as a fun extra-curricular, but as an opportunity to speak truth. And not the truth, but their truth.
There was something rhythmic in the way the kids were talking that got me excited. I told them their mission statement was sounding like a chant. They decided to create a call-and-response that the whole team could rally around.
"What is our truth?" Tiff asks, louder now, her voice ringing across the parking lot.
"Our truth is to be the change we seek," the group chants back.
I asked the kids, point blank, what "their truth" was. They each had a different answer, but they all talked about using speech for social change. I told them they reminded me of what Gandhi said, that you have to "be the change you want to see in the world."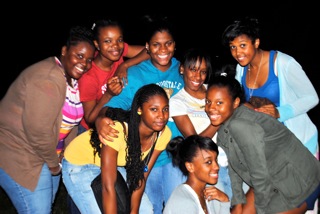 Tiffany took that idea and ran with it. She pointed out that kids of color from the South Bronx traveling to prestigious campuses wearing suits and competing nationally is itself an example of embodying change, because it helps the rest of the world envision their success as achievable, expected, and normal. Tiffany's teammates agreed. The Gandhi quote (or a paraphrasing of it) would go in the chant.
But "being the change" doesn't always come easily.
"How do we change?" yells Tiff now, bouncing a little in her low crouch.
"We change with work," the kids shout back as the momentum in the parking lot builds.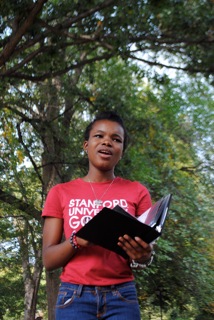 This is a big one. As dedicated as they are to their team, these student leaders still sometimes feel resistant when it comes to buckling down. What emerged from our conversation was the idea that a lot of us -- kids and teachers alike -- are hardwired to think of schoolwork as drudgery and busy work. The kids are used to working for a grade and the teachers are used to working to boost our students' test scores. The idea of doing hard work in school because of a deep, internal drive to create something meaningful is -- shockingly -- pretty unfamiliar for a lot of us.
It was at this point in the conversation that Chris reminded the group of a Khalil Gibran quote about work he'd shared with me after a difficult rehearsal during his senior year. I suggested that the quote form the core of the chant, both the end point and the return to the beginning.
"What is our work?" Tiffany shouts, her voice echoing across the parking lot.
The team hollers, "OUR WORK IS LOVE MADE VISIBLE!"
Now the whole thing cycles back to the start. Everyone's yelling the words at top volume, jumping and bouncing in rhythm, clapping. Tiff's face is wide open.
"What do we speak?"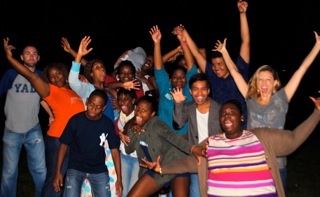 "Our truth is to be the change we seek."
"Our work is love made visible!"
"What do we love?" And we are back to the beginning again.
At the end of the third round, something happens that has never happened before. The kids start to freestyle. The chant morphs spontaneously, some kids saying, "work is love" and holding the "love" out long while the others rap "made visible" in a faster, syncopated rhythm. Phrases of the chant weave in and out of tongue-twisters, song lyrics and off-the-cuff rhymes, building to a hyperkinetic finish.
The chant ends and Tiffany gathers the group's attention for one last pep talk. I stand outside the circle watching her, thinking back to when she walked into my middle school theater class six years ago -- bursting with talent but also deeply insecure, prone to disruptive outbursts and emotional shutdowns. I think of myself as a young teacher, yelling myself hoarse, fighting for control.
Tiffany is calm now, her voice steady and resonant. The kids around her are hanging on her words.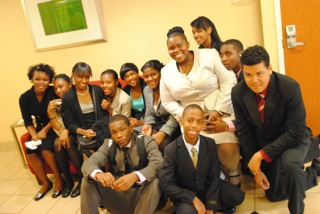 As always, the students featured in this article agreed to let me share their stories and images; the views expressed here are my own and not those of my school's administration.
Calling all HuffPost superfans!
Sign up for membership to become a founding member and help shape HuffPost's next chapter