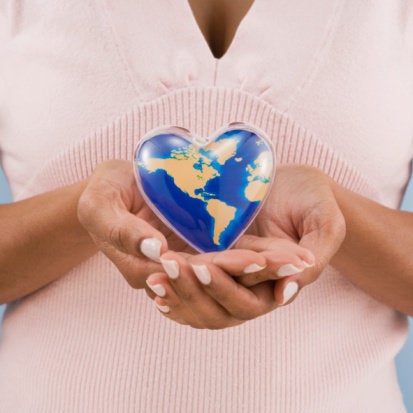 This is part of our new series "Gen: Change," in partnership with Youth Service America, featuring stories from the 25 most influential and powerful young people in the world. Click here to read more about Cassandra and her amazing story.
When you think of little kids, you probably have a mental image of youngsters frolicking around playing hide-and-seek without a care in the world. Most likely, the image that comes to mind is not a group of 10-year-olds gathered around a table in the midst of a serious discussion about creating a business plan. Well, as you might have gathered, I was not the ordinary fifth grader. By the age of 10, I already had my sights set on changing the world. To accomplish this, I came together with a group of my friends and we started a community service team. Our goal was to aid the community and environment at the same time. After researching, we found two major issues that caught our attention.
The first of these was global warming. We found that the main cause of global warming was the burning of fossil fuels. As a result, sea levels could rise two to six feet by 2100 if global warming continues at its current rate. Since we live in a coastal town in Rhode Island, our town and many other regions could be submerged in the future. After further research, we discovered that global warming could be slowed down by switching to alternative energies, such as biodiesel. Following this discovery, we visited the Energy Solutions Expo at the University of Rhode Island, where we found that biodiesel could be produced from waste cooking oil. But what finally fit all the puzzle pieces together was an article in the local paper, which highlighted a major problem in our area that we were not even aware of.
The article was about a local charity in our area called the WARM (Westerly Area Rest and Meals) Center, which had initiated a campaign titled "One Dollar Makes A Difference." In this campaign, residents donated $1 each week to go towards emergency heating assistance. We were astonished by the realization that people in our own community were struggling to heat their homes in our harsh New England winters. Surely, we thought, we could help these needy families. And then, a solution came to us. This solution became Project TGIF: Turn Grease Into Fuel.
Project TGIF is an innovative system that collects grease, converts it into biodiesel, and then distributes the fuel to local families for emergency heating assistance. To make this project work, we partnered with many companies, such as grease collectors, biodiesel refiners, biofuel distributors and charities that help us identify the needy families. We raised awareness by handing out 5,300 flyers and 3,500 kitchen calendars, airing a public service announcement with COX Media and making presentations. Then, we lobbied our town council to set up a grease receptacle at the transfer station where residents could recycle their oil. We asked local restaurants to donate their grease to the program. So far, we have 113 restaurants and counting participating. We even drafted and helped introduce a bill in Rhode Island which mandates that all businesses must recycle their grease. The bill was signed into law in July, 2011 and went into effect on Jan 1, 2012. We are currently expanding to other towns and cities in Rhode Island and Connecticut.
After leading this project for almost four years, I can say that the results have been astonishing. In the first year, we donated 2,000 gallons of BioHeat to heat the homes of 20 families. To date, we have donated a total of 14,600 gallons of BioHeat (approximately $56,000 worth) to heat the homes of 146 local families. In addition, because biodiesel is an alternative energy, the project has offset carbon dioxide emissions as well. By the EPA's calculations, we've offset almost one and a half million pounds of carbon dioxide from entering the atmosphere.
So, are 10-year-olds the leaders of the future? In many ways, the answer is yes. Volunteering is both easy and rewarding. A simple passion -- in my case, community service -- can serve as the driving force to take action. From a young age, I realized that sometimes you can't wait for change to happen. You have to make it happen, and be your own hero. Think about it. If a group of worried 10-year-olds can make a difference in the world, so can you!
Related
Popular in the Community