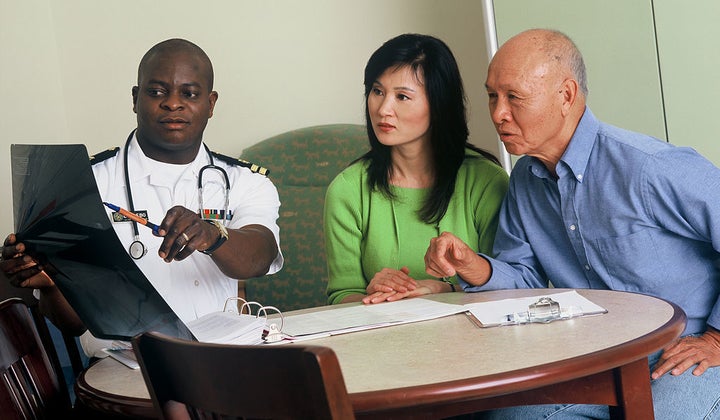 It was 5 pm on a Saturday, and I was watching the minutes pass from my patient's hospital room.
A few minutes earlier, I'd been paged to see a patient, Ms. G, who had become more confused as the day wore on. She sounded stable, but I headed over right away to see her.
As I climbed the stairs, my mind raced with the work still left to do that day – a list of notes to write, patients to see. The possibility of leaving the hospital at a decent time had become distant at best, and I felt my stress level rising.
I arrived at Ms. G's room to find her husband – a stoic, gray-haired man with red-rimmed eyes – hovering near her bedside. They spoke only Russian, and a few members of her healthcare team had warned me that using an interpreter was pointless because she refused to respond to the telephone translator. Still, there was no in-person Russian interpreter available, so I dialed, just in case.
With the interpreter on the line, Ms. G's husband answered each inquiry with a wandering response that didn't really seem to answer the question. I caught myself impatiently looking at the clock and felt my blood pressure rising and my face getting flushed. Although I tried to hide it, I wondered whether he could sense my frustration.
Yet as I sat and listened, the mistreatment Ms. G had suffered during her saga in the healthcare system came into view. Tired of attempting to communicate in a language she didn't speak, this once-boisterous woman had become withdrawn. During our conversation, she mostly stared at the ceiling.
After an hour, I stood to leave the room. As I summarized the plan, I was surprised to see tears in Mr. G's eyes. He spoke softly, his voice breaking mid-sentence.
"He says you really have helped them just by listening to them," the interpreter told me.
A lump grew in my throat, but I choked it back as we said our goodbyes. I was taken aback by how much simply lending an ear had meant to them. I wondered how long it had been since that had happened. Unfortunately, the extra step and time required to hunt down an interpreter is a task that can get lost in the shuffle in the hospital; I'm as guilty as anyone of letting it fall by the wayside.
That may be part of the reason that studies have shown that patients who don't speak English suffer more adverse in-hospital events. Research has also shown that non-English speakers with asthma have poorer management of this condition. And using a medical interpreter – that is, a professional fluent in a language and its medical jargon – can help close that gap. A recent study showed using an interpreter via telephone decreased hospital readmission rates among patients age 50 and older.
It's perhaps unsurprising that trying to make do without an interpreter harms patients. That's because it's easy to miss subtle – but vital – clues when talking to a patient when the provider or patient isn't quite fluent in the other's language. A patient who says he's not having chest pain may actually be having chest pressure or what feels like indigestion. These can all be signs of a heart attack, but without a full medical vocabulary available for asking or answer questions, parsing this out would be next to impossible.
And it's not a mystery as to whether using an interpreter is recommended; if the patient is amenable, it's considered the standard of care.
The question is how we can make sure this task stays at the top of our list of priorities, which seems to grow ever longer. Perhaps we will be more likely to make time for it if we remember that simply giving all patients the chance to tell their story – in their own language – can be therapeutic and can improve their care.