Even 18 months later, a tear wells up as Mike Pisarcik mentions his little girl settling too far away to reach quickly. For Mike and his wife Paula, the summer of 2013 brought dramatic change. Their son married, locating 40 miles away in downtown Chicago. When their daughter married that same summer, she settled 1,000 miles away.
Pride, joy and absolute delight for their children came with a parental price. A close family, Mike knew the weddings sealed it. Dinners together would become even more rare. Shared laughter was destined to slip in frequency. Even the hugs, shoulder touches and other comforts of family life would fade.
A sense of mortality, long fought to a mental corner, moved to the center of Mike's thoughts. It would hurt, he knew, if he didn't do something about it. So he did.
Mike created the Fun Calendar.
Mike needed to know that life would deliver delights to replace the soul-enriching pleasures of daily family life now moving to his past. Always a diligent, detailed planner, organizing became Mike's outlet.
Mike pulled out torn sheets he'd made a habit of accumulating in his briefcase: a Downers Grove, Illinois concert schedule from one newspaper, event lists at Naperville's Ribfest and Last Fling festivals, student concert timetables at nearby North Central College, and other bits of paper containing details on interesting activities. He'd been collecting and occasionally using papers like these over the years, going through an infrequent cleaning ritual that brought too many reminders he'd forgotten many of the events he wished he and Paula would have attended.
With the current schedules in front of him, he dealt with family relationships standing forever changed. He created a Fun Calendar through the end of the year, buying tickets whenever tickets were required. He always had something ahead to anticipate enjoying with Paula.
If Mike is the planner, Paula is the communicator. She took Mike's Fun Calendar and shared it with close family and friends. That's when the real magic began.
Family and a few friends, some of the people Mike and Paula care about, began joining them at Fun Calendar events. When they attended Wednesday Woods and Wine events at the Morton Arboretum, other friends and family signed up too. Some friends joined them at student concerts, often sharing a meal before or after. Their son and his bride would make way to the suburbs to join in listening to a summer outdoor concert. On occasion, it was Mike and Paula alone, and that was wonderful. But when others joined in, it was even better.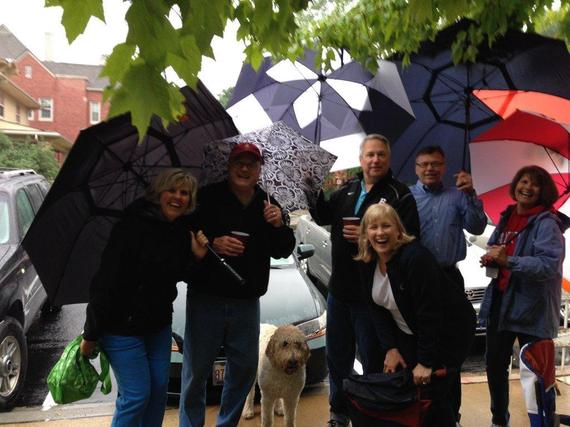 As I sat with Mike at Al's Pizza, downing a few beers and a crisp, comfort-covered pizza with my former University of Chicago classmate, Mike's Fun Calendar made me think of how I respond when I feel sadness sinking me back toward depression.
Since the depths of my depression in high school, I've known that sunlight, losing weight, sleeping well and exercising all help me feel better. Each is easier said than done, of course, but at least I generally know some of the physical steps I can take to heal.
At times, between work and kids as our children grew, I couldn't find the time or energy to even focus on these basics. Instead, I found myself buying lottery tickets for every drawing. I spent a dollar or two at a time to buy a few days dreaming that my miseries--magnified by my unfortunate ability to dwell in each failure--could conceivably end. I knew I was deceiving myself with the idea I might win. I understood the odds. But I needed a bit of hope to help get through a day or a week.
Mike's Fun Calendar is far better than a lottery ticket. It leads to actual enjoyment, not just the hope of happiness that passes as soon as the lottery numbers are drawn.
The planning-to-be-happy concept struck a particular chord with me as we talked.
Since my wife moved to New York City to pursue her dream job last summer, I've made a concerted effort to continuously identify activities worth relishing. In addition to trips to see her, many of these are activities I can do alone, such as hiking up Humphrey's Peak on a trip to Arizona or visiting the Rock and Roll Hall of Fame on the way home from New York. I also started consciously doing something Mike said he does in conjunction with the Fun Calendar: taking time to simply think about each pleasurable experience. Without this time, it's too easy to forget the moments that make life's struggles worth fighting through.
When Mike's first Fun Calendar ran out at the end of 2013, requests started coming in. When will we have the next fun calendar, family and friends asked?
Mike keeps creating them, usually three a year with the summer as the middle. Paula and Mike have enjoyment to anticipate. Family and friends keep joining them.
The calendar certainly has led to a great deal of fun.
But at an important time when life continues to change around Mike and Paula, the Fun Calendar delivers far more.
Calling all HuffPost superfans!
Sign up for membership to become a founding member and help shape HuffPost's next chapter