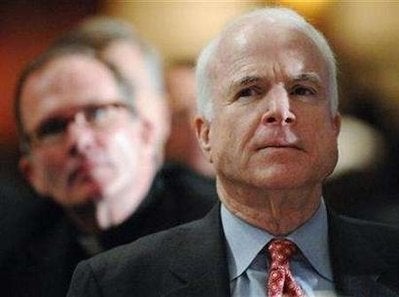 Back in March, the McCain campaign was apoplectic after Barack Obama, responding to claims that he had been endorsed by Hamas, accused the Senator of "losing his bearings."
"First, let us be clear about the nature of Senator Obama's attack today," McCain aide Mark Salter declared. "He used the words 'losing his bearings' intentionally, a not particularly clever way of raising John McCain's age as an issue. This is typical of the Obama style of campaigning."
On Sunday, the McCain campaign reversed roles without any apparent sense of contradiction. Asked about claims that McCain had been tipped off to the questions of the previous night's values forum, aide Nicole Wallace accused the Obama campaign of...you guessed it...."losing its bearings."
So, if the presumptive Democratic nominee says the phrase he is dipping into the muddy waters of ageism. But, should the loss of one's bearings present itself as apt political zinger for the McCain camp it is fair use?
Of course, the implications of age and mental health are different for McCain than Obama. And, as such, there is not the intensely personal component when the charge comes from the Arizona Republican as opposed to when it is directed at him.
But this is the second time in as many weeks that the presumptive Republican nominee's aides have been caught exploiting a political double standard. As Marc Ambinder noted on Friday, McCain's camp used Factcheck.org to criticize Obama for "exaggerating a point in one of his ads," just weeks after McCain himself dismissed the accuracy police as a "website that I have no idea what they're talking about."
REAL LIFE. REAL NEWS. REAL VOICES.
Help us tell more of the stories that matter from voices that too often remain unheard.