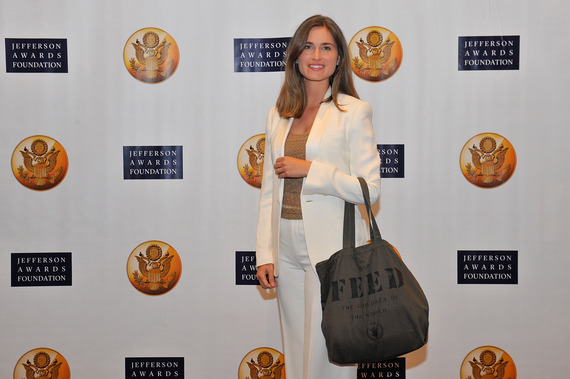 Image courtesy of Jefferson Awards Foundation
The innate pull that some possess to positively impact the lives of others is a pull that cannot be ignored. Sure, for a time you may pursue other ventures but at some point in your journey you will be brought back to your need to help those in need. And for those who answer that call early on while finding a way to combine it with other skill sets, well they are ahead of the game and their time.
This thought is exactly what came to mind when I recently learned Lauren Bush Lauren was to receive the Jefferson Awards Foundation Samuel S. Beard Award for Greatest Public Service by an Individual 35 or Under. She is a young woman who has a heart for humanity and found a way to combine her need to help others with successful business strategy. Her business model is one that many have taken note of; namely Hillary Schafer, Executive Director of the Jefferson Awards Foundation.
Schafer has been so impressed by Lauren's ability to transfer her love for fashion into doing good for the world. Schafer mentions that Lauren has tremendous empathy and is truly set on accomplishing great things while maintaining a profound softness. Schafer and the Jefferson Awards Foundation aim to inspire the younger generation to make a difference, not just exist. "There are so many young people who wake up with a fierceness and a limitlessness with what they want to do and they need someone like Lauren, to look up to," said Schafer.
I was honored to hear directly from Lauren what experiences pushed her to create FEED, what continues to motivate her and tell her story to other young people as well as why the Jefferson Awards Foundation award receipt was such an honor for her.
RM: Tell me about the experience that really began FEED for you?
LBL: As a sophomore in college, I was lucky enough to have the opportunity to join the UN World Food Programme as an honorary student spokesperson. This allowed me to travel around the world with the WFP to countries where hunger is unfortunately a daily reality for many. It was such an emotional experience to witness the effects of hunger first hand, and one that I will never forget. But I did see a source of hope in the school meals program, which was offering children in 63 countries a free, nutritious school lunch while incentivizing their parents to send them to school. Upon returning, I wanted to engage my peers in the hopeful solutions to hunger I had seen working in the field, but I felt frustrated that there wasn't an engaging way to get them involved. The first FEED bag was born out of that frustration as an accessible way for anyone to make a difference.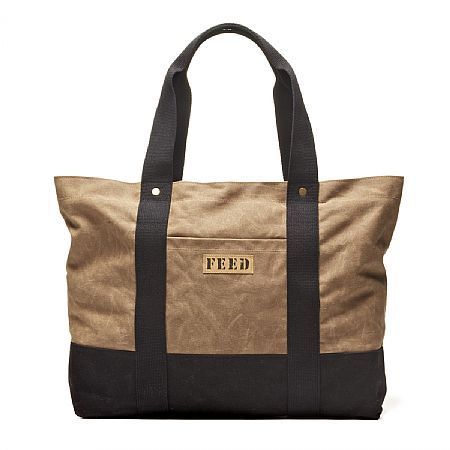 RM: You have been recognized so much for your work in the past, what makes the Jefferson Awards Foundation Award a bit different, what sets it apart for you?
LBL: I still pinch myself that I have the privilege of doing what I get to do everyday, and I am so honored to be recognized for it. I think this award feels especially meaningful because of its legacy. It was an incredible honor to find out that the previous honorees include inspiration leaders like Wendy Kopp and Steve Jobs. What stands out to me when I look at the history of the award, is not only the honorees' commitment to social change, but their ability to create solutions that really move the needle on the issues they care about. This award has been validating for me in my journey to use people's purchases as a conduit to really make a difference in the fight against hunger. Thanks to our customers, who have bought into the idea of using their dollars to give back, we've been able to donate 87 million meals. That number continues to blow me away.
RM: The Jefferson Awards Foundation aims to create a generation of social do-gooders. What is it about your story that you think will help other young people pursue their passion for social good and business?
LBL: I love talking to young people like me about the crossroads of social good and business because coming to a realization of how to merge the two was such a big part of my personal journey. When I graduated college, I felt conflicted between my love of design and my passion for hunger activism. I thought I had to choose between the two. When I realized that I could combine them in a way that felt true to both paths, it was such a liberating moment. At the time, I had never heard the term "social business" or even "conscious consumerism." I just knew I wanted to use business to create change. I love looking around now and seeing so many businesses like FEED, with giving back built into their DNA.
RM: What advice would you give a young person starting on this journey?
LBL: I know it's a bit cliché to offer a quote in response to this question, but truly believe the best advice I can give is my favorite quote from Minor Myers, which says, "Go into the world and do well. But more importantly go into the world and do good."