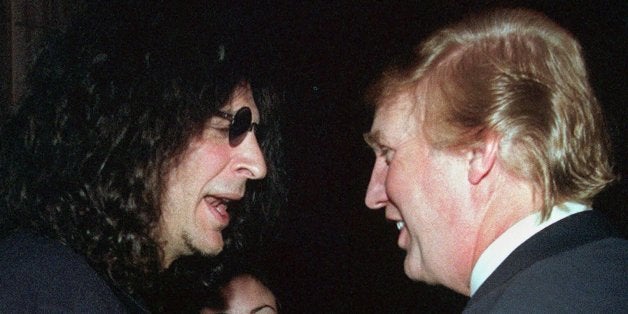 I'm sitting having dinner and O.J. came up to me -- I was sitting with very important people, big bankers, and Nicole came over, and she started screaming at him, "get over to the table!"... So, he decided obviously to kill her... That was before 'The Apprentice' so she didn't give a damn about me. Now I'm the biggest star on television, she'll kiss my ass.
In 1997, The Prodigy released a song called 'Smack My Bitch Up', and I was horrified. The Prodigy were old friends, but I did a radio interview after the song was released and asked the simple question, "how can you play a song that glorifies misogyny and abuse?"
I was told by radio DJ's to "relax, lighten up." And then a few weeks after 'Smack My Bitch Up' was released, I visited my friend in the hospital. She'd been pushed down a flight of stairs by her abusive boyfriend and received multiple skull fractures.
Then a few years later, I started hearing an Eminem song on the radio wherein he glorified killing his girlfriend and putting her body in the trunk of a car. Again, I asked, "this is virulent misogyny, why is it being played on the radio?"
And again I was told to "relax, lighten up."
More and more misogynistic media was released, and now we have Donald Trump -- a man who is sanguine justifying sexual assault because "I'm a star, women will let me do anything." And we have him calling women "pigs" and "slobs." Encouragingly, we have most Americans and members of the media responding with justified horror. But Donald Trump's misogyny didn't just crawl out from under a rock on its own. This virulent misogyny has been cultivated by the media for decades, if not longer.
I'm not laying the blame for Trump on Eminem and The Prodigy, but I'm saying there's a direct line of causality between the lax attitude the media has had towards either "entertaining" or "profitable" misogyny, and the horrifying misogyny of Trump and his supporters (many of whom are now calling for a repeal of the 19th Amendment -- the Amendment that granted women the right to vote).
A few years ago, I was at a friend's house and his kids were playing video games. I learned from his 10-year-old son how profitable it was in the video game to have sex with a prostitute, and then kill her and take back the money that you'd just paid her for sex. When you have kids in middle America growing up listening to misogynistic music, and playing misogynist video games, and watching misogynistic TV and movies, is it in any way surprising that they grow up and respond warmly to Trump and his misogyny?
Another story: In 1999 I released a song, 'South Side', that I recorded with Gwen Stefani. When we brought it to one of the biggest radio stations in the country, the programming director said, "I love this song, but I can't play it." When the radio promoter from my record label asked him why, he said, "our audience doesn't like women."
According to polls, only 1 out of 5 Trump supporters is bothered by the Access Hollywood tape wherein he extolls grabbing women by their genitals and forcing himself sexually on married women. Eighty percent of Trump supporters simply brush off Trump's misogyny, or worse, are encouraged by it. But again, this misogyny didn't just happen on its own, and it's sadly not uncommon.
Record labels promoted it by selling egregiously misogynistic music.
Video game companies promoted it by selling egregiously misogynistic games.
And so on, and so on, from TV to movies to advertisements.
I'm not a fan of censorship or prudish moralizing. But I'm aware that actions have consequences. And when you feed people a steady diet of hate and misogyny many of them will eventually come to embrace it.
Again, I'm not proposing censorship, but I firmly believe that the virulent misogyny we and our kids have been subjected to for the last few decades has absolutely no place in a respectful, democratic society.
Moby's latest release, These Systems Are Failing by Moby & The Void Pacific Choir, is available now.
Calling all HuffPost superfans!
Sign up for membership to become a founding member and help shape HuffPost's next chapter