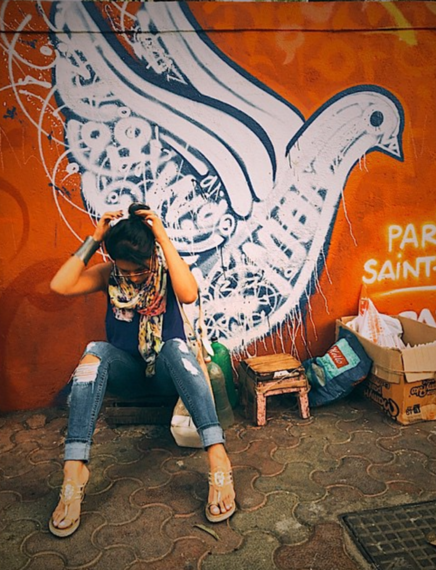 Wandering the streets of Covent Garden before the shops were open, people still setting up in the market, the buildings and streets looking fresh and crisp, my mind drifted between this moment and India. When I haven't been to India for a very long time, I find myself longing for the raw energy of her streets, yet after some time in India, the beauty of London, her coolness and her less frazzled energy seem like a distant memory I need to return to.
Mindfulness and the quest for inner and mental peace is the big thing right now, and while I feel like I'm more in the now, more a part of 'this' moment and the conversation I'm having 'now' than ever before, I wondered today about this sense of longing for another place, a pining that aches the soul, something about the now that makes you think about something that was and might lead you to something that will be. Is there any value in mindlessness?
Meditating on the present and being a part of what is in front of you has 'undeniable value at a time when our attention is under siege, and distraction has become our steady state', says Tony Shwartz in the New York Times, but I think it is equally important to pay attention to those voices of nostalgia and let your mind be led to places far away, to sometimes give into distraction rather than fight it and to daydream (my biggest forte).
With a more pronounced sense of the now, however, we should be able to bounce back and forth easily, reorient from one moment to another, from one city to another with ease, but not necessarily impartiality, with swiftness but not impassiveness, and with a sense of appreciation for both, but allowing for attachments and hunger for the other. Letting the mind reminisce, not so much dwell in the past, evokes emotion, possibly poetry or writing or just a sense of poetic being, and thus also creative energy.
Perhaps, then, this ability to travel to the past or future but then disentangle from our reverie and be back in the present moment is all a part of mindfulness, to be more aware and conscious of this and to succumb to moments of distraction but not be consumed by them.
Calling all HuffPost superfans!
Sign up for membership to become a founding member and help shape HuffPost's next chapter