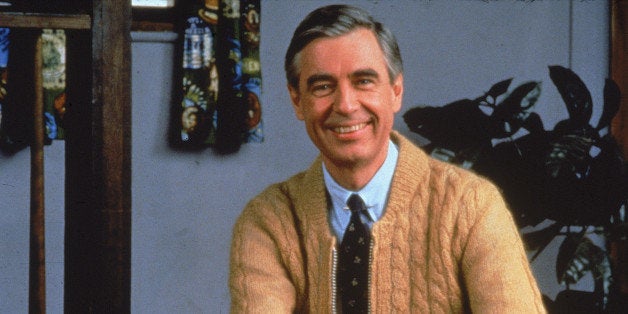 Fred Rogers often encountered sharp criticism from viewers of 'Mister Rogers' Neighborhood.' In letter after letter, concerned or irate viewers criticized everything from his generous views of divine grace to his pacifist approach to war to his bold decision to show the erect nipple of a breast-feeding mother. Shouts of disapproval also appeared like a bat out of hell, from the religious right and left, when Rogers used his program to teach children that witches weren't really real.
In 1975, Rogers aired a series of episodes featuring actress Margaret Hamilton, who played the Wicked Witch of the West in 'The Wizard of Oz,' with the goal of helping children deal with their deep-seated fears of warty crones with crooked fingers, evil laughs, and thick sticks for stirring deadly potion in black kettles.

Hamilton's arrival at Mister Rogers' television house in the first episode is downright shocking: she's wearing a bright pink (not black) dress, her hair is nicely coiffed (not wiry), and her voice is sweet and soothing (not creaky).
In a short chat with Mister Rogers, Hamilton shares that she feels "a little sad" because she knows her Oz character has scared so many people, especially boys and girls, through the years. "But," she says, "when you understand her and when you realize it's just pretend and everybody can do it," the character need not be scary.
Hamilton then dons her old witch's costume to help children viewers understand that she was just pretending to be the Wicked Witch, and this prompts Mister Rogers to say, "It helps me to know that you're a real lady who got dressed up to play the part."
At the end of this opening episode, after the visit to the Neighborhood of Make-Believe, Mister Rogers adds: "You know, witches are like Make-Believe. They're pretend. And when you see witches on television, or in the movies, or read about witches in books, they're always pretend. When you're growing up, it's an important thing to be able to tell the difference between what's pretend and what's real." It's a debunking lesson that Rogers illustrates in subsequent episodes in which Hamilton, dressed like a witch, uses a crystal ball.
Some conservative Christians boiled upon watching these episodes. One of them penned a letter warning Rogers that he was "going against God's Word" exactly because "the Bible teaches us to avoid these things." Another faulted Rogers for failing to be "aware that there are real witches living today who use real crystal balls. Real witches serve the devil. ... It is not appropriate for witches, warlocks, wizards, and the like to be referred to as harmless fun and games on children's programs."
Pointed criticism came from the other side, too--from incensed, and very real, Wiccans. One Wiccan wrote to suggest that "instead of lying to the children by telling them that witches do not exist at all, wouldn't it be more productive to merely explain that there are people who are called witches, but they are just average people like their mom and dad? ... There are many, many witches and other pagans in the world today."
Rogers replied, but rather than engaging in detailed theological arguments with conservative Christianity or Wicca, he mostly reiterated his desire to help children, especially those fearful of characters like the Wicked Witch of the West, understand the difference between real and fantasy.
That response was no doubt deeply troubling to those who believed in the presence of witches, but Rogers was a liberal Presbyterian minister and, for him, the really real reality was that, yes, "Ding-dong, the witch is dead."
REAL LIFE. REAL NEWS. REAL VOICES.
Help us tell more of the stories that matter from voices that too often remain unheard.