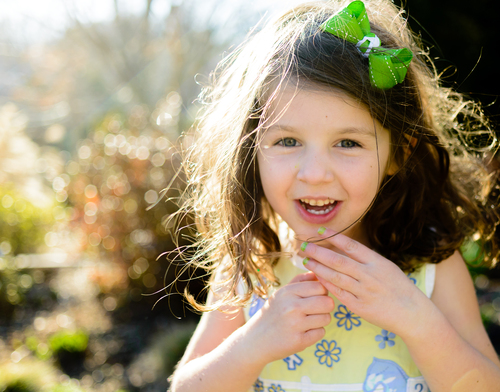 Many moms who are photographers love their camera and their gear almost as much as their children. If this sounds familiar, a photography-related gift is the perfect match for Mother's Day. There are many options at all price points to bring a smile to mom's face on Mother's Day.
Help Her Creative Side: There is no doubt that photographers are creatives who crave new ways to create their art. Lensbaby lenses are legendary for the dreamy effects they produce that are nearly impossible to replicate with any other lens. The Velvet 56 f/1.6 is Lensbaby's first classic portrait lens that is extremely versatile because of its macro capabilities and ability capture tack-sharp images when stopped down and produce a soft, velvety feel when used wide open.
Help Her Get in Pictures: The vote is in and it's unanimous -- mom needs to get in more pictures. But, since mom is usually the one behind the camera this can be a challenge. The answer? An easy-to-use tripod that can be kept in the coat closet of packed into a bag for outings. Manfrotto's BeFree Tripod is a great choice because it's easy to set-up, small, and lightweight. It comes in aluminum and a featherweight carbon fiber if your budget allows.
Help Her Capture True Emotion: Many moms pick up a camera for the first time to capture their own children's personalities. Over time, this can become challenging as children become more aware of the camera. The Beloved Collective has created The Playful Heart, an amazing set of prompts and games to break out of the "say cheese" mold and get families showing their true selves.

Help Mom Carry Her Gear In Style: Mom has a lot on her plate -- but still wants to look good when shooting. There are a few options here. If Mom has young kids and is still toting around diaper s as well as her camera a large diaper bag with plenty of pockets is a good choice. Lately I've been using a Mia Bossi Lyndsey bag because I can safely put my camera in one of its larger pockets while still having enough room for all the baby gear I need. I do use a Camera Coat for extra protection. When not out with a baby, I tend to use a Shutterbag Heirloom because it is big enough to carry extra lenses, as well as things my older kids might need and can be used as a backpack when it gets heavy.
Help Mom Make The Best of Her Surroundings: While most dads just push a button to snap a photo, moms who shoot know that the limit of what their cameras can create are nearly limitless with some talent and a lot of knowledge. For this reason, many photographers are constantly seeking out classes. Clickin' Moms is a favorite hangout for mom-photographers but you don't need to be a member to take advantage of their large selection of Breakout Sessions, many priced as low as $30.00. Many moms pick up a camera for the first time to capture their own children but find it a challenge to tell their real story through images. Light and Lifestyle by Jennifer Bogle teaches how to use the light available where she is (even if it's not golden) along with tips for when to use flash and some cool after-dark ideas. The Photography Field Guide for Choosing and Using Locations by Lauren Sanderson is another great choice for helping Mom not just find great locations but make the most of where she is when she wants to capture her own children. A great 30 day challenge including looking for different elements of locations is included. The Art of Authenticity by Jessica Thomson is another great choice for moms. This Breakout covers how to tell a family's story, the important question of dealing with the clutter that inevitably accompanies children, and many exercises to help Mom become comfortable with this style of shooting.
Help Mom Learn a New Skill: Most moms who have had a camera for more than a few months know that it takes more than just understanding the settings to make a great image. Skills like knowing when to use flash (even if this isn't her normal style), getting great skin tones in editing, and learning compositional skills can help her make the photos she wants. Flourish Emporium by photographer Nicole V. has great self-paced digital workshops on a variety of topics -- and she has some freebies and sales as well.
And, don't forget to give mom a gift she definitely wants -- taking some pictures of her with her family on her special day.