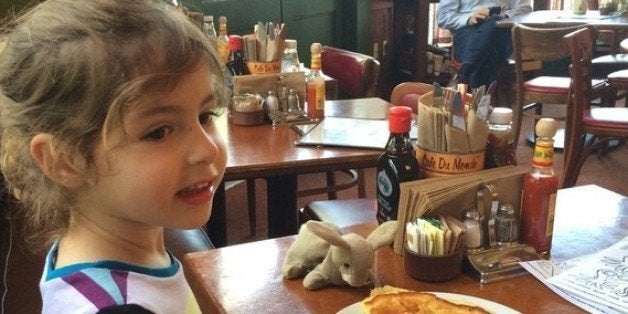 The other day, after dragging my daughter around on errands all morning, I decide to take her to lunch. Technically, she's on a toddler moratorium from eating out at restaurants because it's too stressful for me. It's such a nightmare convincing her to stay in her chair and not throw her food on the floor and not to wander over to the next table to ask the unsuspecting diners if she can have their French fries.
But, there I am at 11:37 a.m., with eight minutes to go until her preschool lunchtime, which she enjoys, on schedule, three times a week, and not a crumb of food in my bag. Not even a few stray Goldfish. Not even a half-eaten Z-bar. I'd neglected one of the Top 10 Commandments of Motherhood: Thou shalt not leave the house without snacks. Mayhem and meltdown will surely ensue if I don't come up with food, pronto. Luckily, there's a California Pizza Kitchen right there at the mall we're traipsing around in search of picture frames (don't ask).
The restaurant is quite empty, a sea of open tables, but the hostess takes that tell-tale turn towards the back of the restaurant to the dreaded Kids' Corner -- the area where they stick all the parents with small children as though we've got the plague. The only other people there are another mom with her toddler daughter. The girl has broken free of the high chair and is walking along the bank of booth seats where no one else is seated, pizza crust in hand. The mom is diligently eating her salad.
She glances up at us as we sit at the table across from them then calls out to her daughter, "Lucy, come sit down please." The tow-headed kid, gives her a quick yeah-no-way-mom look, then continues her trek across the seats.
"Sorry," says the mom, her eyes creasing with apology.
"Don't worry about it," I say. "There's no way mine is going stay in her seat, either."
We look at each other and laugh and that's all it takes for the floodgates to open. She has three kids; I have three kids. We both worked in offices before having children and now stay at home. We're both killing time with our toddlers, wondering how we'll fill the next three hours before the much anticipated bliss of nap time. She tells me about a horrific experience she's just had flying across the country that almost ended in her being cited for violation of FAA regulations. What are we parents supposed to do? Keep them strapped in the entire plane ride across the country? I totally agree -- ridiculous -- then tell her about the time I was shopping in Target with my toddler and the baby and the toddler took off, running into a man in the next aisle over who then yelled at me to control my kids. I was so shaken I abandoned my cart, put the girls back in the car and sobbed into my steering wheel. "Yes! yes!" she says. She's done that too.
It's amazing how we moms make these immediate connections over plane rides, meals gone awry and unfriendly encounters with the curmudgeonly. We swap war stories, getting to the heart of the matter within minutes: yes I love my kids but parenting is hard. So much work goes into keeping it all together. Planning ahead, knowing the limits of each child, being able to abort a necessary outing because of a meltdown or just having to suck up that meltdown because you still have to fetch your five-year-old from school and you still need milk.
We bond immediately, understanding what it takes just to be there with the little ones: you have to eat, you have to travel, you have to shop and more often than not, you have to do it with your kids in tow. It's stressful and mind-numbing and joyous and exhausting and there's nothing you'd rather do than this mothering gig and then again, you'd sometimes give a limb to be anywhere other than in the middle of an airplane or grocery store or playroom floor with an inconsolable, tantrum-ing 2-year-old.
We let the girls run around our mostly empty little outpost of CPK, we glance at them and lob warnings over the empty tables, admonishing them as expected, but really, neither of us care that much. They aren't hurting anyone (yet). They aren't tripping up any of the waitstaff (yet). They aren't that annoying (yet). And we need a break. We need those moments between us to shore ourselves up, pool our lives together for a few minutes, swim in the shared love and frustration of motherhood and know we are holding life jackets for each other. We lean into the aisle between our two tables, nodding and understanding each other, encouraging and eye rolling.
Ten minutes later, we collect our kids and head for the door, saying how great it was talking with each other, wishing each other a wonderful rest of the day, all the while corralling the girls, steering them towards the exit. As I cross the parking lot to my car, feeling warm and rejuvenated, I realize I don't know her name. I feel that dip of disappointment, the pang of a potential friendship lost, but only for a moment. Even if we never see each other again, I know she's out there, doing the best she can everyday, just like me.
Anytime you want to have lunch in the Kids' Corner at CPK, I'm there.
A version of this post originally appeared on Flingo. You can follow Lisa Sadikman on Twitter @LisaSadikman and on her blog.
Related