This post is part of the Global Moms Relay. Every time you share this post, Johnson & Johnson will donate $1 (per action), up to $250,000, to the Global Moms Relay, to help improve the health and well-being of moms and kids worldwide in support of MAMA, Shot@Life, and Girl Up. Scroll to the bottom to find out more.
When my daughter Sophie was three years old, I was sitting on the bed in her room reading to her a book about coral reefs. As I sat there showing her the beautiful pictures, with their explosion of color, I suddenly choked up and was unable to read any more, as I realized that Sophie is unlikely to ever see a healthy coral reef because of the impacts of climate change.
It made me think about all the other magic in the world that Sophie is likely to not see, and all the suffering that will take place. All because of climate change. And I wondered how I would ever explain to her how we had let such terrible things happen.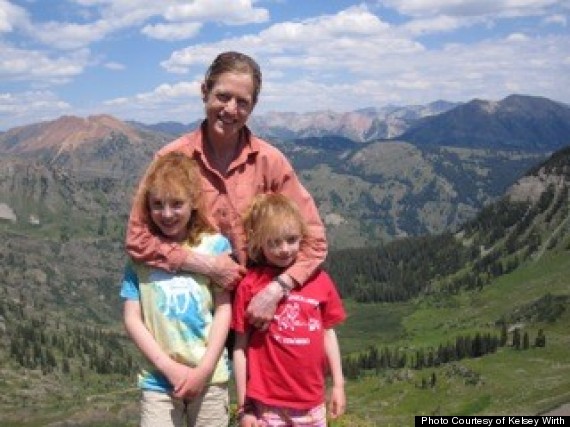 I grew up knowing about climate change. My father was a member of Congress who, 25 years ago, co-sponsored the first Congressional hearings on global warming. I remember family dinner table conversations about how scientists had figured out that our burning of fossil fuels was dramatically warming our planet. My parents developed friendships with some of the leading scientists in the nation, who were frequent guests at our house. But nonetheless, climate change still felt to me like some distant, metaphysical threat, until I became a mother. For the first time in my life, sitting there with Sophie on her bed, I felt truly distressed about it.
I also felt helpless to do anything about it. The model for me for how you try to effect positive change was you run for public office, and from a position of political leadership use your power to do good. But that was a path I had deliberately chosen not to take. And here I was -- not a political leader, not a scientist or an engineer -- but a mother, concerned for her daughter's future.
Soon after that experience, I had the opportunity to meet Marshall Ganz, a veteran organizer and professor at the Harvard Kennedy School. I had read about Marshall's involvement in the Obama campaign, and when I realized he worked close to where I live, I requested a meeting. In our first 30-minute meeting, Marshall gave me a whole new sense of possibility for what people like me can do, when they work together with others. He said that transformational change is always driven by social movements -- large numbers of people who are drawn together out of shared values and their shared sense of outrage at the reality that flies in the face of those values. And he explained that there are proven approaches to engaging people so that they aggregate their resources to build power and can put pressure on our leaders to do the right thing.
I started to envision a million mothers coming together out of shared concern for their children's future in the face of climate change, taking action in their own lives and demanding that our leaders take action.
In December 2012, I partnered with a veteran climate organizer, who is also a mother, Vanessa Rule. We brought together a small group of mothers for an initial meeting, to hatch a plan. And on January 28, 2013, we had our first house party in my living room. We had no idea what we were doing, but there was enough positive energy in the room around the idea of bringing mothers together around climate change that half the people in the room volunteered to host a house party. And that was the beginning.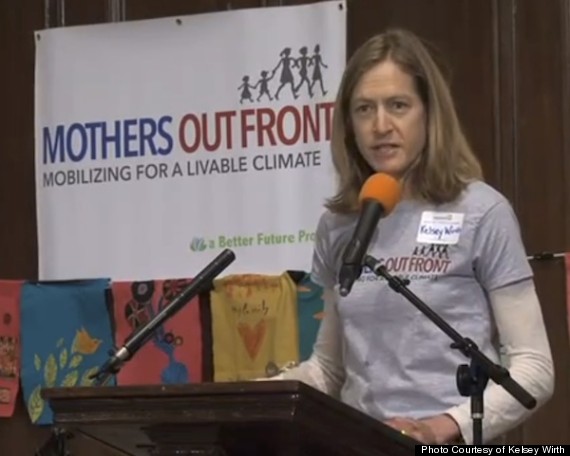 In just 15 months, Mothers Out Front has facilitated 80 house parties across the Boston area and in the Pioneer Valley, with over 600 mothers of all age and background in attendance. On February 1, we launched our campaign for Massachusetts, which is about making the right energy choices for our children's future. At the individual level, we're asking people to join us in making the switch the clean energy for our electricity. At the community level, we're working with businesses and other entities to make that same switch. And statewide, we're asking the Governor to exercise leadership from his seat of power by making Massachusetts the first state to commit to meeting new energy needs with clean renewable energy, and drawing the line against fossil fuel infrastructure. We are also working to make these issues front and center in the gubernatorial race here in Massachusetts.
Our goal is to learn how to do this work effectively here, in Massachusetts, and then start expanding our work in other states. Our vision is for a national movement.
Ultimately, Mothers Out Front is about bringing mothers' voices and power to bear on the greatest threat to our children's future: climate change. As mothers, we are called to protect and our protective force has never been more needed.
You share, they give: Each time you 'like' or share this post via the social media icons on this post or comment below, Johnson & Johnson will donate $1 (per action) up to $250,000, to improve the health and wellbeing of moms and kids worldwide through MAMA, Shot@Life, and Girl Up. Every 20 seconds a child dies from a vaccine preventable disease. $1 provides a measles or polio vaccine for a child through Shot@Life -- a campaign to raise awareness, advocacy and funds to get vaccines to the children who need them most. You can also use the Donate A Photo* app and Johnson & Johnson will donate $1 when you upload a photo for Girl Up or Shot@Life, up to $100,000. You can help make a difference in seconds with the click of your mouse or snap of your smart phone. Share this post with the hashtag #GlobalMoms, and visit GlobalMomsRelay.org to learn more.
The United Nations Foundation, Johnson & Johnson, BabyCenter and The Huffington Post created the Global Moms Relay with a goal of improving the lives of women and children around the globe.
* via the Donate A Photo app for iOS and Android. Johnson & Johnson has curated a list of trusted causes, and you can donate a photo to one cause, once a day. Each cause will appear in the app until it reaches its goal, or the donation period ends. If the goal isn't reached, the cause will still get a minimum donation.
Related