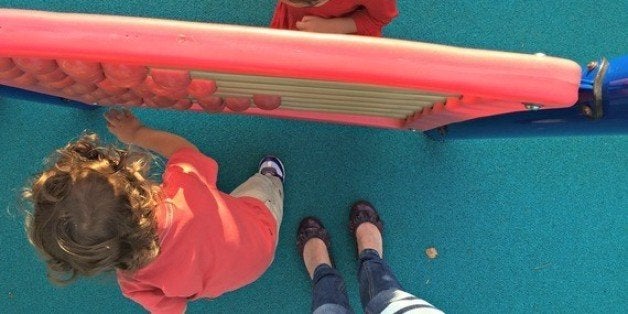 For some time now, I've been looking back, wistfully, to the days when motherhood felt magical.
Not that it was ever all pixie dust and unicorns. I don't have to tell you that it's never been that way. Memory has a way of tinting every moment with just the right shade of sepia and the right hue of rose to make even the toughest times glow with a beauty to which the present day will never compare. Without those filters, we'd undoubtedly struggle more to put our feet to the ground and our eyes to the sky everyday. Without those filters, parenthood would crush us.
But even when I wipe away the filters of memory, I still swear that the balance used to tilt noticeably more towards magic and away from reality. Motherhood felt magical back when I had just one child, only one little person demanding all of my attention. When I left my house to go to work every morning and came home to mother every evening and I could keep a nice, dark, thick line between the two. Motherhood felt magical when it was new and I had the time in my life and space in my heart to track micro-movements towards milestones and celebrate each individual accomplishment, no matter how small.
Those days, when motherhood felt magical, were simpler. They were easier. And even when I wipe away the sepia, I forget that they didn't feel so at the time. That, even in those days, I felt completely unprepared to face just about every decision. I merely stumbled along in a new, ambiguous world.
Still, I've been letting this ache for a simpler time ground me on a path that feels dull and unavoidably burrowed in reality. Motherhood has not felt magical for quite some time. It has felt like to-do lists and disciplining, yelling and corralling, making and cleaning and fixing. It has been starting every day all over again in all of the senses of that phrase that are drudgery and none of the ones that are renewal. For some time now, I've been feeling that I've lost my motherhood spark.
At first, I just gave in. I simply accepted that this time of the kindergartner and the toddler is challenging and there is nothing to do but live through it and wait for the other side. I've been waiting for this place where I face no big decisions or what-to-dos or what-is-bests so, instead, I can focus on lying in the grass with my babies beside me. I've been waiting for the day to come when I have nothing more to do than to breathe in my children and their pixie dust and wrap myself in their magic.
Of course, that is the unicorn. The mythical day when everything is sorted and the time is there and readily available for the taking, rather than demanding to be a product of the making. That day does not exist in my future.
So, what about the magic? Is it lost forever? Am I just packing it away with the high chair that we just booted from the kitchen and the crib that we'll soon fold up and relocate to the attic? Or is it like those receiving blankets that seem to turn up just when I could swear I packed the last one away? In the years since we've swaddled a human, those blankets have cuddled baby dolls and bears and monkeys. They've served as capes and sarongs and shrouds for conspicuously hiding toddlers. And just when I believe that I've packed them all away in a dress up box somewhere, one turns up at the bottom of the hamper or under the couch. It just appears out of nowhere, it seems, and before I know it, I'm turning it over in my hands and remembering when I could tuck tiny feet inside it, even as those feet thunder through the house. And then one of my children comes along and snatches it from my hands and suddenly, this relic of their babyhood has found itself inside playtime once again. Just like magic, it brings baby dolls to life and then becomes a lake to be leapt over before rendering a toddler invisible. The magic of those blankets, how they pop up when least expected but most needed to transform playtime into a fairytale, it gives me hope. Maybe the magic isn't gone. Maybe I just have to snatch it up and put it to use when I see it.
Popular in the Community