At some point in motherhood, we all get lost and swallowed up by the tasks and responsibilities of being a grownup: breastfeeding around the clock, bottle washing, diaper changes, endless birthday party invites, class parties and extracurricular activities. It's because we have less time and energy to think about our own lives as we support and affirm the lives of our children.
The truly selfish thing in motherhood is for your children and spouse to never know who you really are, because you don't know who you are any longer. We create a blueprint of motherhood for our children based on how we show up every day. I'll never forget walking upstairs and seeing a sign on my daughter's closed door that said, "Me Time In Progress -- Do Not Disturb." It told me that my daughter had learned the value of pulling away to refuel, relax and renew.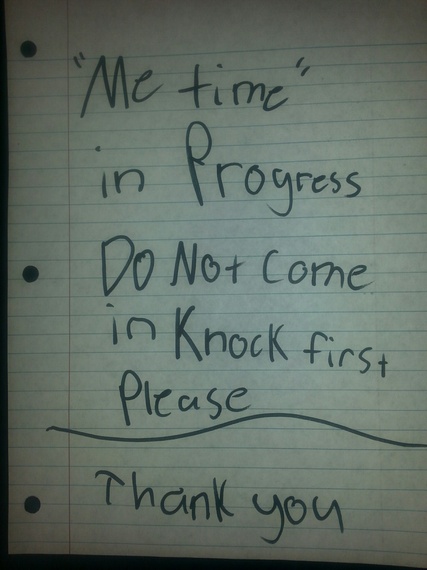 Each of my three children have grown up with a mom who has insisted on the importance of her own self-care, but also in building a family culture that values being whole. It's our new normal for the children to see their parents loving themselves while also loving their family.
We all get lost in motherhood and at some point, we get it wrong before we get it right, but we can always change if we want to. Your identity is your view of how the world sees you, and it is mostly formed by how you see yourself.
5 Ways To Reclaim Your Identity
1. Blend
Do something consistently for yourself while also doing something for your children. When my children were toddlers, I would do squats every day when I took them to the park swing so that I could hit my daily goal of 100. I literally Google-searched the location of their sports practice location to find something cool for me to do while I waited for them. Other activities included joining a Curve's gym near my son's fencing practice so I could complete a 30-minute circuit, and I visited a local tea bar during my daughter's school play practice, which consistently allowed me time to unwind with a nice relaxing cup of tea. I've written chapters for my books while waiting for my children in the carpool line because I decided I had to include my interests and needs in my day. Make it fun.
2. Give up Frumpy
Decide and commit to the fact that frumpy doesn't serve you. I find that when I look my best, I feel better. Choose three to five great outfits that always make you feel pulled together and confident. It doesn't take a lot of money to look great. I'm not a huge shopper, so I like a few staple items in my wardrobe that I know will always look great on me even on days where I'm just running around. We choose frumpy as our "comfort food" because we are uncomfortable with our changing bodies and maybe we don't feel as beautiful as we once did.
3. Do something that you used to love
Just because you haven't gone to a class you loved in years doesn't mean that you still don't know how to paint, write, do yoga,or that you wouldn't love that speaker series. Take a minute after reading this article and sign up for something that you love. (If you take this action, please share what you signed up for in comments section.)
4. Take 15 minutes a day to reflect -- no matter what
It's difficult to consider yourself when you don't make time to think about your needs. The reason you meet the needs of your children is because you make time to think about how to make their world great. I challenge you to do exactly the same thing for yourself. Ask yourself, "How can I make my world better?"
5. Validation is for parking lots
The most important validation that you need is your own approval. Women are guilty of wanting everyone in their lives to say, "Now is the perfect time for you to go to the gym, spa, out with a friend, pursue that hobby (fill in the blank)." In reality, your family wants direction from you on what you need to be fulfilled and happy. You are the leader of your life. Are you leading it?
We all get lost and swallowed up by the tasks and responsibilities of being a mom. What action will you take today to inspire the change that you seek? Take an action that will immediately move your life forward and then leave me a message here as to what you selected.