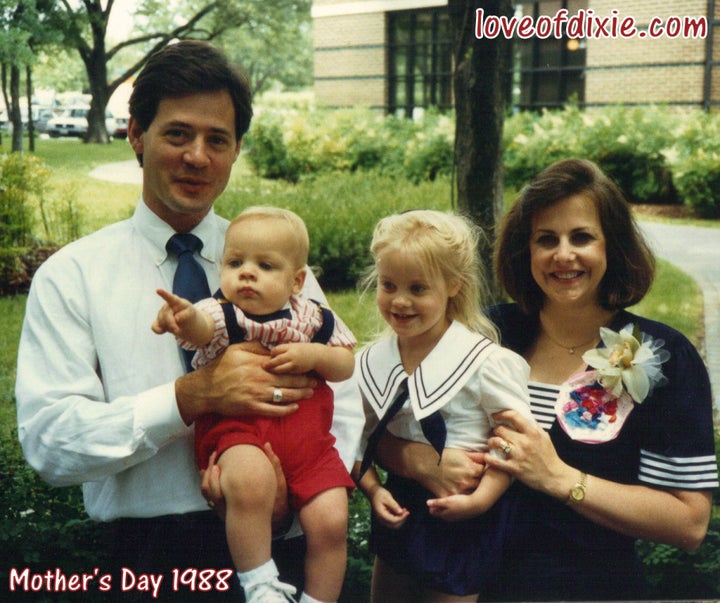 This Sunday will be my third Mother's Day since my mother died.
She was diagnosed with early onset Alzheimer's disease 10 years ago, in May. Every day since that fateful neurologist appointment, one short week after my college graduation, has felt like Mother's Day in a way.
Honoring and protecting my mom became my life's work as I watched her decline through each horrible stage of dementia. In my early 20s, I lost any remaining semblance of carefree, childhood innocence and effectively put my career aspirations on hold to become, above all, an advocate and caregiver.
Now that my mother is no longer here on this Earth, needing constant protection and care, I strive to honor her each day in the way that I live, in the words that I write, and in the way that I love others and mother my young children.
But, each year, Mother's Day makes it painfully obvious that my mom's not here.
She's not here to send a pretty Hallmark card or take out for brunch or bring a beautiful bouquet of roses. She's not here to hug and thank for a job well done.
Worst of all, she's not here to take her two granddaughters to hunt for seashells at the beach. She's not here to show them how to bake cookies, grow a vegetable garden, draw, read, paint or sew.
I sometimes catch myself watching other young moms who still have their moms with feelings of jealousy.
How lucky I am
Yet, I wouldn't trade this painful ache for the world, because it means I know what it is to truly love and be loved.
With every ounce of my being, I loved her. And with every ounce of her being, she loved me.
My mother was my everything ― my mentor, my teacher and my best friend. There is no me without her.
Some women go their whole lives without having that kind of relationship with their mom, without knowing that kind of love.
Each time my heart longs for my mother, these poignant words from A.A. Milne's beloved Winnie-the-Pooh come to mind:
"How lucky I am to have something that makes saying goodbye so hard."
I take comfort in knowing that, today, my mother's love and compassion and bravery live on in me, and in my brother, and in my girls.
I've got sunshine
Every night, for as long as I can remember, my oldest has requested this song by The Temptations at bedtime:
"I've got sunshine on a cloudy day.

When it's cold outside, I've got the month of May.

I guess you'd say

What can make me feel this way?

My girl, my girl, my girl

Talkin' 'bout my girl, my girl."
I truly did not understand how much my mother loved me until I had my own daughters.
I was her sunshine. I was her month of May.
And now, my girls are mine. So, in the words of Dr. Seuss, I won't "cry because it's over. [I will] Smile because it happened."
This Mother's Day, I will embrace gratitude both for the mother I had and for the mother I am now. I will hold my daughters close, I will be present in these fleeting moments of carefree, childhood innocence, and I will choose joy.
I've got the month of May.
REAL LIFE. REAL NEWS. REAL VOICES.
Help us tell more of the stories that matter from voices that too often remain unheard.