Let's face it -- the news is depressing. This is nothing new, and it isn't likely to change any time soon. Therefore, it's always refreshing to come across a story that manages to uplift, in spite of connections to difficult issues in both our past and present.

The remarkable story of "Joe's Violin," creates a powerful link between seemingly disparate communities, through the life of an inanimate and ornately crafted wooden instrument. It is the journey of a violin that lived through some of Europe's darkest days in the hands of Holocaust survivor Joseph Feingold and has finally ended up in a school in the Bronx, where a community and the life of one young girl were transformed.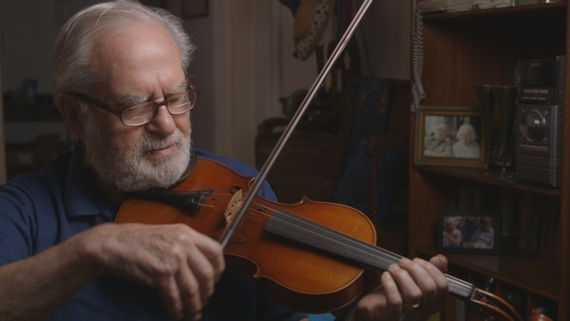 Joe at home playing his violin (Courtesy of "Joe's Violin")
In the spring of 2014, WQXR -- New York City's classical music station -- ran a ten-day instrument drive. The project, a brainchild of WQXR's General Manager and Vice President of NYPR Graham Parker and Kathleen Drohan, was hugely successful. The station collected approximately 3,000 instruments, of all types, with widespread community support throughout New York and New Jersey. Organizations like Sam Ash Music Stores and the Mr. Holland's Opus Foundation, plus many private citizens, provided the financial and logistical support that made the project a reality. The next phase of the project was to inspect the instruments, make necessary repairs and maximize their impact by distributing them strategically throughout New York City (see the map below).
Instruments, like family heirlooms (which many collected in the drive are), bear witness to different eras and communities. They can carry the sweat and stories of people who are connected solely by these objects that unleash the transcendent powers of music to heal, inspire and build human relationships.
And here's where "Joe's Violin" comes in. At age 23, Joseph Feingold purchased a violin at a flea market in his native Poland with some cigarettes. The year was 1946 and Feingold had just survived the Holocaust. He had last played regularly prior to the war, accompanying his mother who sang Jewish folk songs. Feingold played the violin as an amateur over the course of the next 70 years, and at the age of 91, upon hearing of the WQXR Musical Instrument Drive, decided to pass on the cherished instrument that was such a constant in his life.
Feingold remarked of this decision: "I imagine I was thinking of a young kid who is motivated. I'll be very happy to see something like that." What happened next was the perfect fulfillment of his wishes.
WQXR's team placed the violin at the Bronx Global Learning Institute for Girls, a public charter school for grades K-7 that is located in the poorest congressional district (New York 16th) in the country. The instrument was given to a bright and cheerful 12-year-old girl named Brianna, who says of the gift, "The violin means the world to me. It makes me feel...like I'm floating."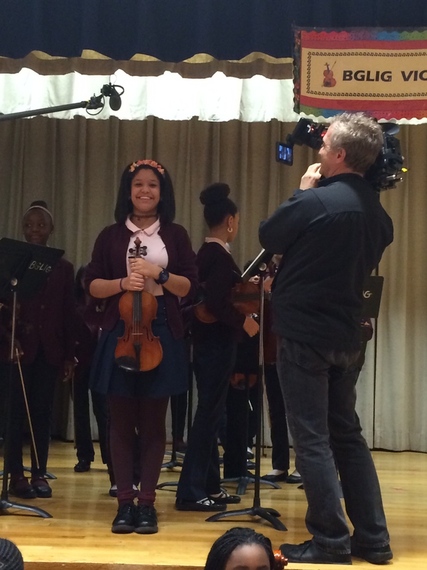 Brianna receiving Joe's violin (Courtesy of "Joe's Violin")
Brianna has a remarkable grasp of the powerful history that she is now a part of as the custodian of Feingold's violin. And the violin does for her what it no doubt did for Feingold in the hopeless days after World War II in war-ravaged Poland: "Everyone has those days when it's dark for them. The violin gets me through a lot."
While Feingold's violin does not have the illustrious pedigree of a Stradivarius or Guarneri, the instrument nevertheless has enormous power to provide respite for its player, no matter the situation. Brianna's mother has observed this impact on her daughter: "When she's playing the violin she transforms herself totally. It's like she's going inside of the music."
This June, Joe and Brianna will meet for the first time and Brianna will play a song that Joe's mother used to sing for him. Whether Brianna becomes a professional musician or not is irrelevant. She has gained a tool through which she has been inspired, and she will continue to inspire others as she adds to the already powerful legacy of "Joe's Violin." She accepts her responsibility openly and with optimism.
"It's a privilege, because I get to have history in my hands. To me this is like an adventure." -Brianna
The story of "Joe's Violin" is being told in a forthcoming documentary that is being produced and directed by Kahane Cooperman, a former producer of The Daily Show with Jon Stewart, and Raphaela Neihausen, the founder and executive director of DOC NYC, the largest documentary film festival in the United States. Based on the film's fundraising trailer, Cooperman and Neihausen are certain to deliver a moving tale that is most importantly a powerful testament to our potential as human beings to having a lasting impact for good, often through seemingly simple gestures like donating or playing a musical instrument.
Related