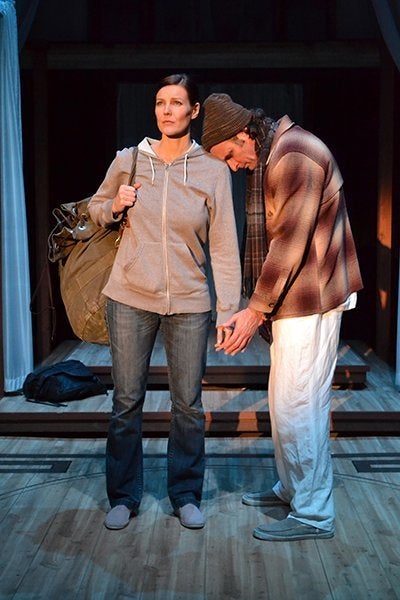 Musicals are one of America's most beloved forms of entertainment. Audiences have been cheering tap dancing ensembles, dream ballets, rousing choruses, and witty comedic numbers since the 1866 Broadway premiere of The Black Crook. Musicals have often offered audiences a chance to explore controversial topics of the day.
Based on the novel by Edna Ferber, 1927's Show Boat dealt with the topic of miscegenation. In 1933's As Thousands Cheer, Ethel Waters shocked audiences with Irving Berlin's poignant "Supper Time," a song about a woman whose husband has just been lynched (As Thousands Cheer was also the first Broadway show to give an African American star equal billing with the white performers headlining its cast).
While most of the kudos for Rodgers and Hammerstein's 1949 hit, South Pacific, were showered upon Mary Martin, Ezio Pinza, Myron McCormick, and Juanita Hall, it was William Tabbert (as the handsome, young Lieutenant Joseph Cable) who sang "You've Got To Be Carefully Taught." This song was considered indecent, pro-Communist, and inspired one legislator to label its justification of interracial marriage as "a threat to the American way of life." According to to Wikipedia, while South Pacific was touring Southern cities, lawmakers in the state of Georgia introduced a bill outlawing any entertainment containing "an underlying philosophy inspired by Moscow."
In 1983, La Cage aux Folles (written by Jerry Herman and Harvey Fierstein) melted the hearts of countless heterosexuals just a few short years after Anita Bryant and the religious right had begun scapegoating the LGBT community. In 1992, James Lapine and William Finn brought the AIDS epidemic to the musical stage with Falsettos. In the following clip, Michael Rupert sings the heartrending "What More Can I Say?"
In the past 25 years, musical theater has often aimed for cultural relevancy.
In 1990, Sondheim and Weidman reunited for Assassins, a show about Presidential killers.
In 1996, Jonathan Larson's prize-winning musical, Rent, was an updated version of Puccini's La Bohème whose protagonists were surrounded by the AIDS crisis.
In 1998, Ragtime (a musical adaptation of E. L. Doctorow's novel) examined the struggles of three different socioeconomic groups (whites, immigrant Jews, and African Americans) in the early 20th century.
In 2001, Urinetown lampooned capitalism, political corruption, bureaucratic rot, and urban decay.
Hairspray (a popular 1988 John Waters comedy about racial integration) was transformed into a 2002 musical starring Harvey Fierstein as Edna Turnblad.
In 2004, Caroline or Change focused on a black maid working for a Jewish family in Lake Charles, Louisiana at the time of President Kennedy's assassination.
In 2009, a married woman's struggle with bipolar disorder became the inspiration for Next To Normal
In 2007, the Marsh Youth Theater in San Francisco created Siddhartha, The Bright Path (which was revived in December of 2010). There's a new Buddha figure in town (a female version) as the protagonist of an impressive new musical being performed at the Ashby Stage in Berkeley through March 10.
The Fourth Messenger is much more than a pleasant surprise. This is an intelligent, skillfully crafted, and extremely ambitious piece of music theater about spirituality and self discovery that demands the attention of any serious theatergoer or student of religion.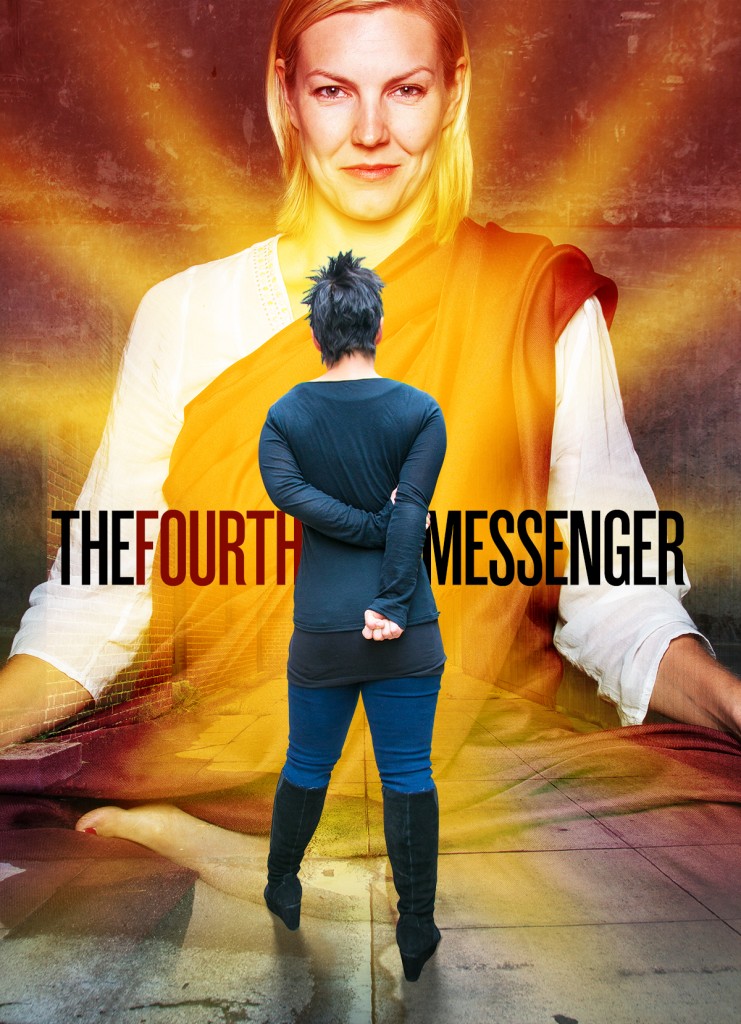 Poster art for The Fourth Messenger
Written by Tanya Shaffer (whose Baby Taj delighted TheatreWorks audiences at its world premiere in October of 2005), The Fourth Messenger is far from a formula musical. As Shaffer explains:
"For years I've been drawn to the legend of Siddhartha Gautama (it's such a mythic, archetypal journey) but I knew I had to find my own way into the story. It wasn't going to be some historical pageant. It had to be urgent, contemporary, and immediate. Buddha's teachings are profound, poetic, and timeless but there were elements of his life which a modern audience might find troubling. Those elements -- the moral questions and conundrums -- became my way into this ancient story and provide the juice that drives the narrative forward.

A lengthier rehearsal period also allows the actors to find a lot more subtlety and nuance within their choices. After years of concert-style readings, it's quite a revelation to see the transformation that takes place when a scene is fully staged. Sometimes, after a public reading, audience members would say to me that they saw it all in their heads; they didn't miss the other theatrical elements at all. At the time, I felt that too. But now, as the scenes come to life before my eyes, I find them infinitely richer than they've ever been. The comic scenes are much funnier when they are fully physicalized. The poignant moments, too, are infinitely more moving when the actors are able to fully embody their characters, so that their reactions and choices are transmitted through action and gesture as well as face and voice."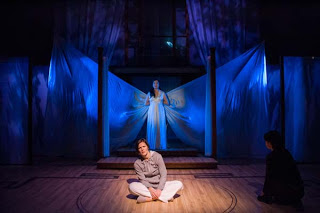 Annemaria Rajala as Mama Sid (Photo by: Mike Padua)
Driven by Vienna Teng's densely-written lyrics and propulsive score, The Fourth Messenger opens in a tense newsroom where a publisher (Will Springhorn, Jr.) is facing diminished ad revenues. As his editorial staff hungers for a big news story to debunk, his lover Raina (Anna Ishida) returns from her father's funeral.
Although she's pretty torn up over the loss of her Dad, Raina also thinks she might have found the story that will save Sam's business ("The Next Big Story"). When Sam reflexively assigns it to a young male reporter, she calls him on it and demands that he let her interview the latest trendy guru, a mysterious woman named Mama Sid (Annemarie Rajala) whom Raina suspects is a fraud.
When Raina arrives at Mama Sid's ashram, she thinks Sid's trusting, emotionally needy followers are either brainwashed or crazy. As they wrestle with their compulsions and obsessions ("Monkey Mind"), Raina finally gets a chance to interview Sid, who sings of "The Human Experience" and begins to open up about her previous experiences. For some reason, Sid feels compelled to divulge her past to Raina, starting with her youthful crush on Yasha (Barnaby James) and the sheltered existence she enjoyed while being raised in a gated community ("Bois Riche").
As Sid describes her traumatic exposure to poverty and disease outside Bois Riche, her story deepens and takes numerous unexpected turns. By the time the audience learns that Sid is actually Raina's mother (who abandoned Raina shortly after she was born in order to seek her own path in life), Shaffer's musical has the audience emotionally involved in the story and, often, on the edge of their seats.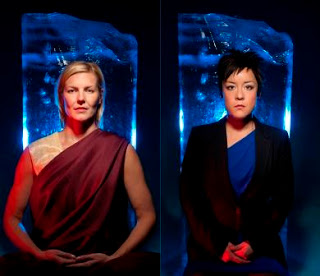 Mama Sid (Annemarie Rajala) and Raina (Anna Ishida) in
The Fourth Messenger (Photo by: David Allen)
Much has been written in recent years about the growth of online crowd funding services. Last year, Kickstarter boasted that it had raised $150 million for creative projects (more than 2012's operating budget for the National Endowment for the Arts). Songwriter Jeff Bowen ([title of show]) launched a Kickstarter campaign to raise the $75,000 he needed to record a cast album of his recent off-Broadway musical Now. Here. This. The happy result? Bowen's Kickstarter campaign brought in $89,833!
In addition to money raised through traditional approaches, Shaffer and Teng brought in almost $40,000 through a crowd-funding campaign on Indiegogo. As the producer/playwright explains:
"We live in a time when it's more feasible than ever for artists to take matters into their own hands. The decision for Vienna and me to produce this ourselves came about organically. Talking with theaters, we encountered reluctance to even consider a world premiere musical that required a minimum of nine actors and four musicians in the current economic climate. After a few of those conversations, we came to this Little Red Hen moment of 'I'll do it myself.' The response from supporters was immediate, enthusiastic, and truly empowering."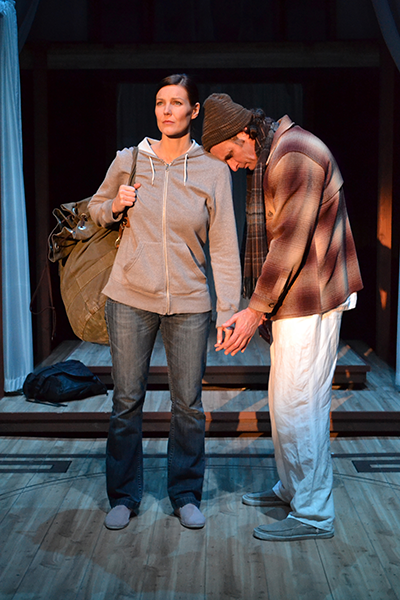 Sid (Annemarie Rajala) with her close friend, Andy (Jackson Davis) in
The Fourth Messenger (Photo by: Matt August)
Even in a show about Buddhism, money buys artistic freedom. The results were obvious at the world premiere of The Fourth Messenger (which is so much more than a labor of love). Joe Ragey has created a simple yet remarkably elegant unit set which allows for quick and highly effective transitions between scenes. The orchestrations by Robin Reynolds are first rate and, under Christopher Winslow's solid musical direction, Teng's music and lyrics reveal a fresh and exciting new theatrical talent with a distinctive voice of her own (click here to listen to excerpts from the show's musical score).
Above all, The Fourth Messenger has been beautifully staged with grace, wit, and plenty of dramatic flair by Matt August (who staged Shaffer's Baby Taj and pulls exceptionally poignant performances from his two female leads). Jackson Davis has some fine dramatic moments as Sid's close friend, Andy. Cathleen Riddley, Will Springhorn, Jr., Reggie D. White, Simeone Kertesz, and Barnaby Jones all score strongly in supporting roles.
The Fourth Messenger is a hugely ambitious and refreshingly original piece of musical theater that is highly recommended. Accessible to contemporary audiences and relevant to today's search for spirituality, I wish it a long and healthy future enchanting audiences around the world. Here's the trailer:
REAL LIFE. REAL NEWS. REAL VOICES.
Help us tell more of the stories that matter from voices that too often remain unheard.