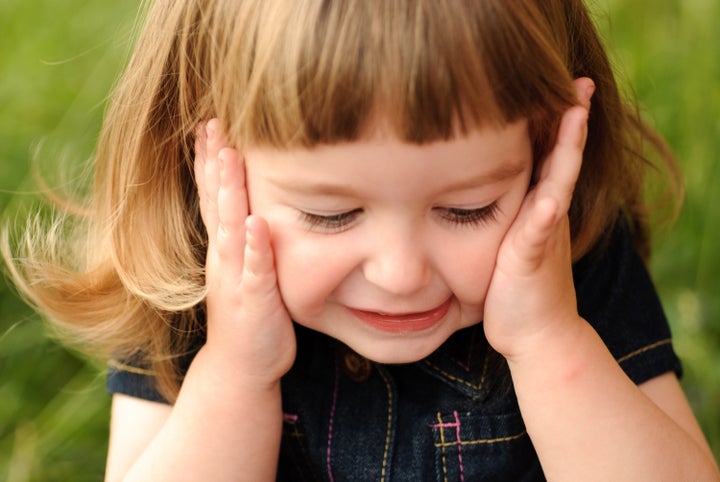 The day after Christmas, my 3-year-old took a pair of scissors to her hair. It wasn't difficult to imagine her methodology: first a small section on the side of her head, testing the cosmetology waters, then a confident chunk right in front, her way of saying, This is happening, guys. By the time she was done she'd managed to achieve a sort of aggressive bob, uneven in a kind of artistic way.
She sulked downstairs, wisps of hair stuck to her cheeks, like a puppy who'd destroyed a leather loafer.
"Oh honey," I sighed. "Where'd you find the scissors?"
After the requisite safety talk, I asked why she'd done it.
"I didn't like my bangs anymore," she told me, "so I cut them."
If she'd been 20 years older, I would've poured her a glass of wine and said, "Tell me about it, girlfriend."
There are moments in parenthood that cause your own life to flash before your eyes. For me, my daughter's simple explanation was one of them.
I've struggled all my life to find peace with my hair. In kindergarten, my mother took me to the local beauty school for a trim, and before I knew it, my long brown hair was reduced to chin-length.
"It's called a Dorothy Hammill," my mother told me through my tears. Never mind that it looked more like Velma from Scooby Doo.
In middle school, I spent more time on my hair than my homework. Each morning, I rose early to heat up my curling iron, then methodically seared my bangs in sections before teasing and finally spraying it all with Rave. I remember that one day in eighth grade my effort was rewarded with the ultimate compliment from a cheerleader, whose hair volume was something of a legend. "Your bangs look good," she said, cooly.
By high school, I'd decided on a more natural look. It took all of ninth grade to make it through my bangs' awkward "growing out" stage, made worse by a cowlick that yielded to no bobby pin.
I've survived other hair traumas: bad at-home dye jobs and regrettable perms; an unfortunate single dread lock and a period I refer to as "The Scrunchie Years." I've sported failed up-dos and French twists that made a statement: Mais, non. When I became a mother, I embraced my new mom hairstyle, also known as the "Maternity Leave Topknot." (I accessorized with baby snot and wayward Cheerios.)
Now that I've settled into my mid-30s I've finally found peace with my hair. I'll admit to occasional bouts of "bangxiety" (Should I grow them out? Cut them? Why can't they look like Clay Aiken's circa 2010?) but most days, I'm satisfied with the locks God gave me. I've even made peace with my cowlick.
However, seeing my own issues reflected in my daughter's eyes threw me for an emotional loop.
This is, of course, about much more than hair. Will my 3-year-old face the same insecurities as I did? Will she evaluate the way the other ballet dancers' bodies looked in the studio mirrors like I did at 12? In high school, will she struggle with the shape of her nose or the acne that dots her skin? As a young professional woman, will she try desperately to hide her West Virginia accent?
Like so much in parenting, it's impossible to predict.
My hope for my daughter is this: that she won't let herself be defined by what our culture considers imperfect. That she learns to love the freckles that spill across her nose, and the things that make her the perfect combination of her father and me. I know she'll have insecurities of her own, but I hope she'll develop the skills to work through them.
In my own life, it's been a long journey toward self-acceptance and I'll be honest: There are days I'm still tempted to take the proverbial scissors to my hair. For my daughter's sake, though, I'm choosing to focus on what I like about myself: my bright blue eyes, my sense of humor and alright, even my cowlick. (I can learn a thing or two about perseverance from it.)
I owe it to my daughter to see the best in myself in the hope that she'll learn to do the same.