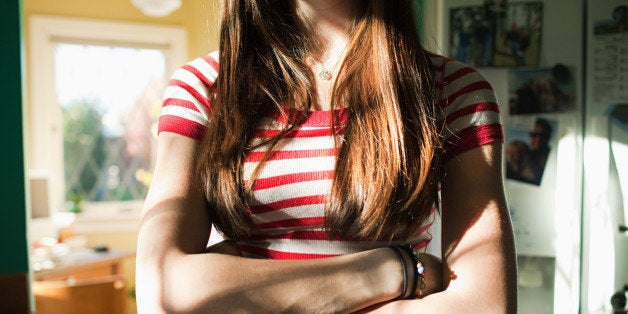 My toddler son does not enjoy wearing gloves. Ever. In fact, he would rather scream and cry in the cold bitter wind than wear the gloves I put on his hands for the fourth time. He makes quite the point to pull off those gloves with vengeance each time we put them on.
It's possible that he gets his stubbornness from his mother.
We are all stubborn about a few things now and then, even if we are the most open and flexible person on earth. We each have those issues that cause us to stand up and say, "I will NOT do that!" For my son, it's putting gloves on his little hands. For me, it's washing the clothes a certain way or having the last say on a project at work. We ALL have something we will be stubborn about.
And thank goodness. So many agendas and issues in society have been transformed for the better due to those passionate determined individuals. Think about civil rights -- we needed people to stand up and fight for something that was unpopular yet unjust!
But there are also times when being stubborn, obstinate, or overly passionate can get us in trouble? If applied incorrectly too often, we can actually hurt ourselves more than help when being too obstinate.
Next time that stubborn feeling starts creeping in over a particular issue, ask yourself the following questions; they will help you determine if standing your ground is really worth it:
Who will benefit from my "winning" this case, and how?
If you are the only winner in this situation, it might not be worth it. Furthermore, if what you are winning is the confirmation that you were "right" out of the issue... it's definitely not worth it. No one cares about your being right but you.
Is this strong stance impacting the perception or reputation I have with others? Is it a good or bad impact?
This might sound egotistical, but think about it. If by standing so high on your soap box you actually eliminate your allies and supporters, you will never win. I think this really applies in community and work situations: When you are so adamant about proving something right or proving others wrong, there is a good chance that you'll start to lose supporters. Most successful group situations involve collaboration and compromise. If you can't bend, aren't you only hurting yourself?
Does this really matter in the larger scheme?
Does the outcome of the decision or situation really have long-term consequences that you or others can't live with? If so, then fighting for it is worth it. If not... then why are you working so hard for something that will have little impact?
Am I the only one that cares about this? What happens if I let go or stop caring?
This is the biggest one for me. Often, I realize that deep down I am the one that is seeing the situation as a problem, while everyone else is moving along just fine.
Take a moment to really consider if other people are really upset about the same situation. If not, there is a good chance you are making something bigger than it really is. Once you are able to come to a place of understanding and acceptance about it, you will be freed from thinking it's so important. If you let go or stop caring about the process or outcome, what would be the worst that could happen?
Don't let you emotions and passions control you -- use them in a way that benefit the world while allowing you to grow.
From one stubborn and determined gal to the next: Sometimes letting go is exactly what is needed.